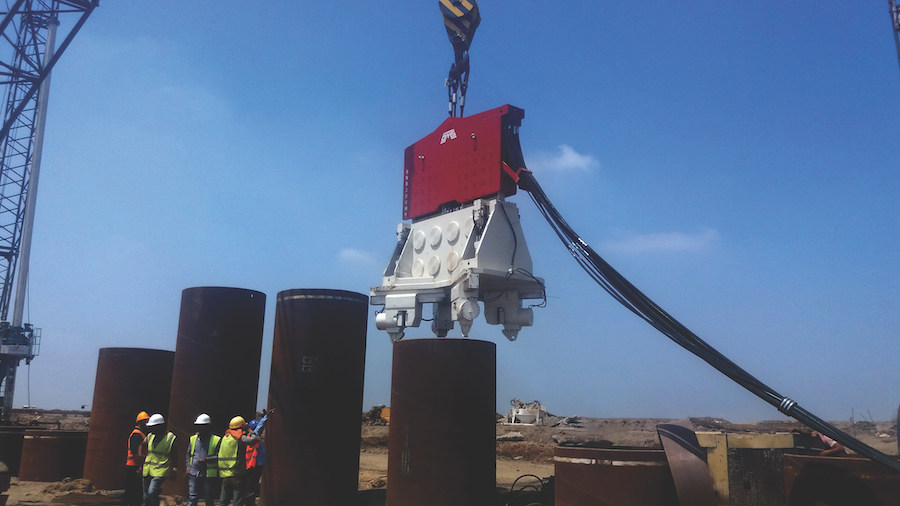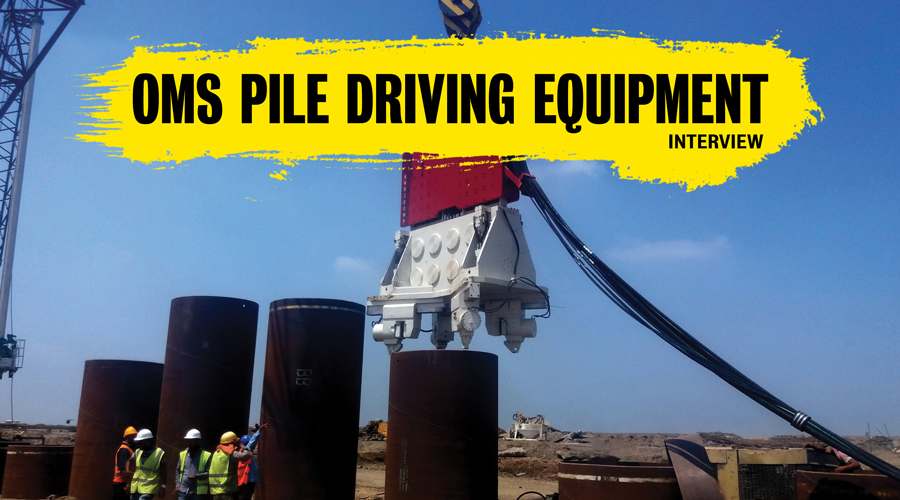 Pile Buck's interview with OMS, a world brand in the production of pile driving equipment, including vibratory hammers, clamping devices, power packs, vibroflotation, and more.
PB: OMS seems to be known for vibratory hammers. Can you tell us about the different types that you offer? Is there a popular model and application?
OMS: True, we are generally known for vibratory hammers. But we also manufacture ground improvement equipment. Vibratory hammers are driving/extracting machines produced in different capacities and features for various profiles of sheet piles (I, U, H, Z) and various diameters of pipes into the ground and are divided into two main groups; SVR Series (crane-suspended vibratory hammers) and OVR Series (excavator-mounted vibratory hammers). We are categorizing the vibro hammers into two main groups; crane suspended vibratory hammers (low frequency and fixed moment) also known as "NF", and Variable Moment (high frequency and variable moment) called "VM''; the excavator-mounted ones are as Standard (S), Variable Moment (VM), and Side Grip (SG).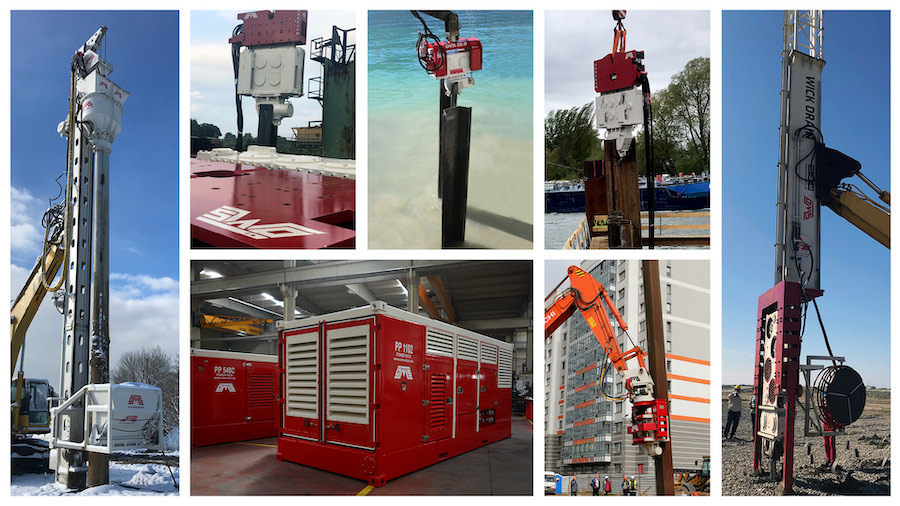 In addition, these hammers can not only drive but also extract. We recommend crane-suspended vibratory hammers for projects that require high driving/extracting capacity. The pile drivers we produce in this series are operated by OMS power units with remote and touch control panels and can be controlled sensitively. The excavator-mounted vibro hammers, powered by the excavator's hydraulic system, are operated under the control of the excavator operator. It is possible to use it without any adjustment in driving and extracting processes.
In particular, we would like to elaborate on our variable moment vibro hammers: The most distinctive feature of our variable moment vibro hammers is the vibration amplitude control and resonance-free transmission during operation start and stop. Therefore, the VM vibro hammer is ideal for driving/extracting applications in city centers or near historical structures.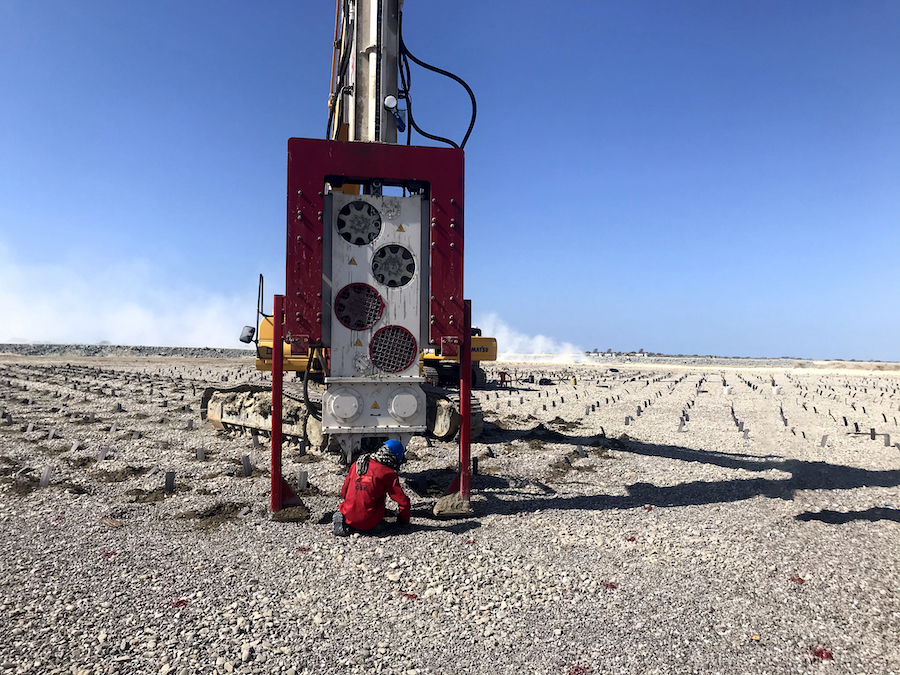 In addition to vibro hammers, we serve the ground engineering sector by producing Wick Drain Installation Machine (PVD inserter), Stone Column, and Vibro Compaction equipment in different configurations.
If we specify the most popular models, we should mention the SVR 50 NF, SVR24 VM, Side Grip (SG) series, and as well as Ground Improvement Equipment.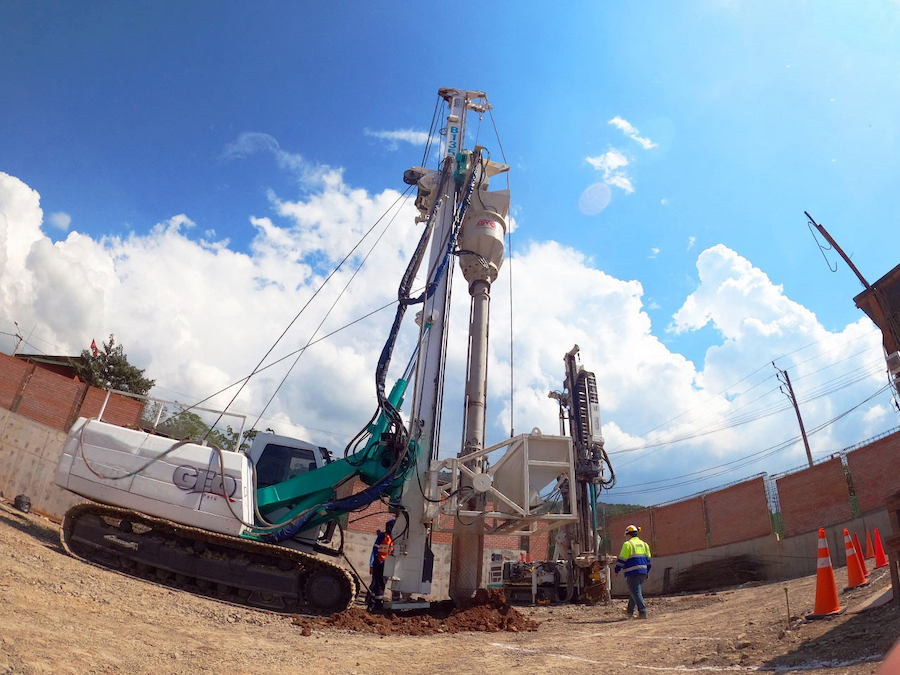 PB: Tell us about the technology behind OMS vibratory hammers. What makes them long life and powerful? What advantages do your hammers offer?
OMS: The biggest advantage of OMS vibro hammers is their quality. In our state-of-the-art production facilities, we use high-tech CNC lathes that can process parts of any size, and our understanding of quality is redounding at every stage of production.
We manufacture to 70% of our machines in our own facilities. We only outsource components such as motors, pumps, bearings, and hydro motors; and we already use the world's first-class components. The main brands we work with; Rexroth, SKF, Volvo, Cat and Parker.
All stages, from the smallest part produced to the completeness of the machine, are tested in the quality control unit, so our machines are "long life".
PB: Can you explain to our readers when it would be most suitable to use crane suspended, excavator mounted, and side grip vibratory hammers?
OMS: As we mentioned briefly before, we recommend crane-suspended (SVR Series) vibratory hammers for high power capacity projects. Crane-suspended vibratory hammers are generally suitable for driving steel pipes, but can also drive other types of piles. Crane suspended machines need serious power to operate and we provide this with our power units.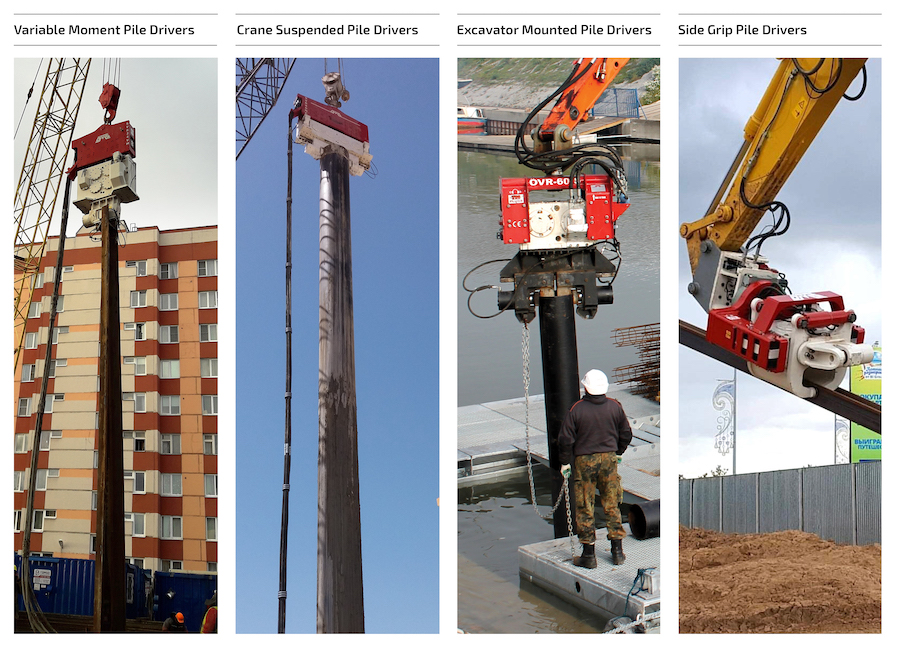 We recommend excavator-mounted (OVR Series) vibratory hammers for smaller capacity projects because these machines are powered entirely by the excavator's hydraulic system. This means that the operation of the hammer is totally controlled by the excavator operator. Although it has less power, it can easily do the work of piling and extracting pipes in different profiles (I, U, H, Z).
On the other hand, we recommend Side Grip vibratory hammers for projects that are required in narrow areas or longer piles/pipes (max. 12-15 m) which standard models are limited with the length. Since the machine grips the pipe/sheet pile from the ground, the machine can continue to drive even in the low-headroom projects.
We try to suggest the most suitable machine for our customers' project as much as we can.
PB: Do you have equipment that performs under difficult conditions and do you have a project that you can say has a lot of value for this reason?
OMS: In the Suez Canal expansion project, 60 meters of "king piles" with a diameter of Ø2.05 m, a length of 70 meters, and a weight of 90-100 tons were successfully driven by our machines in difficult ground conditions. In addition to our 2 units of SVR 200 NF machines, we also had SVR 50 NF, SVR 80 NF, and SVR 101 NF vibro hammers in the project. Most of the pipes and sheet piles in the project were driven by our 50 NF, 80 NF, and 101 NF machines.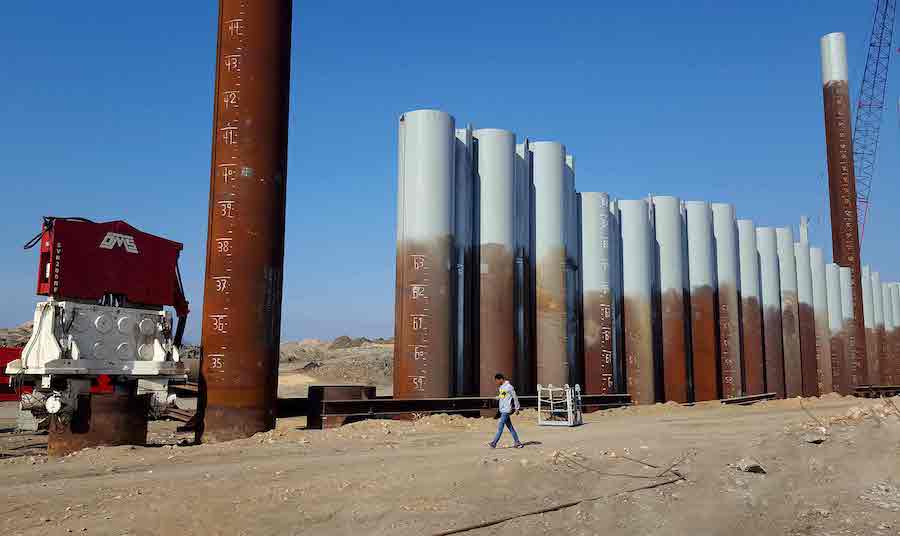 PB: How about your clamping devices? What types do you offer? What makes OMS clamping devices so effective?
OMS: OMS hydraulic clamps provide a safe connection between the vibratory piling machine and the pile by using a piston locking system.
OMS hydraulic clamps are manufactured from special alloy casting steel and have two gripping jaws. One is "fixed" and one is "moveable". The hydraulic clamp contains a hydraulic cylinder that closes the moveable jaw. The jaws open and close by pushing the "clamp open/close" switch on the remote control. Clamping and opening occur in a few seconds.
There are 3 types of hydraulic clamps; KCN Series, SCN Series, ACN Series. KCN is ideal for driving and extracting the various diameters of pipes and it has a piston-locking system allowing it to be safely fixed to the beam. SCN is ideal for the driving or extraction of sheet piles. ACN is used for driving or extracting timber piles. All types of clamps can easily be mounted.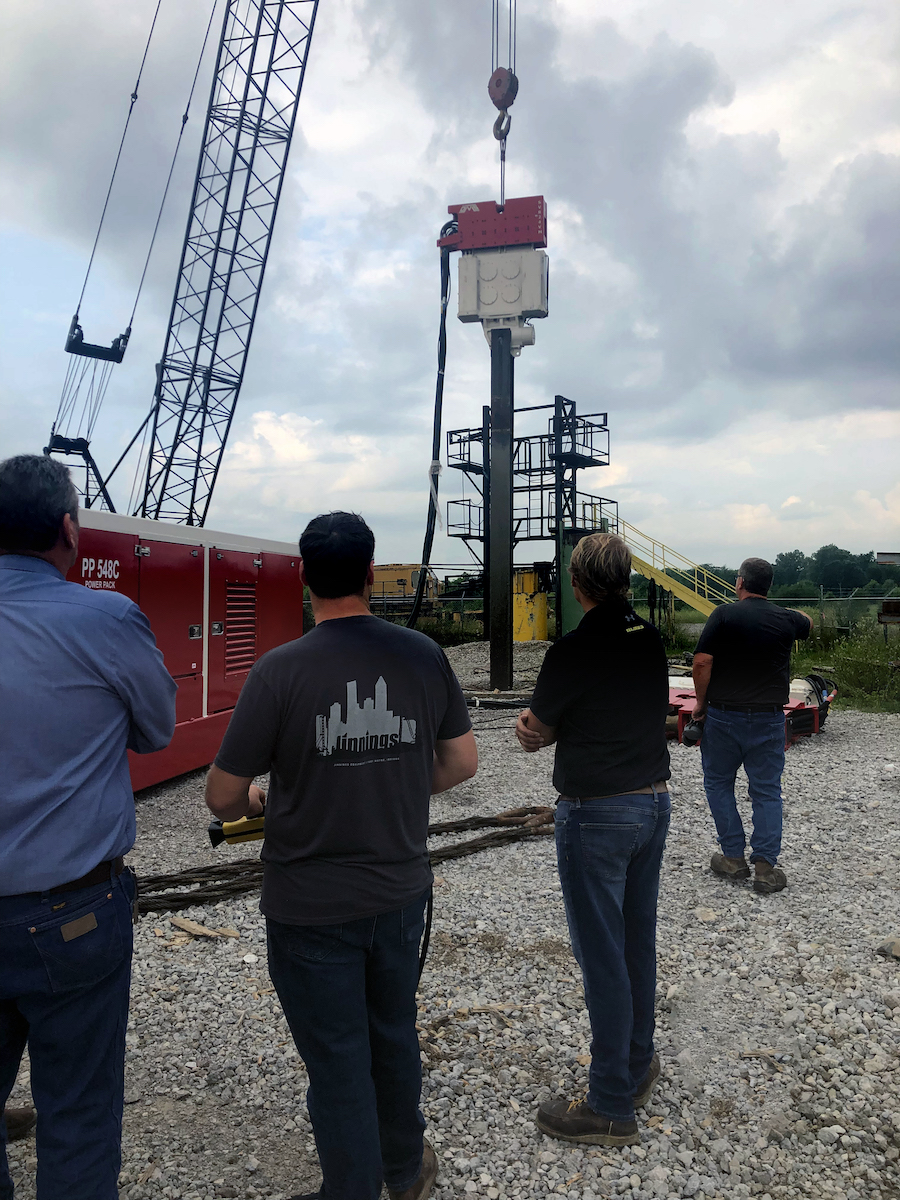 PB: On a final note, do you have any tips to offer to operators of vibratory hammers? Are there any common application mistakes that you've noticed over the years?
OMS: In general, the most important issue and the most common error are the same; crane and excavator operators exceed the penetration rate of the machine, which we specifically mentioned the limits in the manuals we send alongside the machine. In parallel with this, we recommend to the operators pay attention to the penetration rate.
PB: Where is OMS in the US market?
OMS: As a result of the market research and efforts we have made for a long time, we have started to provide sales and service to our American customers. We plan to work with dealers due to the fact that America's geography is quite large. Accordingly, we shook hands with our first dealer, Jinnings Equipment LLC., in early 2020. We continue to work to follow this dealership process with new dealership agreements.
We also think that the most popular products in the American market will be the SVR 50 NF, SVR 80 NF, SVR24 VM, and Side Grip series excavator-mounted vibro hammers.