Pile Buck's Top 6 Recommend Steel Sheet Pile Suppliers
Steel Sheet Pile Basics
Sheet piles are, by definition, structural members which when interlocked to another, will form a continuous wall, generally for retaining earth or water. Interlocks formed as part of the manufacturing process provide the continuity in the wall. Sheet piling has historically been made of steel, concrete, wood, aluminum or other materials. Steel is by far the dominant choice, due to ready availability, relative strength, and ease of handling, storage and installation.
General Information
Steel sheet piling is generally delivered to the project direct from the mill, in exact lengths, or from various stocking yards in standard lengths.
Sheet piles are typically installed with impact hammers, vibratory hammers, or press systems.
Sheet piles, in singles or pairs, are interlocked into one another during the setting and driving operation so that a continuous, relatively soil and watertight wall, is formed.
Sheet piles in a wall act similar to a beam under load and can resist both lateral and vertical forces. Alternatively, flat sheet piles are designed to resist tensile forces in the interlocks.
Sheet pile shapes have evolved over the years from simple channel sections with crude fabricated locks, to "U" shapes with integral, rolled-on interlocks, to today's wide range of high strength "Z" shapes.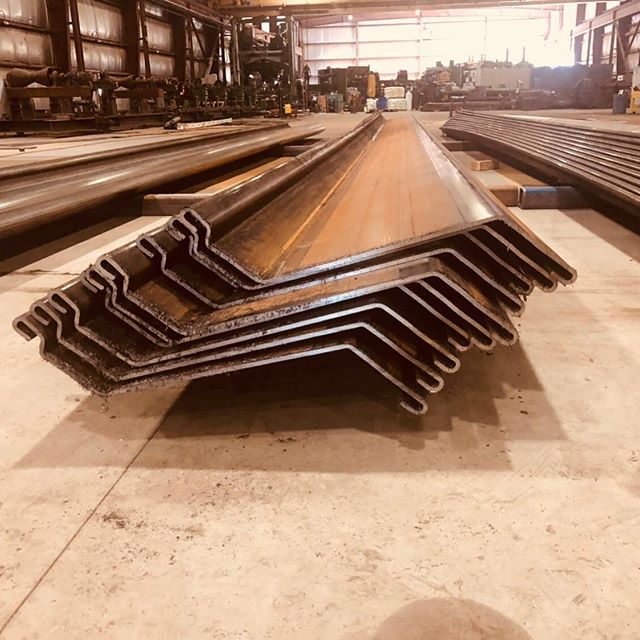 Applications
Bulkheads – from small retaining walls for private marinas to large dry docks, ports, and other infrastructure projects
Cofferdams– temporary, in water or on land, to permit excavation for and construction of permanent works
Cut-off Walls – in connection with earth or concrete dams or dikes to retard seepage
Environmental Barrier Walls – for contaminant containment purposes
Temporary and Permanent Retaining Walls
Seawalls, Flood Walls, Dikes, Jetties, Groins
Navigation Lock Walls and other large navigation structures
Mooring and Turning Cells, Dolphins
Barge Docks – consisting of individual cellular structures
Bridge Protection Cells – to protect bridge piers from shipping collisions.
Bridge Abutments
Temporary or Permanent Below Grade Shoring – for basements and parking structures
Artificial Islands
Steel Sheet Pile Used in Cofferdam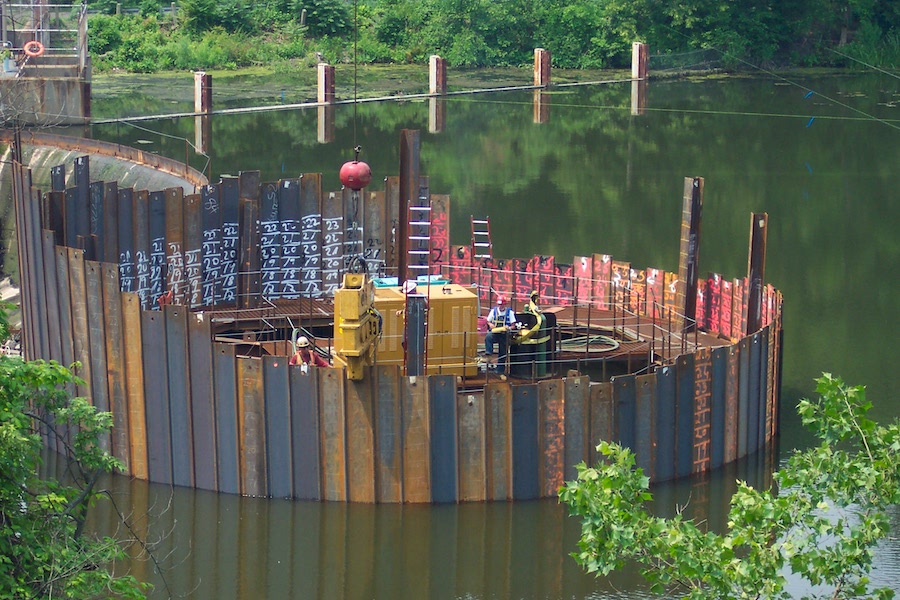 Types
Steel sheet piling is manufactured in three basic configurations: "Z", "U" and "straight" (flat). Historically, such shapes have been hot-rolled products produced at structural mills. Like other shapes such as beams or channels, the steel is heated in a furnace and then passes through a series of rolls to form the final shape and the interlock, which allows the sheet piles to be threaded together. Some manufacturer's use a cold-forming process in which steel coil is rolled at room temperature into the final sheet pile shape. Cold formed sheet piles have hook and grip interlocks.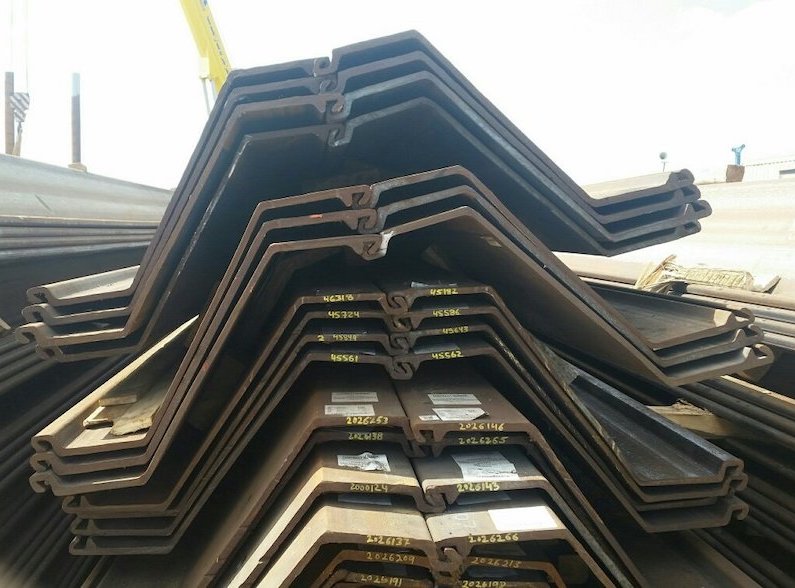 Z-Type Shape
The Z type configuration is generally considered the strongest and most efficient.
These shapes resemble wide-flange beams, having a web and two flanges. The interlocks are located out on the flanges at maximum distance from the neutral axis, and this provides a high section modulus for resisting bending moments.
Because of this, Z-shapes have traditionally been used for heavier construction projects. However, they are now complemented by the arch or U shapes for lighter work, and lightweight Z-shapes have been also introduced into the marketplace.
The interlocks of hot-rolled Z-type sheet piling are designed for free sliding and integrity during driving. Since most Z-piles are used to construct straight walls, there is generally no need for any guaranteed swing or deflection between sheets although there is almost always some attainable if needed, except perhaps in very long sheets.
Sheet piling produced in the United States has been rolled with a "ball and socket" interlock design. Historically, it has been recommended that these be driven so that the ball of the interlock was leading. The socket then had a pre- cleared path into the ground. The importance of this recommendation has been properly questioned and many walls have been successfully installed without following this procedure. These inter locks are not designed for applications where resistance to tension is important.
Although there are some general similarities in the styles, the interlocks provided on Z-piling available from European and Japanese producers vary with the producer.
In general, whether the piling be foreign or domestic, the user should not assume sheets can be mixed on the job simply because the locks "look" the same. Tolerances may vary from producer to producer.
The interlocks of the heavier piling sections may not interlock with lighter ones from the same producer.
Because of their inherent strength, Z-piles can be handled and shipped with less exposure to possible damage than some other style sheets. These interlocks do not lend themselves well to splicing and splices should be avoided if possible.
Interlocks should be reasonably free sliding, that is, the pile should run to grade of its own weight when interlocked with its neighbor.
Z-piles are generally used in constructing straight wall structures – cofferdams, bulkheads and retaining walls.
Sheet piling can be pulled after temporary use, the interlocks cleaned and reconditioned and the sheets used again for similar applications.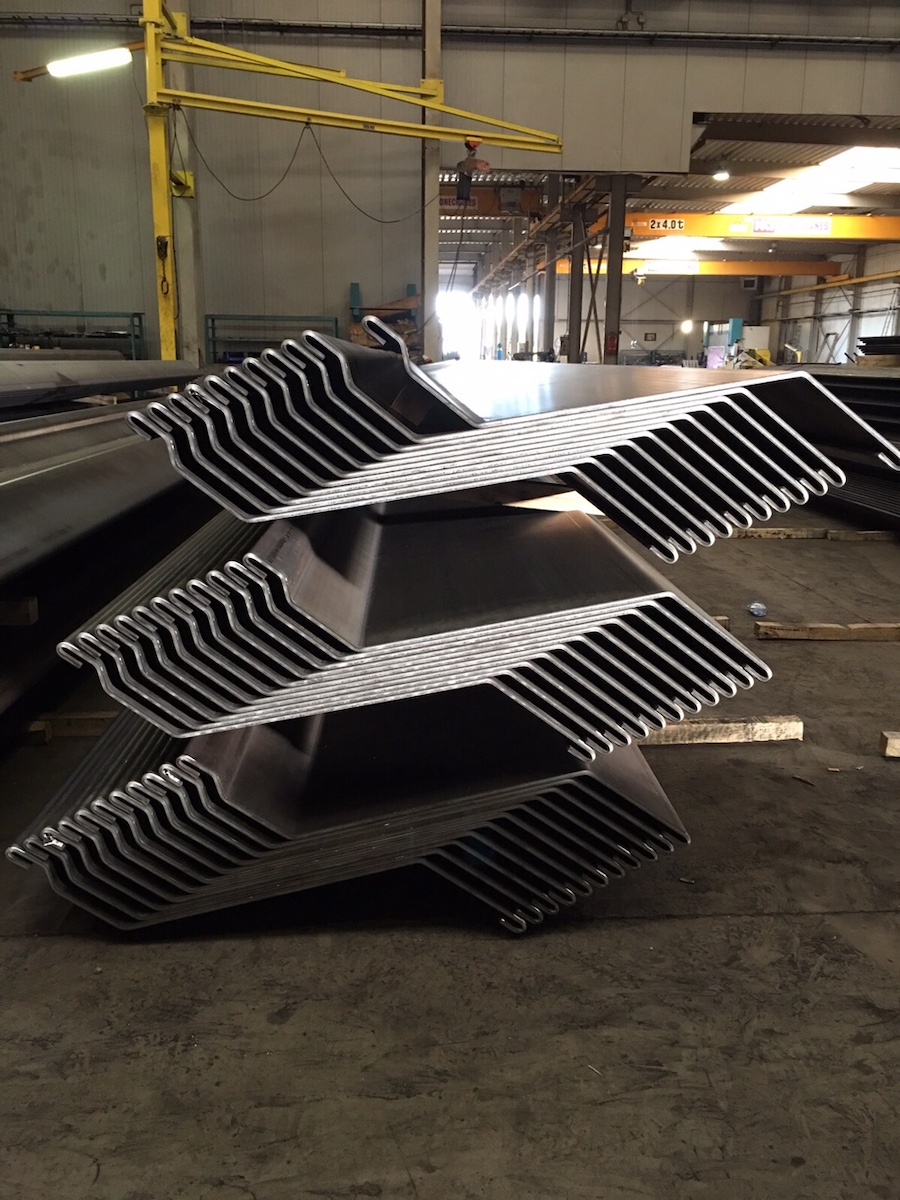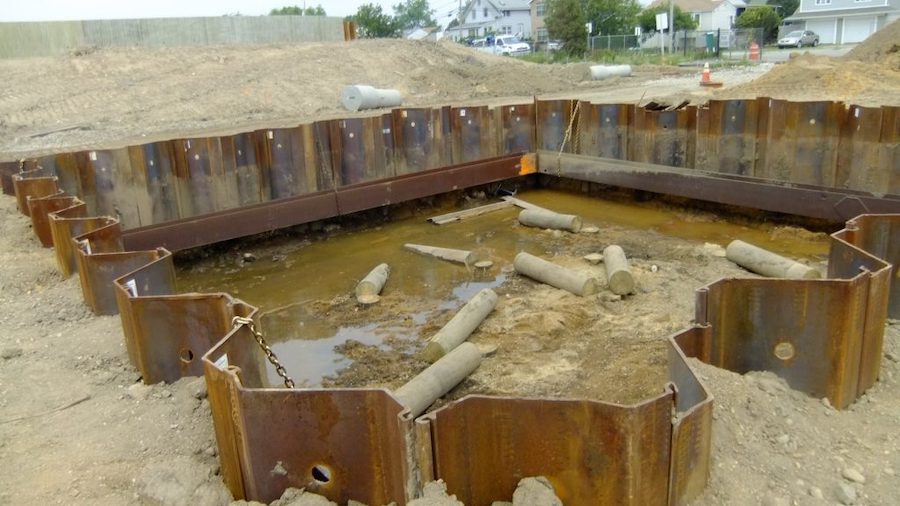 U-Shape Piles
U-type sheet piles are not generally used in North America as they are not as efficient or economical as Z-type sheet piles. Interlocks on u-type piles are located on the neutral axis of the pile, so the sheet piles must be crimped in order to achieve their full capacity. These types of sheet piles are still available in the international market.
Flat Sheet Piles
Flat sheet piles are used for circular cell applications where the cells form a gravity structure. The sheet piles are interlocked together to form individual cells, or a series of cells, and are then filled with soil. Whereas z-type sheet piles require resistance in bending, the strength of the flat sheets come from their interlocks. Flat sheet interlocks are larger than those on z-type sheet piles and are designed to resist significant tensile forces. Flat sheet piles have limited bending capacity.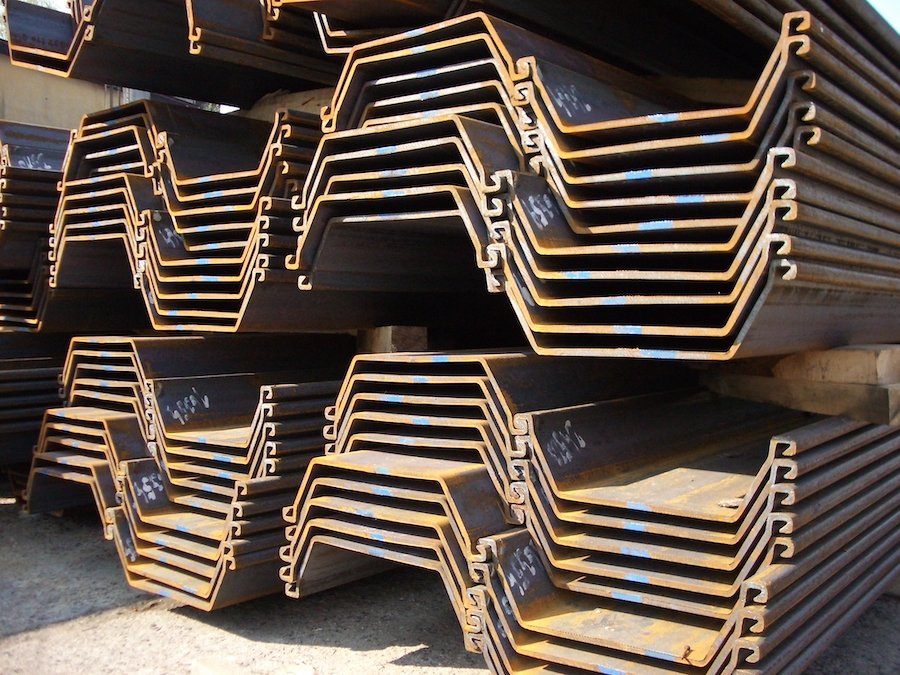 Grades of Steel Sheet Piling
In the United States, sheet piling is specified by reference to the ASTM standard. The basic grade is ASTM A572 Gr 50, with many manufacturers producing ASTM A572 Gr 60 as the new standard.
Additional grades of steel for piling have been developed for possible use where corrosion is a consideration. ASTM A690 and A588 are 50 ksi (345 MPa) yield steels of a formulation which has demonstrated increased life. ASTM A690 has been shown to reduce the corrosion rate in the splash zone by 2 to 3 times. A588, also known as weathering steel, is resistant to corrosion in the atmospheric zone.
There are other proprietary steel grades, such as AMLoCor®, which has been shown to reduce the corrosion rate in the permanent immersion zone by up to 5 times.
APE Vibro Hammer Installing Steel Sheet Pile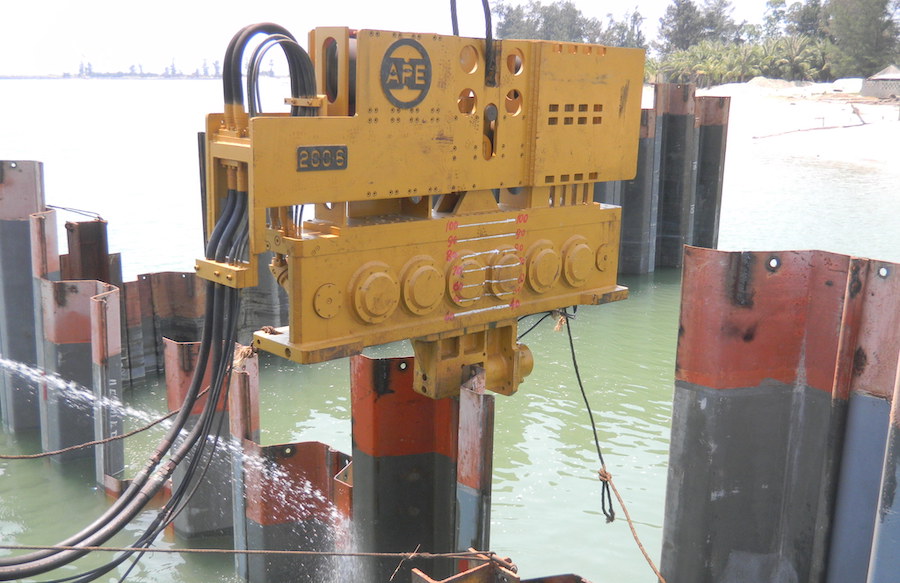 PILE BUCK'S TOP RECOMMENDED STEEL SHEET PILE SUPPLIERS
Company
We are a premier steel foundation manufacturer and supplier, serving the North American market. Skyline Steel, LLC (doing business as Nucor Skyline) is a Nucor company, the largest producer of steel in the United States, and this relationship strengthens our ability to service our customers and the industry.
Over 20 Sales Offices in North America
Manufacturing, Coating and Fabrication Expertise
Dozens of Stocking Locations
Exclusive Engineering Support
Our flagship products include an unparalleled assortment of:
H-Piles • Geostructural Products
Steel Sheet Piles • Wide Flange and other Structural Sections
Pipe Piles • Piling Accessories
Nucor Skyline's knowledgeable engineering team works with owners, engineers, and contractors long before ground is broken. To ensure seamless project coordination and completion, our engineers propose solutions throughout all aspects of design, material selection, installation, and construction sequencing. Nucor Skyline's engineering support is extended even further to include provision of onsite assistance after a project has started. Our relationships extends beyond sales – we are your true project partner.
Steel Sheet Piling

NZ/PZ Hot Rolled Steel Sheet Pile
AZ Hot Rolled Steel Sheet Pile
SCZ/SKZ Cold Formed Steel Sheet Pile
SKL/SKS Cold Formed Steel Sheet Pile
PS/AS Hot Rolled Steel Sheet Pile

Pipe

Electric Resistance Welded (ERW) Pipe
Spiralweld Pipe
Rolled and Welded Pipe
Combined Wall Systems

Pipe-Z Combined Wall Systems
HZ®-M Steel Wall Systems

Geostructural Solutions

Threaded Bar & Accessories
Hollow Bar Systems
Micropile
Multi-Strand Anchor Systems

Structural Sections

Wide Flange
Channels & Angles

Pile Accessories
Environ
Description
Samuel Roll Form Group (RFG)​ has been manufacturing roll formed steel products for over 45 years. Our locations include roll forming capabilities which are complemented by in-line notching and piercing, eliminating the need for secondary operations. Heavy, long and wide sections are our specialty. Our projects can be seen nationwide and can endure the test of time. Explore this section to find out more about us: our high standards for quality, our strategic locations for customer service, our trade memberships, and our strength and stability in the marketplace.​
Products
Retaining walls
Guiderails
Sheet Piling
SamSon Access Mats
Description
Shoreline Steel began manufacturing steel piling in 1983 and has established a worldwide reputation as a provider of quality, American made, steel sheet piling.  We operate four mini-mill roll forming operations that produce 30 different piling sections in six different configurations.  Our team has the technical knowledge and manufacturing experience to provide you with quality products and timely job site deliveries to accommodate your construction schedules.
Products
Lightweight Sheet Piling
Zee Lightweight Sheet Pile
Intermediate Lightweight
Intermediate Heavyweight
Mid-Heavy
Heavyweight
Mega Zee 10/11/12/13/14/15/16/17/18/19
Description
We buy and sell used pipe from 14" and larger. Purchase straight seams, welded and spiral weld throughout USA. Also, we buy and sell new, surplus and used sheet piling, h-piles, large wide flange beams, bracing, shoring and road plates any quantity anywhere.
Description
JD Fields has gained a reputation as one of the leading steel suppliers and manufacturers. We have the experience and resources to handle, store, and ship high-quality steel products to clients both domestically and internationally. We can serve your immediate needs from over 150,000 tons of steel we carry in stock. Our experienced sales consultants can also work with you to meet any special requirements.
Line Pipe

DSAW/HSAW
ERW/HFW
Seamless
Coatings + Linings
Steel Piling

Steel Sheet Piling
H-Pile
Geostructurals
Anchorage
Accessories
Description
Meever USA is the American arm of a global manufacturer and distributor of steel piling products called Meever and Meever headquartered in the Netherlands. A private, versatile, entrepreneurial, family owned business with continuously growth over the past 32+ years. Meever and Meever has evolved into an international network of facilities and subsidiaries, and stocking locations around the world, including Netherlands, Germany, Poland, UAE, Australia.
Meever USA has been able to continue its North American, Canada, and Caribbean success because of our worldwide contacts, sources, and expertise.
We specialize in suppling steel sheet pile, steel (welded and seamless) pipe pile, steel H pile, structural steel, anchoring and strutting systems, and accessories required by the pile driving industry. We consider teamwork with our customers as one of the key elements generating our success.
Hot rolled sheet piles
Cold formed sheet piles
Structural steel & H-Piles
Pipes and Micropiles
Combined wall systems
Anchoring and strutting systems
King Piles
Vinyl and FRP Piling
Corner / Connector
Pillars, Dolphins, Mooring and Bridge Pillars
Interlock sealing
Surface Treatment
Meever Bracing System
Description
Since 1956, Seaboard Steel Corp. has been serving the needs of pile driving contractors in the southeastern U.S., the Caribbean, and Latin America. We provide equipment and material, for rental or purchase, to pile driving contractors and related construction firms. Seaboard Steel offers steel sheet piling, H-bearing piles, pipe piles, and related items from several domestic manufacturers.
Along with these piling products, Seaboard Steel is a factory distributor for MKT Manufacturing, Inc., offering a full line of pile driving and extracting equipment, along with a complete line of parts and in-house pile driving equipment service. If you have a need for service parts "in the field", contact us and we'll arrange to get you the parts you need to minimize your down-time.
Products
Custom corners
Pipe piles
H-beams
Wide-flange beams
Channels
Accessories