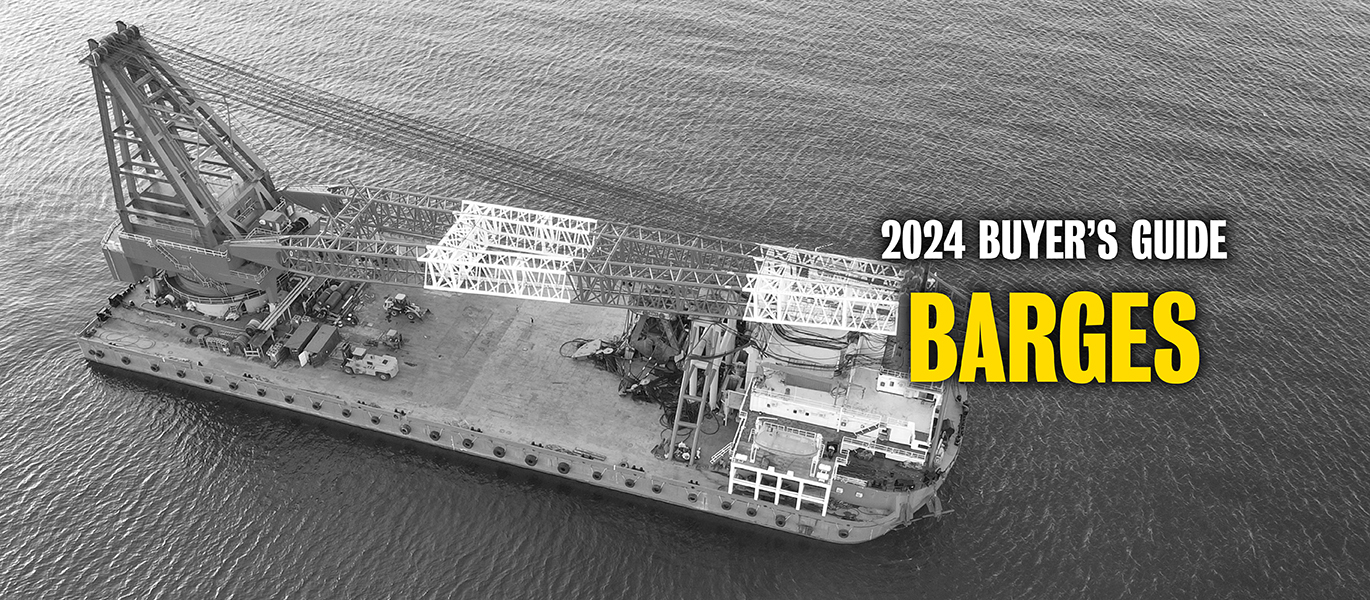 Pile Buck's Top Recommended Barge Suppliers
The barge is a simple, robust type of vessel that is used to transport everything from timber piles to heavy equipment. It's long, rectangular shape and flat bottom are meant to make the most efficient use of space for cargo. Most barges are pulled by tugboats, but there are some that move by their own power.
Barge Classification
A barge is classified based on how it is being used and how much weight it can hold. How the barge is designed is based in part on the type of water it will travel upon. For example, a barge meant to travel through narrow, inland waterways will be smaller than those built for seaports.
Under Utilized
The United States has about 25,000 miles of navigable waterways. Unfortunately, they are not used anywhere near their capacity. The 3,000 mile Intracoastal Waterway (ICW) that runs from Boston to Florida could relieve a lot of truck traffic from our highways. In fact, barge transport costs considerably less than other ways of moving goods.
Energy Efficient
A 2017 study by the Center for Ports and Waterways at the Texas A&M Transportation Institute show that barge transport is far more fuel efficient than truck transport. A truck can move a ton of cargo 145 miles on a single gallon of fuel. A barge can move that same ton 647 miles on a gallon of fuel. That same study showed that major spills happen far more often with cargo transported by truck and rail – making barge transport of toxic materials safer.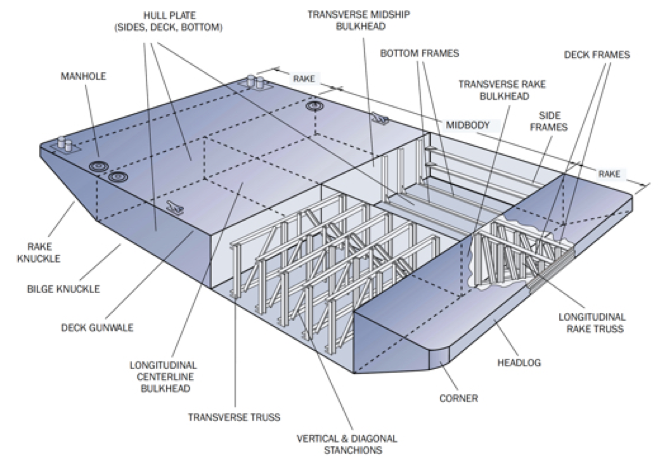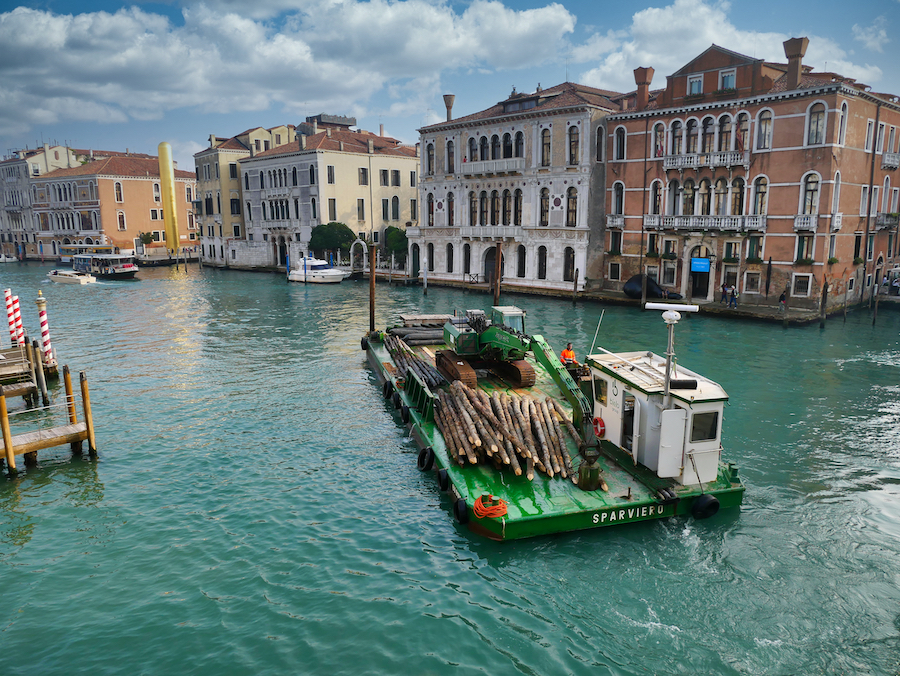 Types of Barges
There are many types of barges, including:
Inland Barge
An inland barge is designed for use on small bodies of water. They provide a cost-effective alternative to truck and rail cargo transportation – particularly for oversized items. One barge can carry as much dry cargo freight as 17 semi-tractor trailers. That single barge can carry as much liquid cargo as 144 semi-tractor trailers.
Inland Barge Rig
An inland barge rig is constructed for offshore drilling. Drilling equipment is constructed atop the barge. The barge can then be moved from location to location wherever needed. The barge rig can be anchored in place or actually submerged underwater. An inland barge rig is used to drill wells in areas where the water is not too deep – such as a marsh. In fact, it is also known as a "swamp barge."
Deck Barge
A deck barge has a platform used to carry everything from horses and cattle to construction equipment and materials. They are sometimes used to provide extra space for workers and equipment along the waterways.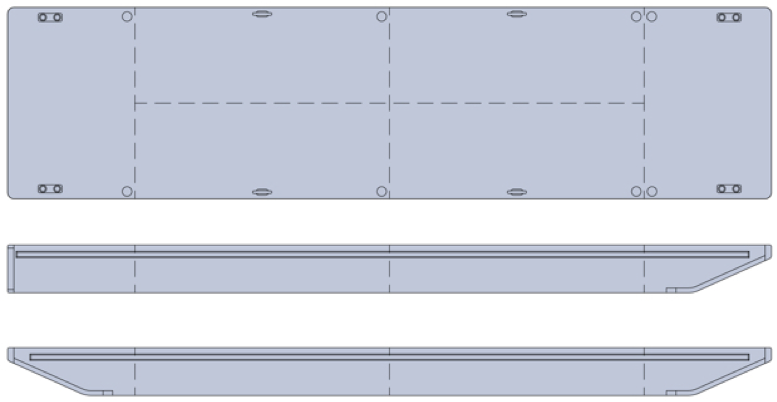 Crane Barge
A crane – or spud – barge has a squared-off stern that can handle the weight of a crane. Additional support to keep the barge stable in heavy winds and active water is found in the bulkhead as well as the deck frame construction. Crane mats are used for traction. These floating cranes are used for offshore construction. They are also used to lift heavy materials while docked.
Hopper Barge
A hopper barge is used for the transport of sugar, grains, ore and other commodities. They have double-hull construction. Some commodities – like sugar – need protection from bad weather. So the hopper barge will be covered. Otherwise, it will be open.
Split Hopper Barge
A split hopper barge is used for dredging and filling. The dredged material is placed in the split hopper barge. The material is transported to where the fill is needed. The hull splits opened to drop the dredged material in place. The hull is closed via a hydraulic system.
Shale Barge
A shale barge is similar to a deck barge, with added hoppers for cargo. Shale barges are used to transport cargo from oil and gas drilling sites. This type of barge is regulated by the US Coast Guard to ensure strict environmental compliance.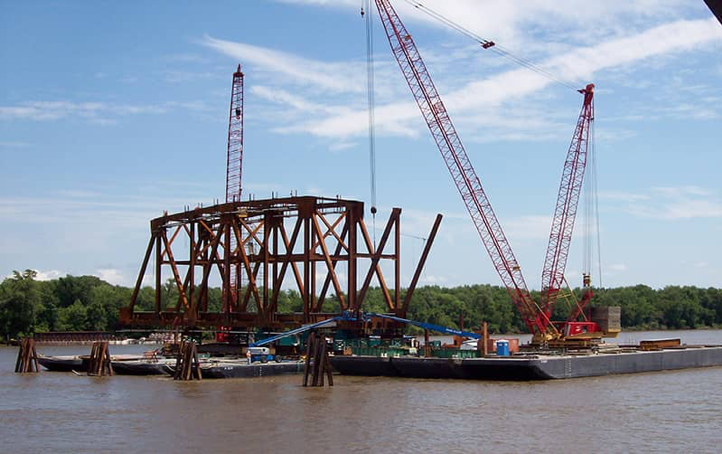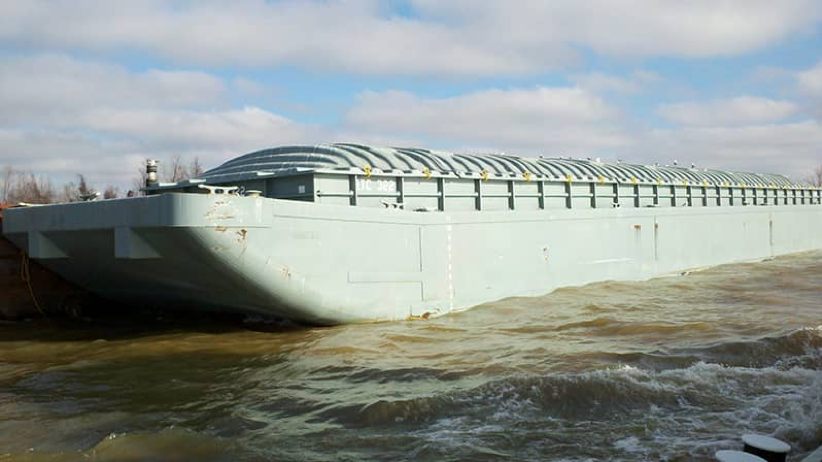 Liquid Mud Barge
A liquid mud barge is used to dispose of fluid material from inland oil drilling sites. They have storage bin tanks and pumps on board circulate the fluid material. Sometimes liquid mud barges are used for extra storage at a land-based facility.
Liquid Cargo Barge
A liquid cargo barge transports various types of liquid materials – such as gas, diesel, and asphalt. They are built to handle hazardous materials like benzene and methanol.
Ocean Barge
Where ships are too large to tread, they send an ocean barge. Like other barges they can navigate through shallow waters. However, they are built to handle harsh ocean conditions. This makes them heavier and more expensive than other types of barges. The additional weight of an ocean barge makes it more difficult to tow.
Power Barge
General Electric developed the power barge during World War II. This enabled power generation to be transported where needed. There are not as many in use today, but there are still some of these mobile power plant barges in operation around the world.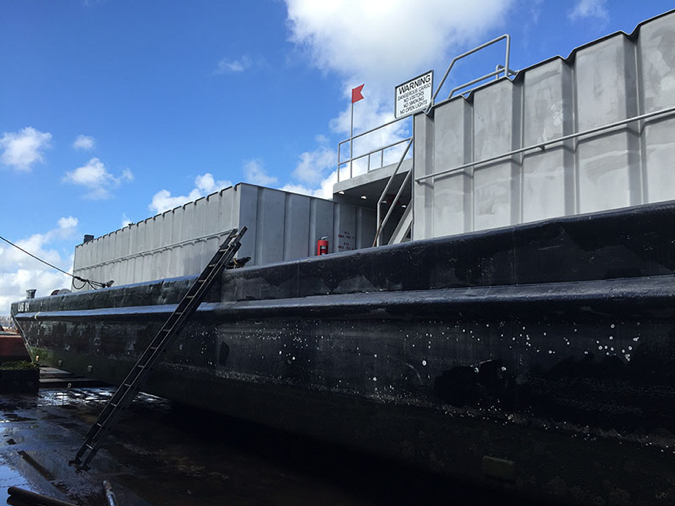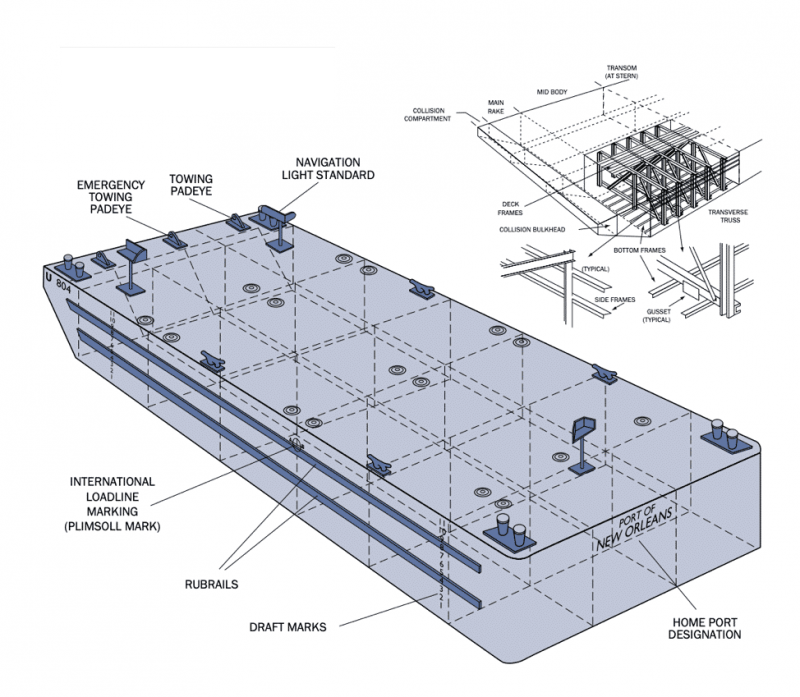 PILE BUCK'S TOP RECOMMENDED BARGE SUPPLIERS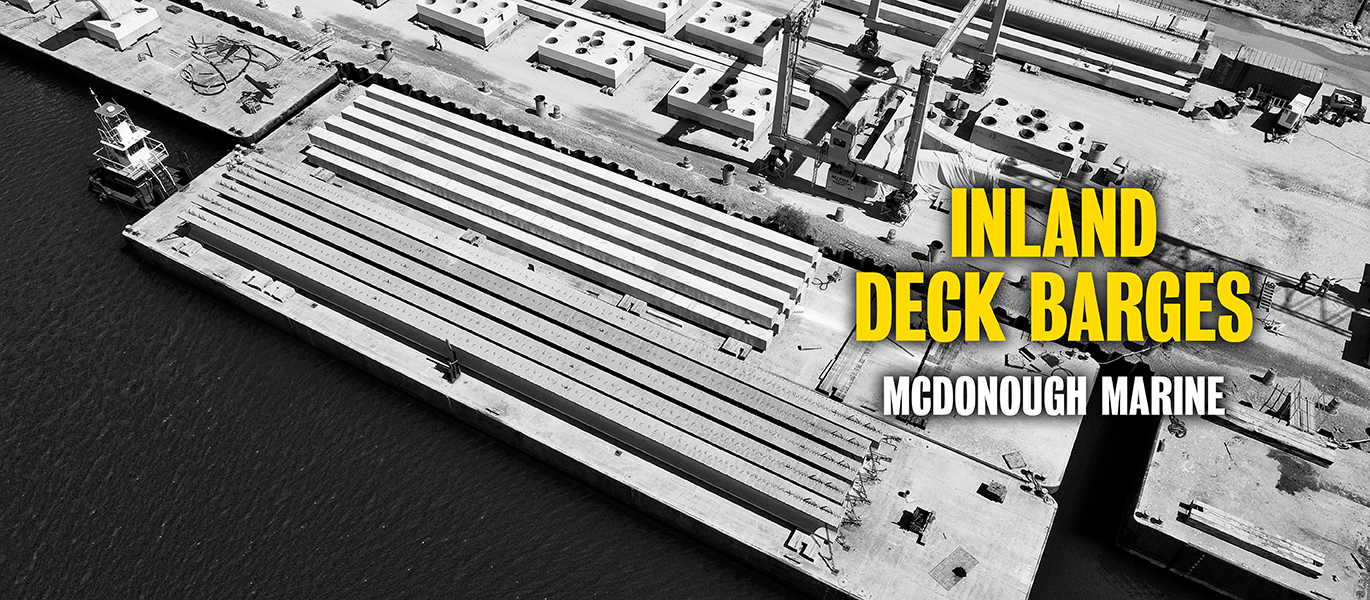 Description
McDonough Marine Service, a leading company of deck cargo barges, has a large and varied fleet of flat deck barges available for charter. These barges are designed to carry cargo on deck and differ in size and structural design, depending on their intended use. Deck cargo barges include pipe, piling, fabricated structures, equipment, rock, palletized material, or even horses, cattle, and rocket boosters. In some instances, certain liquid cargos may be carried in the interior watertight compartments. Deck barges are also used as work platforms for workers and machinery, thereby serving as an extension of the land. Some of these barges may have raised rake decks. Please contact us for more information on the capacity, load marks, and deadweight of our flat deck barges.
Technical Specs
Size
Approx. Short Ton Cargo Capacity at Freeboards of:
1′
2′
3′
4′
60′ x 26′ x 5′
125
75
30
———
72′ x 54′ x 12'6″
1135
1027
810
702
110′ x 30′ x 7′
440
340
235
140
110′ x 40′ x 7′ *
555
485
355
220
110′ x 40′ x 7'6″ *
892
748
600
457
120′ x 30′ x 7′
480
365
255
155
140′ x 34′ x 8′
820
672
525
381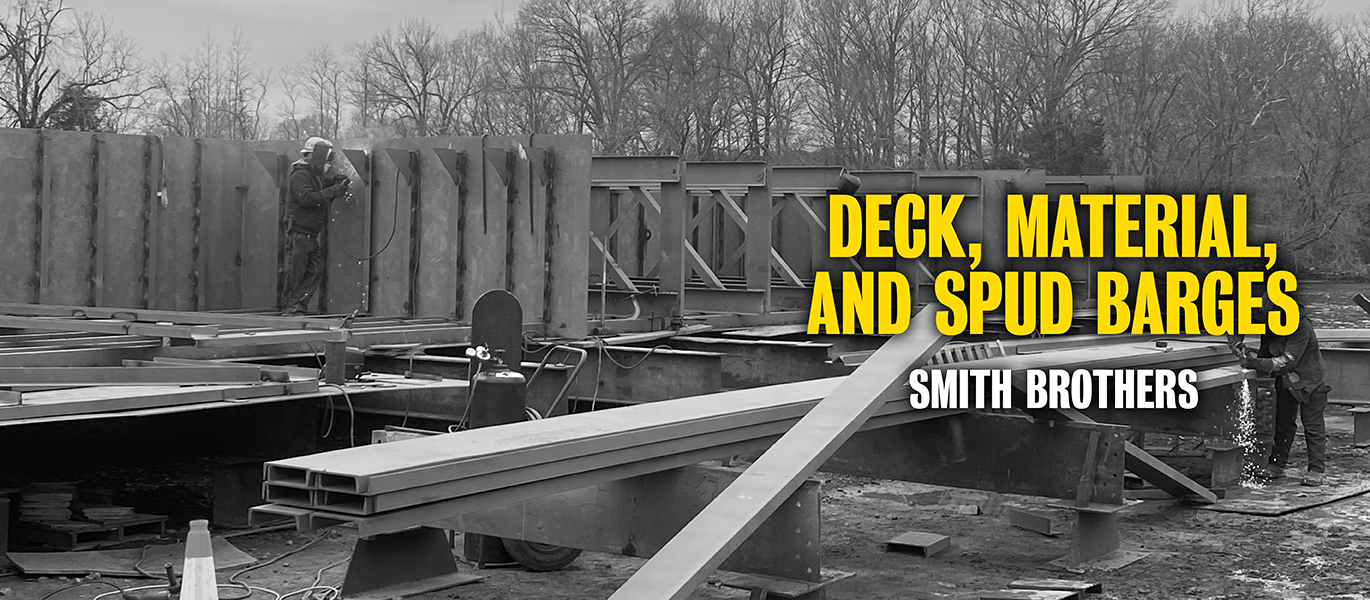 Description
Smith Brothers offers a wide variety of Barge, Tug, and marine construction equipment.
Technical Specs
Deck, material and spud barges ranging in size from 8′ x 20′ x 2′ to 50′ x 250′ x 12′