Reach industry professionals in the deep foundations and marine construction industries
Circulation: 15,000+
Why Pile Buck?
Since 1984, Pile Buck has been the most trusted information source for deep foundations and marine construction, including pile driving, foundation drilling, geotechnical engineering, and more!
Our Mission
Published every two months, Pile Buck pursues a mission to generate interest 
in the industry with unique content such as news, job stories, supplier information, safety tips, technical articles, exclusive interviews, and event information.
Partnership Benefits
Pile Buck is distributed internationally to contractors, engineers, material/equipment suppliers, government employees, educators —just to name a few. By advertising with Pile Buck, you have the opportunity to develop a strong partnership with a widely read industry magazine.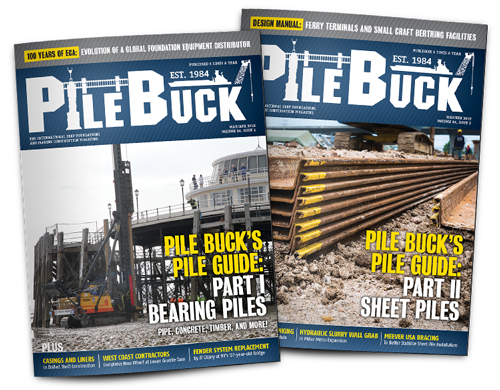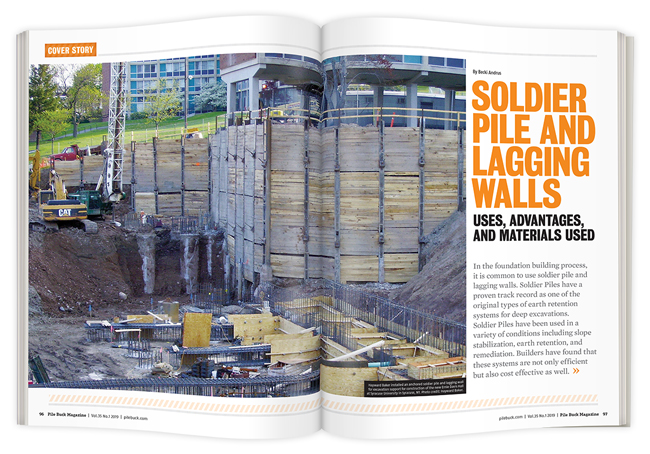 Pile Buck Content & Design
Each issue of Pile Buck features a balance of deep foundations and marine construction content, including, but not limited to, pile driving, foundation drilling, geotechnical engineering, as well as the categories listed below.
In addition, Pile Buck guarantees that each advertisement is placed with the appropriate content, often including advertisers' own articles and press releases.
Barges/Barge Lines
Civil Engineers
Commercial Construction
Consulting Engineers
Corps of Engineers Offices
Corrosion Control
Crane Services
DNR/DER Office
Dewatering Contractors
Diving/Underwater Contractors
Dredging Contractors
Drilling/Test Services
Environmental Contractors
Excavation Contractors
Equipment Dealers
FHWA/DOT Offices
Foundation Contractors
Foundation Drilling
Foundation Engineers
Forestry and Agriculture
Geotechnical Engineers
Heavy Contractors
Highway Construction
Manufacturing
Marine Contractors
Marinas/Bridge Builders
Marine Salvage Contractors
Marine Towing
Maritime Inspection
Mining
Municipalities
Navy/Coast Guard
Offshore Drilling
Petrochemical
Pile Driving Contractors
Port Facilities/Terminals
Power Generation/Utilities
Railroads
Railroad Construction
Shipyards
Ship/Barge/Boat Builders
Sign Erection
Specialty Contractors
Structural Engineers
Universities
Utilities
Warehousing
Wastewater Treatment
… and more!*
* from the Pile Buck Mailing List
Pile Buck Advertising Specs & Prices
Call us to learn about our offers!
Circulation & Distribution
Pile Buck averages 15,000+ digital visitors per issue
Digital issue stats (data is still being collected)
| ISSUE | TOTAL ISSUE VISITS | PAGE VIEWS | PDF DOWNLOADS |
| --- | --- | --- | --- |
| Issue | Total Issue Visits | Page Views | PDF Downloads |
| Issue 35-1 | 19,198 | 205,863 | 467 |
| Issue 35-2 | 16,627 | 157,537 | 280 |
| Issue 35-3 | 19,425 | 162,833 | 444 |
| Issue 35-4 | 17,397 | 142,350 | 266 |
| Issue 35-5 | 16,911 | 100,584 | 199 |
| Issue 35-6 | 15,669 | 121,159 | 198 |
| Issue 36-1 | 24,376 | 169,366 | 536 |
| Issue 36-2 | 14,460 | 116,543 | 279 |
| Issue 36-3 | 12,648 | 141,076 | 260 |
| Issue 36-4 | 12,094 | 115,795 | 286 |
| Issue 36-5 | 12,202 | 102,367 | 219 |
| Issue 36-6 | 10,039 | 98,777 | 185 |
| Issue 37-1 | 14,880 | 110,733 | 262 |
| Issue 37-2 | 10,809 | 106,281 | 156 |
| Issue 37-3 | 10,881 | 88,410 | 164 |
| Issue 37-4 | 7,504 | 98,556 | 177 |
| Issue 37-5 | 11,579 | 96,426 | 192 |
| Issue 37-6 | 18,295 | 166,395 | 240 |
| Issue 38-1 | 13,540 | 105,817 | 140 |
Countries who visit the digital issue the most
| Country | Percentage |
| --- | --- |
| United States | 62% |
| Canada | 6% |
| Germany | 4% |
| Netherlands | 3% |
| Australia | 2% |
| United Kingdom | 2% |
| Mexico | 1.2% |
| France | 1.2% |
| Findland | 1% |
| India | 1% |
| Italy | 1% |
| Russia | 1% |
| China | 1% |