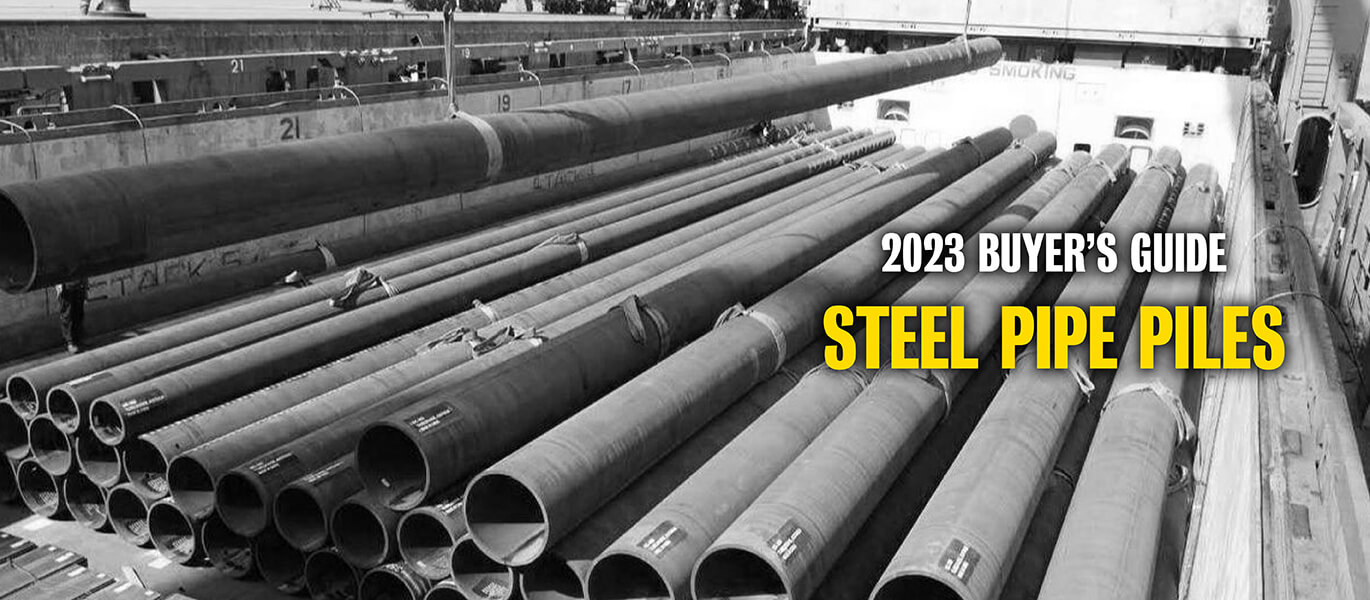 Pile Buck's Top Recommend Steel Pipe Pile Suppliers
General Information:
Pipe piles usually consist of seamless, welded or spiral welded steel pipes of wall thickness in the range of 0.109" to 2.500" (2.8 – 63.5 mm).
The piles are available in 8" (203.2 mm) to 48" (1219 mm) diameters.
Common sizes of pipe piles can be considered for loads between 60 kips (267 kN) to over 400 kips (1779 kN).
Pipe also provides a strong casing for concrete fill where underground pressures are high.
Pipe piles may be driven with an open end or a closed end.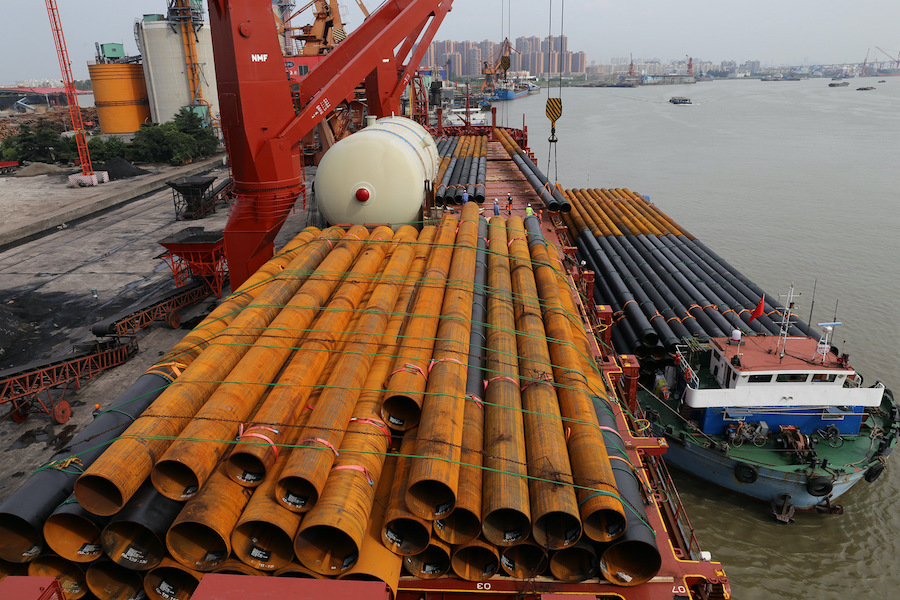 Advantages:
Wide selection of sizes and thicknesses available to choose from.
Delivery is excellent since there are many manufacturers and distributors; popular sizes are stocked.
Standard sizes of pipe pile can be driven with conventional driving equipment. Light wall pipe makes an efficient shell for concrete fill when mandrel-driven.
Pipe piles driven open-end to rock, cleaned, inspected and filled with concrete can resist very high individual loads.
Pipe piles with wall thickness over about 1/8"
(3.2 mm) and filled with concrete are treated
as a composite pile with both the steel and the concrete sharing the applied load. The advantages of both steel and concrete are enjoyed.
Pipe piles can be inspected for material damage and curvature prior to acceptance.
They can be readily spliced to extend lengths, resist hard driving, and drive straighter because of their constant radius of gyration. They make a more efficient column where unsupported length and large loads are design requirements.
Disadvantages:
Open-end pipe piles are not as favorable as H-piles for non-displacement applications since the plug of soil inside the pipe also offers resistance to penetration.
Closed-end they are full displacement piles with certain potential problems associated with displacement.
They may not be price-competitive with other displacement piles.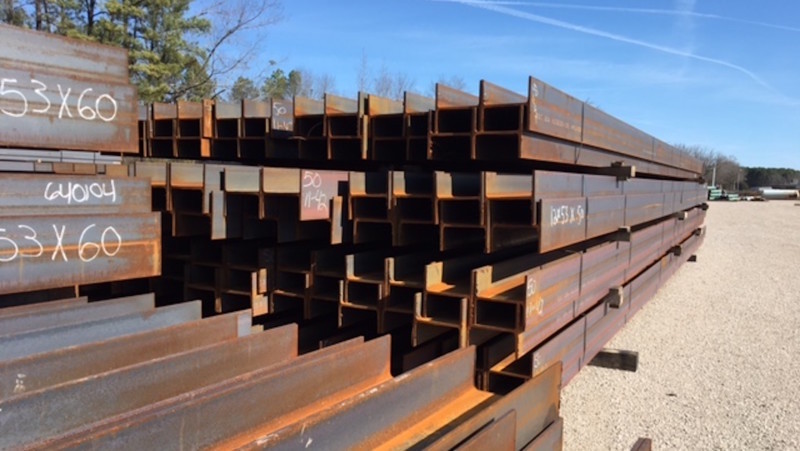 Closed Ended Pipe Piles:
A closed ended pipe pile may be filled with concrete or left unfilled.
They may be filled with a structural shape such as an H-section in addition to the concrete and socketed into bedrock (rock socketed piles).
If bearing capacity from the entire pile toe area is required, the pile toe should be closed with a plate or a conical tip.
Mandrels are usually not used for driving pipe piles, which are generally driven from the pile head.
When the end of a pipe pile is equipped with a closure device, the pile becomes a displacement pile and functions well as a friction pile particularly in loose sands.
When driven open or closed end it can also function as a high capacity end-bearing pile.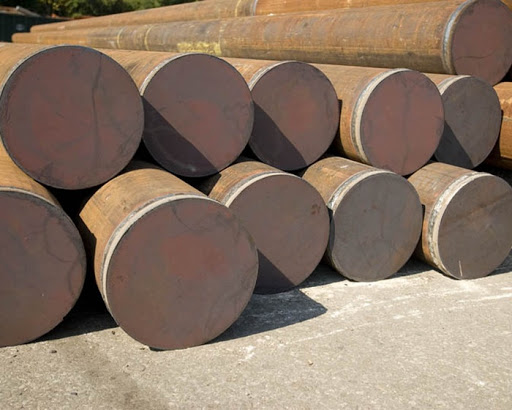 Open Ended Pipe Piles:
Open-ended pipe piles are driven when hard driving, caused by the presence of debris, small boulders and the like is anticipated.
The pipe can be fitted with a special driving shoe, which adds steel thickness at the toe to reduce stresses and damage.
Open-ended pipe piles may also be partially socketed into rock at site of steeply sloping bedrock or where pile fixity at the toe is a design requirement.
Pipe piles driven open-end may be filled with concrete after cleaning out the plug, back filled with sand, or the plug ignored.
This type of pile is also common in the installation of offshore oil platforms, whether driven from the surface or underwater. In these applications, they primarily are designed for uplift loads due to wave or wind action on the structure.
Open ended pipe piles are recommended where the pile or pile group is to be subjected to horizontal loads and bending moments such as vessel impact and scour on large structures such as bridges.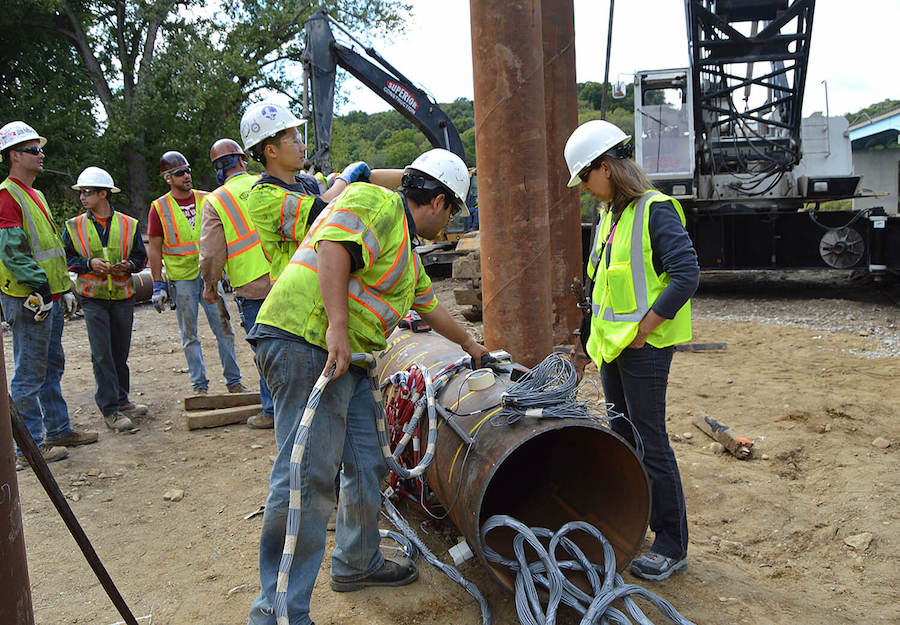 PILE BUCK'S TOP RECOMMENDED STEEL PIPE PILE SUPPLIERS
Company
We are a premier steel foundation manufacturer and supplier, serving the North American market. Skyline Steel, LLC (doing business as Nucor Skyline) is a Nucor company, the largest producer of steel in the United States, and this relationship strengthens our ability to service our customers and the industry.
Over 20 Sales Offices in North America
Manufacturing, Coating and Fabrication Expertise
Dozens of Stocking Locations
Exclusive Engineering Support
Our flagship products include an unparalleled assortment of:
H-Piles • Geostructural Products
Steel Sheet Piles • Wide Flange and other Structural Sections
Pipe Piles • Piling Accessories
Nucor Skyline's knowledgeable engineering team works with owners, engineers, and contractors long before ground is broken. To ensure seamless project coordination and completion, our engineers propose solutions throughout all aspects of design, material selection, installation, and construction sequencing. Nucor Skyline's engineering support is extended even further to include provision of onsite assistance after a project has started. Our relationships extends beyond sales – we are your true project partner.
Steel Sheet Piling

NZ/PZ Hot Rolled Steel Sheet Pile
AZ Hot Rolled Steel Sheet Pile
SCZ/SKZ Cold Formed Steel Sheet Pile
SKL/SKS Cold Formed Steel Sheet Pile
PS/AS Hot Rolled Steel Sheet Pile

Pipe

Electric Resistance Welded (ERW) Pipe
Spiralweld Pipe
Rolled and Welded Pipe
Combined Wall Systems

Pipe-Z Combined Wall Systems
HZ®-M Steel Wall Systems

Geostructural Solutions

Threaded Bar & Accessories
Hollow Bar Systems
Micropile
Multi-Strand Anchor Systems

Structural Sections

Wide Flange
Channels & Angles

Pile Accessories
Environ
Description
For over 45 years, Samuel Roll Form Group has been successfully providing end-to-end solutions to clients in diverse industries across North America. Our team is well versed to meet steel piling needs for marine construction, environmental projects, deep foundation work and any other groundwork assignment.
We are a leading manufacturer and supplier of cold formed and hot rolled sheet piling, H-piling, pipe piling and piling accessories. Our expertise paired with our state-of-the-art equipment enables us to provide fabrication services, advanced engineering support and assist clients with applications that require customized approaches.
We maintain a large rental piling inventory which is ideal for projects that do not require permanent piling installation. We offer convenient stocking locations, competitive pricing and high-quality piling.
Connect with our team to learn more.
Sheet piling

L Series
S Series
Z Series
EZ Series
XZ Series
DZ Series
PZ Series
PZC Series
JZ Series
WB/WEZ Series

H-Piling
Pipe piles

Spiral weld
Seamless
Electric resistance weld
Piling accessories

Wadit sealant
Seal welding
Steel coating
Tape coating
Flanged stiffened sheet piling
Long length sheet piling, no splicing
Pile points installation
Corners and corner connectors

Custom roll formed designs and applications.
JD Fields has gained a reputation as one of the leading steel suppliers and manufacturers. We have the experience and resources to handle, store, and ship high-quality steel products to clients both domestically and internationally. We can serve your immediate needs from over 150,000 tons of steel we carry in stock. Our experienced sales consultants can also work with you to meet any special requirements.
Line Pipe
DSAW/HSAW
ERW/HFW
Seamless
Coatings + Linings
Steel Piling
Steel Sheet Piling
H-Pile
Geostructurals
Anchorage
Accessories
Description
We buy and sell used pipe from 14" and larger. Purchase straight seams, welded and spiral weld throughout USA. Also, we buy and sell new, surplus and used sheet piling, h-piles, large wide flange beams, bracing, shoring and road plates any quantity anywhere.
Description
Crestwood Tubulars is a stocking distributor of steel pipe, piling, casing, caissons,  stocking in OHIO / OKLA / TX  …. We have been in business 30 years
Products
ASTM A252-2/3 steel pipe
secondary and surplus line pipe
rolled and welded steel pipe
added on products such as coatings
end plates
points
etc.
Description
Founded in 1905 in Birmingham, Alabama, AMERICAN is a manufacturer of fire hydrants, valves, ductile iron pipe and spiral-welded steel pipe for the waterworks industry and high-frequency-welded steel pipe for the oil and natural gas industries. AMERICAN's diversified product line also includes fire pumps, structural casing and piling, castings for large machinery, and specialty rubber products.
Products
American Ductile Iron Pipe
American Spiralweld Pipe
American Steel Pipe
Description
Service Steel Warehouse is a full-service, independent, carbon structural steel distributor serving customers in the United States and internationally. Located next to the Houston Ship Channel with rail access to the Port of Houston and the mainland, Service Steel uses its efficient transportation system to ship steel across the United States and around the globe. Our large inventory, competitive pricing and intense commitment to customer satisfaction forms the foundation of our growth as an industry leader since 1965.
Products
HSS Round & Pipe
Square Tubing
Rectangular Tubing
Round Piling
Description
Since 1956, Seaboard Steel Corp. has been serving the needs of pile driving contractors in the southeastern U.S., the Caribbean, and Latin America. We provide equipment and material, for rental or purchase, to pile driving contractors and related construction firms. Seaboard Steel offers steel sheet piling, H-bearing piles, pipe piles, and related items from several domestic manufacturers.
Along with these piling products, Seaboard Steel is a factory distributor for MKT Manufacturing, Inc., offering a full line of pile driving and extracting equipment, along with a complete line of parts and in-house pile driving equipment service. If you have a need for service parts "in the field", contact us and we'll arrange to get you the parts you need to minimize your down-time.
Products
Custom corners
Pipe piles
H-beams
Wide-flange beams
Channels
Accessories
Description
Located in Puyallup, Washington, Bigfoot Pipe & Piling is a leading supplier of new, used, and surplus steel pipe and piling products. We offer pipe ranging in diameter from 1/4″ to 120″. This week you'll find great deals on 30″ steel pipe in numerous wall thicknesses, and various finishes. Request a quote today. 800-877-7453
Industries Served
Construction
Marine applications
Piling
Infrastructure
Dewatering
Dredging
Excavation
Hydroelectric & water transmission
Irrigation & water wells
Mining
Tunneling & road boring
Sign & flag poles
Agriculture
And so much more
Description
Meever USA is the American arm of a global manufacturer and distributor of steel piling products called Meever and Meever headquartered in the Netherlands. A private, versatile, entrepreneurial, family owned business with continuously growth over the past 32+ years. Meever and Meever has evolved into an international network of facilities and subsidiaries, and stocking locations around the world, including Netherlands, Germany, Poland, UAE, Australia.
Meever USA has been able to continue its North American, Canada, and Caribbean success because of our worldwide contacts, sources, and expertise.
We specialize in suppling steel sheet pile, steel (welded and seamless) pipe pile, steel H pile, structural steel, anchoring and strutting systems, and accessories required by the pile driving industry. We consider teamwork with our customers as one of the key elements generating our success.
Products
Hot rolled sheet piles
Cold formed sheet piles
Structural steel & H-Piles
Pipes and Micropiles
Combined wall systems
Anchoring and strutting systems
King Piles
Vinyl and FRP Piling
Corner / Connector
Pillars, Dolphins, Mooring and Bridge Pillars
Interlock sealing
Surface Treatment
Meever Bracing System
Description
Atlas Tube was founded in Harrow, Ontario, in 1984 by the late Harry Zekelman. After his passing in 1986, operations were taken over by his three sons. With a dedication to customer service, lean manufacturing, employee empowerment and leading-edge technology, Atlas Tube flourished to become the largest structural steel tubing producer in North America.
Today, Atlas is proud to be a division of Zekelman Industries, the largest independent steel pipe and tube manufacturer in North America and a leader in modular construction innovations. Atlas now offers the broadest size range of steel hollow structural sections (HSS), the shortest cycle times in the industry, and answers to design and shipment questions. We're doing our part to MAKE IT eZ for our customers.
Products
Structural HSS
Steel Pipe Piles
Shuriken
Mechanical Tubing