Tips for Buying and Selling Used Construction Equipment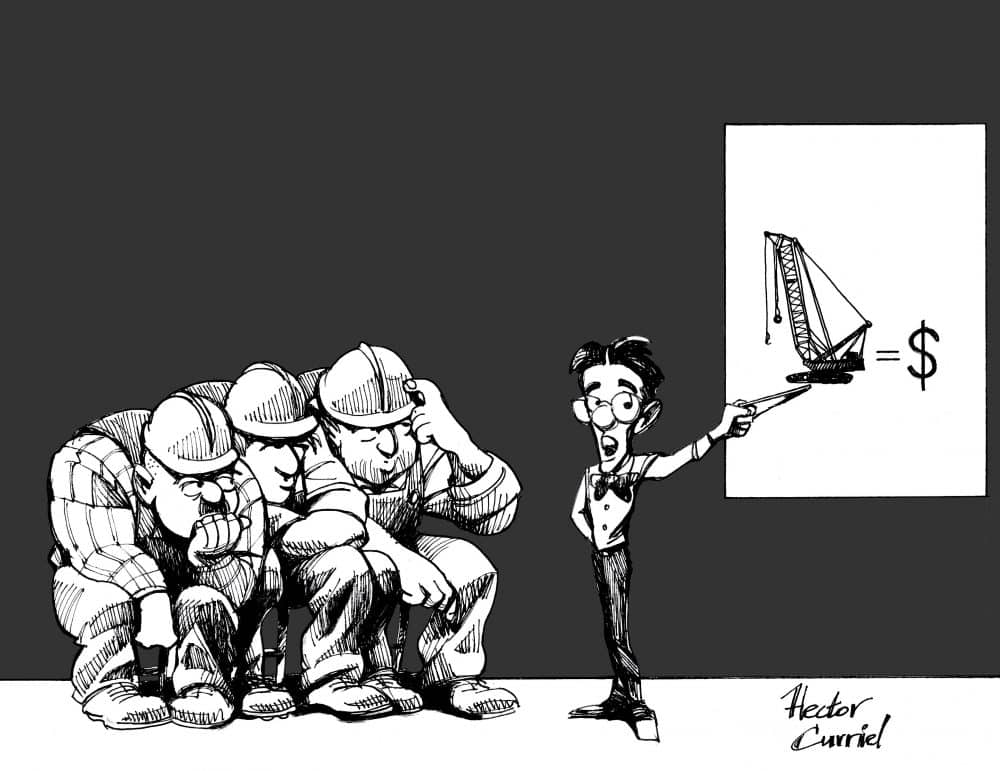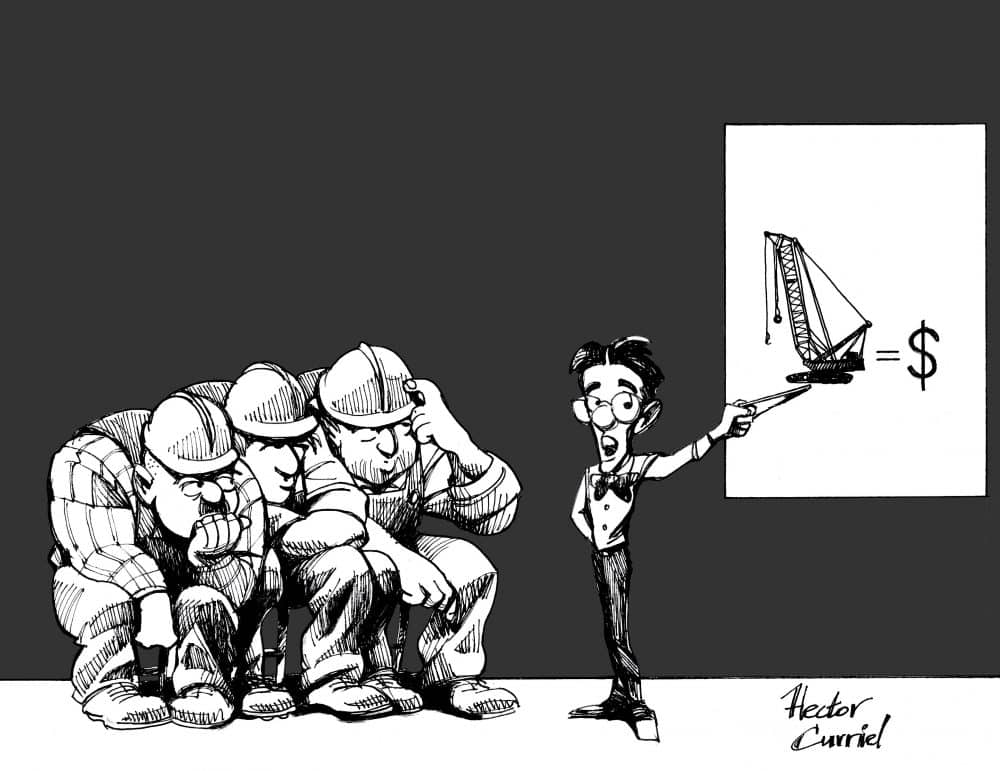 Click here to view the complete article.
Brought to you by SteelGiantMarket.com – List your construction equipment, materials, and services for free.
Contractors who maintain sizable fleets of heavy equipment are routinely in recycle mode.
Spanning a set period of time, these firms sell older or lesser-used machines, frequently replacing them with newer or refurbished used equipment.
This simultaneous involvement in the resale market requires a significant financial, time and resource commitment on the part of a contractor, which inflates the importance of research, preparation, transparency and inspections during the buy-sell process.
Buying
When acquiring used equipment, the ultimate goal is to purchase quality at or below your set maximum bid.
In-depth research, planning and inspections are paramount to achieving this goal.
Research is the initial step in the buying process.
Have a specific piece of equipment in mind, say an excavator.
Compare similar excavators built by different manufacturers, as different brands and models hold their value better than others.
Review equipment information and assessments to better compare machines side-by-side, surmising which brand and model to target in the marketplace.
A number of potential buyers target the most popular models and brands because it is easier and more reasonably-priced to find parts and manuals. However, lesser-known, possibly less expensive, brands can sometimes complete a job just as well, making detailed equipment specifications and peer reviews a valuable resource.
When searching for specific equipment, scan a variety of private, broker- and auction-listing websites, comparing list prices and seeing for what similar machines have recently traded.
Determine the going rate for a specific brand and model of equipment identified for which you are interested.
Formulate a maximum bid for identified equipment
A feasible, financially-sound maximum bid takes into consideration transportation costs.
Shipping a 70,000-pound-plus piece of machinery can cost thousands of dollars depending on distance.
Before contacting a transport company or auction company to obtain an accurate shipping estimate, collect precise unit specifications prior to requesting a quote. If the purchase is from another country, contact a local customs broker to discuss import and export regulations.
Example: For a crawler tractor, key specs would include length of equipment with blade, width over tracks, cab height, ground clearance, length of track on the ground and weight.
A consortium of national and regional banks, including Wells Fargo, offer comprehensive construction equipment financing and leasing solutions.
Larger auctioneers and manufacturers have pre-approved lines of credit programs.
A buyer can bid in person, online in real time or via a proxy bid
Inspection is a vital step in the pre-bid process
If testing the equipment is not an option, it's best to steer clear of the unit, unless it's accompanied by a solid warranty or you can send someone you trust to the site for a walk-around and testing.
Bring an experienced mechanic for any inspections. Always take time to adequately look over a machine.
At first glance, the overall cleanliness of a machine should indicate how well it was kept up; however, only a detailed inspection and working out of the equipment will tell the whole story.
Some contractors break an inspection down into four points, focusing on structural, mechanical, hydraulic and ground-engaging components. The performances of these elements are combined to determine the overall condition of the unit.
Inspection procedures and value-establishing methodologies obviously vary by contractor; however, there exist a number of bullet items that should be observed during a walk around.
Observe how the engine cranks.
Look for leaking fluids
Take oil samples

Fluid samples provide a look into the current condition of the engine, hydraulic systems and transmission.
Engines that have seized are a risk.
Try every speed and movement of the unit
Have the seller explain all controls
Check the tightness of the controls: Knob, control handle, rod, rocker arm, spring, bushings
Cycle the hydraulics:
Whining or significant noise every time the hydraulics is engaged suggests the existence of an internal problem.
Use out the brakes and observe any strange noise
External brakes are a low-cost replacement, but new rear differential discs are costly.
Look for welds, plates or cracks on loader arms or buckets
A weld indicates some steel has broken, likely the result of hard abuse.
Locate any gouges on the machine's exterior
This type of damage indicates the equipment was used in heavy applications and its life expectancy could be comprised.
Observe any signs of excessive loose bushings, pins, wear strips or shims
Know the equipment you're inspecting

Where is the most important wear item located? (i.e. the neck on a motor wheel scraper)
Are the attachments and equipment the correct length for the specific model?

Identify any paint or spray on the machine's exterior
These materials are often used to cover up problems
Note wear and tear that can be eliminated by replacing wearables or repainting
Obtain the maintenance records for a unit before or following inspection
A breakdown of the pre-buying process is timely, as sales of used construction equipment are expected to increase this year. According to a Wells Fargo construction forecast, more than half of national equipment distributors expect used sales volume to rise year-over-year.
Selling 
When reselling equipment, obtaining a peak sales price is the ideal situation, a benchmark achieved by exposing machinery to the largest possible buyer pool.
Partnering with an online auction company or full-service global auctioneer.
For a growing number of contractors, this means that holds in-person events but also has a significant web presence.
Avoidance of selling a unit privately can save a contractor significant time and money.
With inspections being so vital to the buying process, a contractor that sells privately must be widely available for showings.
If utilizing an auction company, the owner must transport the equipment to the site. From there, a seller's agent typically accompanies prospective buyers on walk arounds.
The ability to inspect and test equipment, at their convenience, is preferred among buyers and could give them more confidence in what you're selling.
If selling privately, the owner-to-buyer personal connection will be there, but costs can build up if a unit isn't moved quickly. Typically, these costs are associated with storage, maintenance, inspections and marketing.
Those looking to sell specialized items must typically go the online auction route, as exposing the equipment to a global audience is often needed to ensure quick disposition.
Whatever selling avenue a contractor chooses, being transparent and informative is essential to gaining buyers confidence and obtaining the best possible sales price.
The more maintenance records, usage logs, detailed descriptions, certifications and high-resolution photos provided the better. Contractors can back up their asking prices and attract more buyers.
Additionally, any piece of equipment – regardless of age or listing avenue – won't nab a solid price if it doesn't look good. Having equipment painted, refurbished or cleaned prior to listing is often recommended.
If you've decided to go the online auction route, research and due diligence is suggested when choosing a company, selecting a price and dealing with tax-related issues.
Online Auction Checklist
Visit different auction websites
Companies vary in terms of format, policies, fees and requirements of the seller
Confirm the company can verify and guarantee payment
Meet with an auction company representative
Consign the equipment for sale: Auction representatives typically bring the necessary paperwork, which legally recognizes the right of the company to sell the item and the seller to deliver it.
Establish an opening, win it now, or reserve price
Research previous sales price of like equipment
Review any recent refurbishments made to the unit
Factor in future replacement costs and mandated retrofits
Reserve price allows a seller to regain equipment that does not sell for a pre-specified amount
Check for any tax deferral opportunities: Under Internal Revenue Service Code 1031, equipment owners can defer federal income taxes on the sale of equipment so long as they replace it with similar equipment within six months
Conclusion
Purchasing and selling used equipment has never been more convenient for contractors, thanks to the volume of online listings and auction companies; however, the age-old principles of buying and selling still apply.
Contractors that achieve success in the resale market understand that while sales avenues have changed, the steps to purchasing quality equipment or obtaining a maximum sales prices –  research, preparation, transparency and inspections – remain the same.