How to Bid on a Construction Project Like a Pro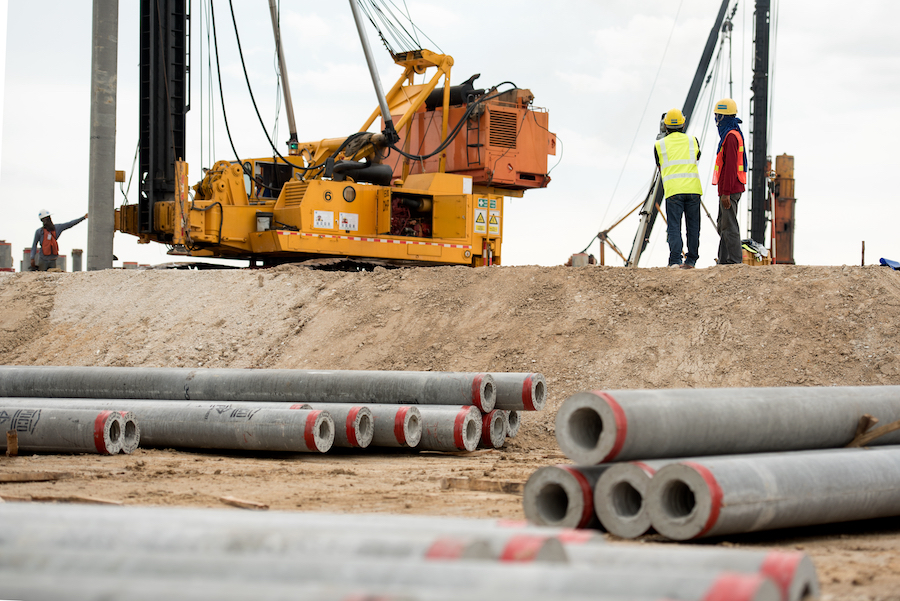 View the complete article here
The construction bidding process can seem daunting. It's a formalized process with its own set of rules and customs. Some construction company owners want to expand their business by courting government agencies and large commercial companies. But they just aren't sure where to begin. Our construction bidding guide will take some of the mystery out of the process.
Construction Bidding Process
There are 5 overall phases to the construction bidding process.
Bid Solicitation
The project owner (the person or entity you will do the work for) solicits bids for a construction project. Relevant documents and details, such as drawings and specifications, are made available to so-called "interested parties" – including contractors, construction managers, and the general public. The process is often called a Request for Proposal (RFP), Request to Tender (RTT), or Request for Quote (RFQ). For the remainder of this article, we will use "RFP" to describe the process. Bid solicitations typically include a formal RFP document that has all the details and instructions for the bidding process.
Bid Submission
Bids are submitted by the deadline along with all requested documents and information. In some cases, the project owner has a qualifying round before final bid submission. This creates a 2-step submission process, where those selected in the qualifying round will submit their bids for review.

Bid Selection
The project owner selects the winning bid typically using one of three procurement methodologies:
Best Value
The Best Value procurement methodology allows the project owner to award a construction contract on more than just price. A set of selection criteria is developed that will add value to a bid. Examples include proven past performance on a similar project, strong management approach, a highly qualified team, etc.
Negotiated
In negotiated procurements, the project owner reaches out to potential builders directly (rather than soliciting openly for bids). The project owner negotiates terms and price with one or more builders. A broad agreement is reached, and final details are negotiated before the project begins.
Low Bid
Often used for government contracts, the lowest bid is selected. A qualifying round may be required before bid submission.
Construction Contract
The contract for the project is drawn up and signed by all parties. There are five common types of construction contracts.
Lump Sum / Fixed Price
The contractor will be paid the agreed sum in one payment at the end of the project. Sometimes incentives are built-in if the project is completed early – or penalties if it is not. Obviously, this is the highest risk to the contractor. You'll want to ensure that all deliverables are clearly defined in the contract.
Cost Plus
The contractor is paid for all actual expenditures – plus overhead and profit. This type of contract can reduce risk to both parties. However, it requires detailed and accurate bookkeeping. Which you should be doing anyway.
Time and Materials
This type of contract is often used when the project deliverables are not well defined. An hourly or daily rate is specified, plus the cost of materials and other expenses as defined in the contract.
Unit Pricing
In this type of contract, a unit represents a chunk of work, or materials, or a combination of work and materials. It is not usually known how many units are required exactly, but an estimate is typically provided. What makes up a unit and the price per unit are defined in the contract.
Guaranteed Maximum Price (GMP)
A GMP contract guarantees that the project owner will not pay more than the agreed upon maximum price. Meaning that cost overruns on the project are the responsibility of the contractor. Some protection can be available by building the cost of contingencies into the price.
Project Delivery
The contracts have been signed and the work begins on the project. This is also the phase where all your estimates are confirmed – or not.

The Project Delivery Method
The project delivery method is determined by the project owner prior to bid solicitation. There are four major methods.
Design-Bid-Build
Design-Bid-Build (DBB) – also known as "design tender" – is the traditional project delivery method. An architect is hired by the project owner to develop designs. The bid solicitation is for the execution of those designs. A DBB bid includes all material and labor costs needed for construction and project management, plus overhead and profits. A major advantage is that it is easier to calculate construction costs from a completed design. The disadvantage for the contractor is that they were not involved in the design process. This could present as design flaws in the field that increase building costs.
Design-Build (D-B)
In Design-Build (D-B) the bid solicitation goes out for both the design and the execution of that design. The two phases are priced together. In D-B, the contractor takes on responsibility for the whole project. Meaning any design flaws discovered in the field that increase construction costs would be borne by the contractor.
Construction Management at Risk (CMAR)
CMAR, like the DBB method, separates out the design and construction phases. However, the construction manager is brought on board prior to design and acts as a consultant to the project owner. They may assist in selecting an architect. The construction manager may or may not handle construction but does work with the designer. So, at the end of the design phase, either the construction manager transitions to the role of a general contractor, or the bid solicitation goes out to select one. CMAR is most often used for complex projects. Selection criteria is usually based on the construction manager's qualifications rather than the lowest price. Guaranteed Maximum Price (GMP) contracts are typical for CMAR projects.
Integrated Project Delivery (IPD)
IPD is also known as the Integrated Team Method. So called because the project owner, designer, and contractor form a contractual partnership (the terms of which are negotiated). With IPD, cost savings and early delivery of project components are incentivized within the contract. The value of the IPD method is that the project owner, designer, and contractor bear full responsibility of the project together. The team often is assembled as early as the concept and feasibility phases.

Top 10 Construction Bidding Tips
Bidding on construction projects has many pitfalls. But nearly all are avoidable. Follow our Top 10 tips to increase your chances of submitting a winning bid:
#1 – Bid on the Right Projects
Conventional thinking says that it's a numbers game and you should bid on as many construction projects as possible. That may make sense for a company large enough to have its own construction bidding department. For most construction business owners, they and their small team are preparing these bids while trying to work on existing projects. Select projects where you have the highest chance of winning the bid.
#2 – Takeoff Right
In order to develop a precise construction material takeoff, you must thoroughly review the project plans to calculate measurements and quantities. You are aiming to be the lowest bidder – but not at the expense of your bottom line. Takeoff software automates much of the process. Popular takeoff software programs include Stack (STACK | Construction Takeoff & Estimating Software (stackct.com)) and PlanSwift (Quantity Takeoff Software (planswift.com)).
#3 – Visit the Site in Person
You can glean a lot of information from pictures and video of the proposed construction site. The authors of the RFP may have provided many details about the site. None of these is a substitute for seeing the site with your own two eyes and walking it with your own two feet. Document your observations about the size, terrain, road access, surrounding buildings, powerlines, etc. We recommend walking the site before you spend any time on paperwork. One look and you may decide to take a pass.
#4 – Just Ask
There are no stupid questions. It's only stupid not to ask for clarification on anything that can impact your estimate or your ability to follow the construction bid instructions. When in doubt, just ask. The bid solicitation should include contact information. It is best to get your answers in writing to avoid miscommunication down the road.
#5 – Double Check the Numbers
Math errors can cost you big time. Either your bid ends up higher than need be – or lower than it should be. If you are using an Excel template for calculations, ensure that subtotals and totals are being calculated properly. Minimally you should be using a calculator. But consider investing in construction estimation software to streamline the process. Procore (Procore | Construction Management Software) and Clear Estimates (Clear Estimates | Construction Estimating Software) are just two of many available construction cost estimating software programs.
#6 – Equipment Requirements
You don't have to own every piece of equipment required for the project. But you do need to determine cost – and availability to rent or buy – all the needed equipment. Don't forget to include repair and maintenance costs.
#7 – Prequalifying Subcontractors
If you plan on regularly bidding on construction projects, you want to start building a database of subcontractors. You should consider having your own prequalification process to identify and screen prospective subcontractors. Even subs who have worked for you in the past should still go through the prequalification process. This is to ensure that your estimates are based on subcontractors who are qualified and available.
#8 – Building Materials
It is imperative that you don't make assumptions about the required building materials. There can be a huge difference in price between, for example, types of lumber. When in doubt, contact the project owner for clarification.
#9 – Complete Bid Forms and Documents
Another reason you should be selective in the construction projects you choose to bid on. You don't want to rush the process. Triple check all the documents. That you have included everything requested and that each item is properly completed. If possible, multiple people should review and signoff on the bid package before submission.
#10 – Past Projects
You may have done a similar project in the past. Maybe multiple times. That is never a substitute for due diligence. Consider each project completely brand new. You can use historical data from past projects to help in the estimation process but don't just make unsubstantiated assumptions.

Bonus Tip – Risk Mitigation Planning
You don't know if a risk is worth taking if you have not identified and evaluated it. Jot down potential risks as you are reviewing the bid solicitation. Jot down some more as you are walking the site. Brainstorm with your team to identify other risks you may have overlooked. Then document the ones that could realistically happen and rate them. A low-medium-high scale is typically used. You are rating each risk on its likelihood of happening and its impact to the project. Any risk with a "high" rating should have a documented risk mitigation plan. A risk assessment may lead you to conclude that the project is too risky to take on at all. Or you may only be willing to take it on for the right price.
Conclusion
Bidding on construction projects is an important strategy for launching and growing your business. Carefully select the projects you choose to bid on. Take the time to carefully review the bid solicitation's requirements, physically walk the site, and do a risk assessment. Use tools such as estimation and takeoff software to ensure accurate measurements and estimates. And remember our most important construction bidding tip: when in doubt, ask. Now go win some bids!