INTERVIEW: Manson Construction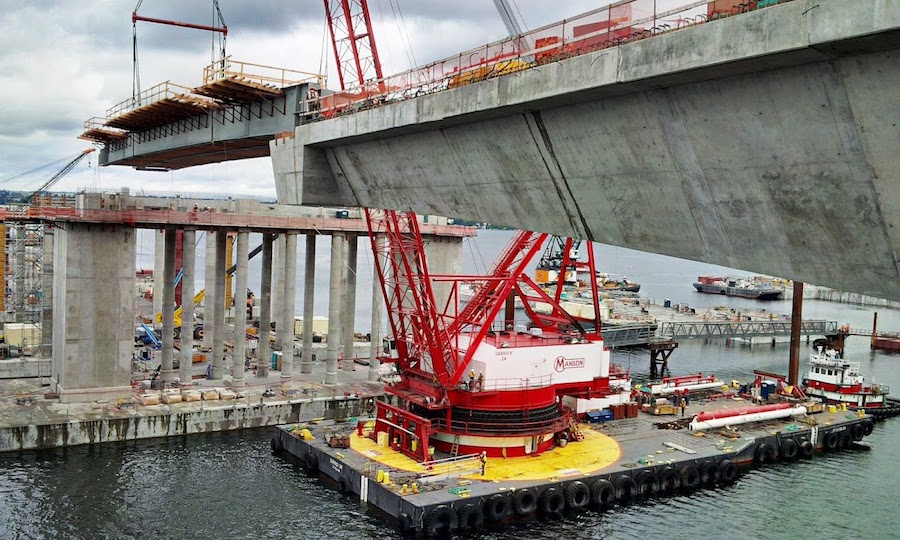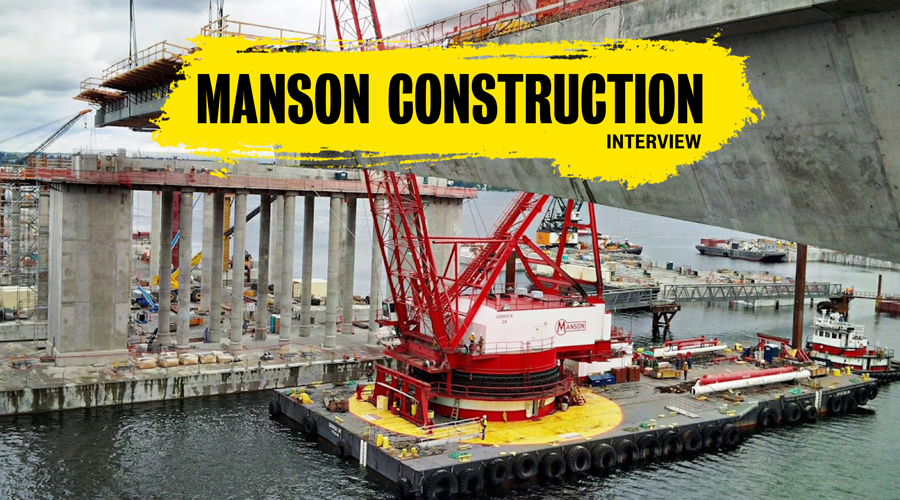 Pile Buck's interview with Manson Construction – a premier employee-owned company offering building and maintenance of infrastructure and waterways in North America. 
PB: Tell us about Manson Construction Company.
MC: We were established in 1905, as a small, family-owned marine pile-driving business in Seattle, WA. Today, we thrive as an employee-owned company with six locations and five marine yards across North America, providing innovative solutions and engineering expertise to improve the nation's waterways and marine infrastructure.
PB: What services does Manson Construction offer?
MC: Manson combines complex and highly skilled engineering techniques to execute a variety of in-water and over-water work worldwide. This includes marine infrastructure, such as piers, wharves, and outfalls; dredging, such as clamshell, hopper or cutter suction dredging; and heavy lifts and offshore operations.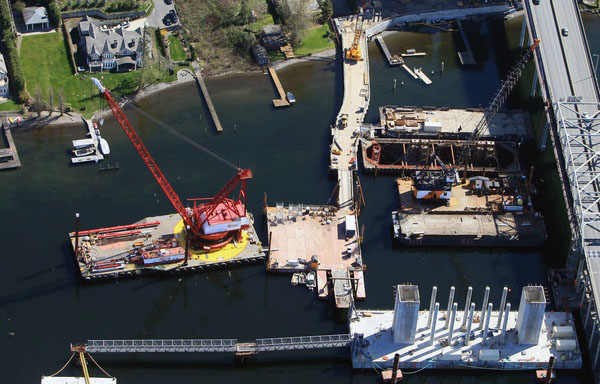 PB: Our readers are particularly interested in marine construction. Tell us about the floating bridge project.
MC: Named the longest floating bridge in the world by the Guinness Book of World Records at the time of its construction, Manson—as a joint venture partner—built the SR 520 Evergreen Point Floating Bridge and Landings project to replace the existing floating bridge across Lake Washington in Seattle, WA.
PB: It seems like it was a complicated project. 
MC: Our team of managers, superintendents, engineers, and skilled craft employees demonstrated skillful collaboration to construct a new six-lane, 1.4-mile concrete floating bridge. The bridge was constructed with watertight concrete pontoons—connected end to end—and was held in place with heavy steel cables anchored to the lake bottom and a roadway added to the top.
PB: You had to install some long precast concrete pontoons.
MC: Seventy-seven concrete pontoons make up the bridge with the largest measuring 75 ft. by 360 ft and weighing 11,000 tons.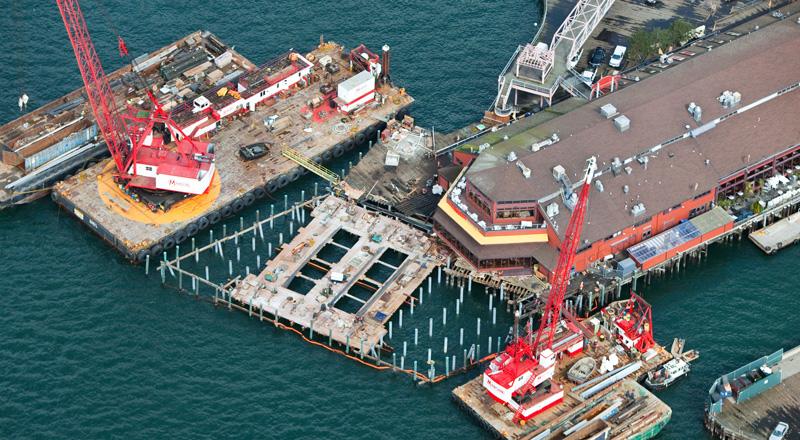 PB: We heard you built the foundation for a Ferris wheel. That sounds interesting.
MC: The Seattle waterfront is home to the iconic Seattle Great Wheel, one of the largest Ferris wheels on the West Coast, and one of only three ever built over water. Manson built the foundation for the Wheel, providing a structurally sound base for the new public attraction.
PB: Manson offers dredging services. What is one of your most memorable dredging projects?
MC: Our dredge fleet regularly services the vital waterways of the Gulf states and on the East and West Coasts. One memorable project in California involved channel deepening in harbors located in both Los Angeles and Long Beach. This project involved two kinds of dredging: mechanical clamshell and hydraulic cutter suction.
PB: What's the difference?
MC: Clamshell dredging uses a large digging bucket attached to a crane with steel wire rope cables. As the dredge operator mechanically lowers the bucket into the water, its weight digs into the seabed and grabs the material to be dredged. After the bucket is filled and closed, it is brought up to the surface where the material is placed on a barge for transfer and disposal. Cutter suction dredging involves using a rotating cutter head affixed to the end of a large steel frame of the dredge that is lowered into the water to fragment or loosen the soil. Dredge pumps simultaneously suck up the material hydraulically and discharge it through large and lengthy pipelines to the designated disposal area.
PB: Tell us about the Block Island Wind Farm project.
MC: This joint venture project involved installing the foundations for the Block Island Wind Farm off the coast of Rhode Island—the first offshore wind project in the United States. The wind farm consists of five wind turbine generators that supply East Coast residents with power.
PB: That was a complex installation.
MC: The project team and crew had to anchor 110-ft. tall, 400-ton jackets and drove 60-in. diameter steel pipe piles 150 ft. into the seafloor at each of the five project sites. Crews set a steel deck atop each jacket. The project also required loading and transporting the jacket structures to the project site.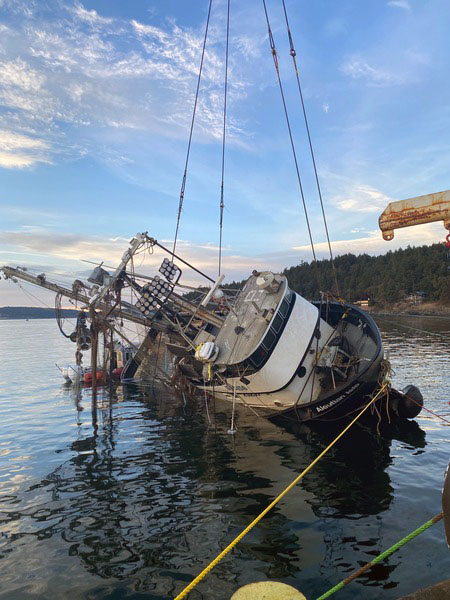 PB: Manson offers heavy lift services. You once salvaged a commercial fishing boat, yes?
MC: Manson's recent salvage project involved the recovery of a 49-ft fishing boat, the M/V ALEUTIAN ISLE, that sunk in the Salish Sea in Washington state. Our project team and craft personnel coordinated with the United States Coast Guard, Department of Ecology, and our client, Global Diving and Salvage, to successfully defuel, relocate, and hoist the ALEUTIAN ISLE with Manson's derrick barge DB24. Pile Buck readers can learn more about the ALEUTIAN ISLE salvage project by reading the article from the Manson Navigator on our blog.
PB: What did you do with the ALEUTIAN ISLE after you pulled it out of the water?
MC: The DB 24 crane loaded the fishing boat onto a material barge which was transported to Manson's Seattle yard to undergo proper environmental cleaning and preparation before its final transportation to the Seattle Iron & Metal scrapyard.
PB: The Manson Construction Fleet is quite impressive.
MC: Manson offers a variety of specialized company-owned equipment that consists of 19 derrick barges, 8 hopper and cutter suction dredges, 50+ barges and more to meet the needs of our clients. For example, Manson's derrick barge E. P. PAUP measures 380 ft. in length and has a max lift capacity of 1,000 tons. Respectively, the cutter suction dredge ROBERT M WHITE measures 270 ft. with suction and discharge diameters of 30 in. For a complete list of Manson-owned fleet, visit our website Fleet | Manson Construction Co.
PB: Is Manson hiring?
MC: Currently, we have several regional openings including operators, deckhands, electricians, supervisors, engineers, administrators and more. If you are committed to excellence, safety, and innovation, Manson is the place for you.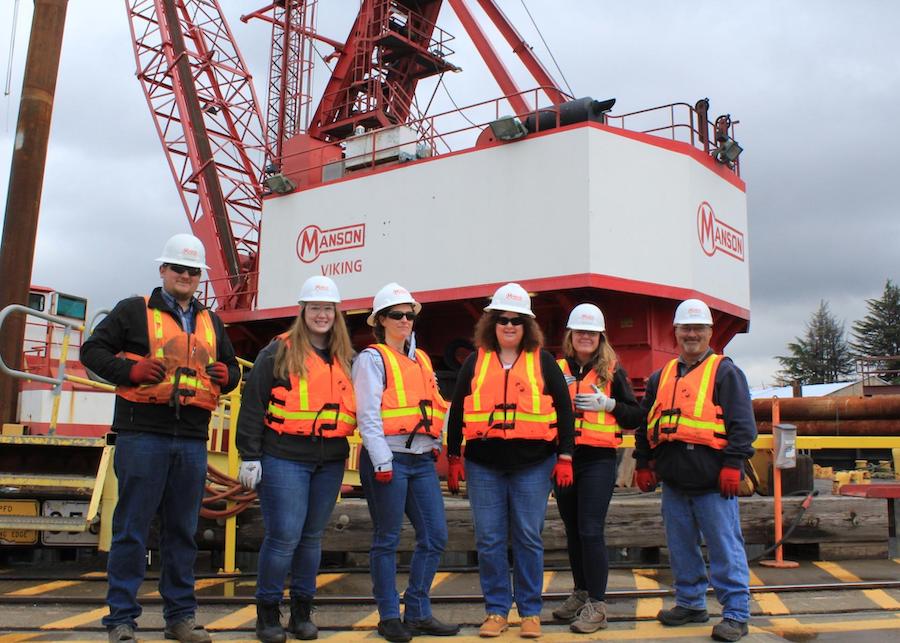 PB: You also offer internships, yes?
MC: Manson's internship program is an immersive experience for college students to learn and work with industry experts in dynamic environments across the shorelines and waterways of North America. With Manson's internship program, students explore a variety of unique roles including field engineering, estimating, office engineering and administration, equipment engineering, and production engineering. Students can visit Internship Program | Manson Construction Co. to learn more.
PB: How can people apply?
MC: Manson regularly updates its career page with regional part-time and full-time positions and internships. Visit our Career Opportunities | Manson Construction Co. to apply today.
PB: What else should we know about Manson?
MC: Manson represents generations of people, families, and communities whose commitment to success, safety, and ingenuity support our core values: Take care of people; Do the right thing; and Find a better way.
What is Manson Construction's approach to marine construction projects?
Manson Construction approaches marine construction projects with a focus on safety, efficiency, and environmental responsibility. They believe in the power of teamwork and collaboration, employing a hands-on approach that ensures quality in every aspect of the project. Manson Construction also invests heavily in the development and training of their people, enabling them to deliver a high level of expertise to their clients.
How does Manson Construction incorporate sustainability into their projects?
Manson Construction is committed to sustainable practices in their projects. They strive to reduce their environmental impact by investing in cleaner technologies, efficient equipment, and advanced construction methods. They also actively work on initiatives such as habitat restoration, beach nourishment, and the reuse of dredged material in their marine construction projects.