Silas Nichols: Principal Bridge Engineer – Geotechnical at Federal Highway Administration

Click here to view the complete article.
by Sarah Milstead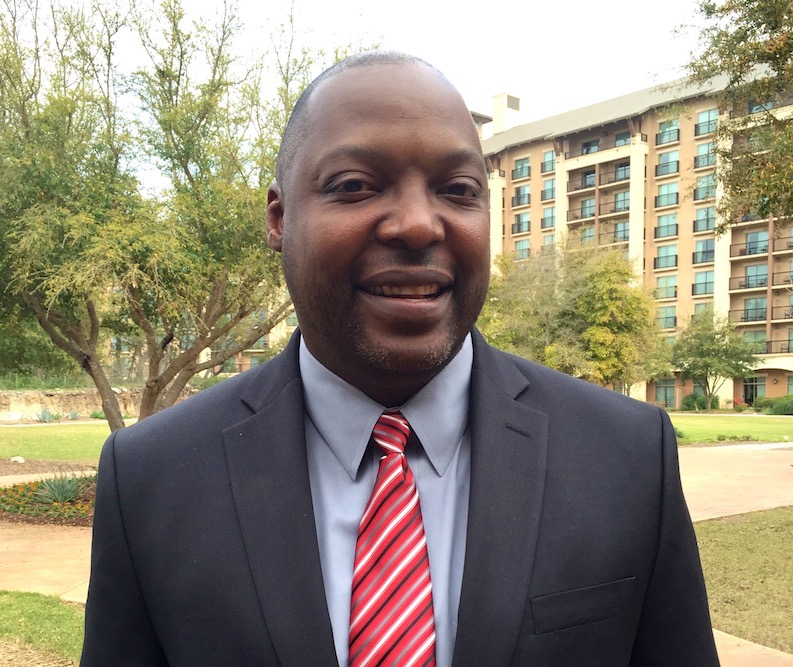 Jerry DiMaggio preceded Silas Nichols in the Federal Highway Administration geotechnical division and shared a few of his thoughts with us to introduce Silas.
I'd like to say a few words about my good friend and long time colleague, Silas Nichols. He has often told me that I am one of his key career mentors. From my perspective, his personality is really effervescent. He gets along with all kinds of people whether they are inside or outside the industry. Silas is well-liked from drillers to CEOs. Obviously, he is a very intimidating by his height and size [6'4″], but he doesn't need that because his leadership carries on the legacy of the Federal Highway Administration. The Federal Highway Administration began in 1968. As we move forward from generation to generation, the question is will it be sustainable with all the changes in government? I've been retired for seven years and I am quite comfortable that, along with several other great key people that are quite a bit younger than me, Silas' leadership will be ample.
Silas Nichols, P.E., has been the principal geotechnical bridge engineer for the FHWA in Washington, D. C for the past six years.
Prior to attaining his present position, he was a senior geotechnical bridge engineer in the FHWA Resource Center.
Engagingly-articulate with a hearty laugh, Silas Nichols took the time to share his thoughts with Pile Buck on overseeing the geotechnical division of the FHWA.
PB: Tell us a little about your background?
Silas Nichols: I grew up in New Hampshire. I have a bachelor's degree in civil engineering from Syracuse University and a master's degree in geotechnical engineering from Tufts University.
I am an ABD [All But Dissertation] from Maryland. I completed all of my PhD studies but I did not quite finish my dissertation.
Just as I was leaving Maryland I applied for a position at the University of Alabama, and for a short period of time, I considered going into academia.
At the last minute, I changed my mind and ended up at the FHWA, which I thought was a nice opportunity to be a part of their Resource Center which is a training, technology deployment, and consulting ground for the FHWA.
I started with the FHWA in 2001, after several years of being in school and being in private practice in Boston and the Washington DC/Baltimore area.
I was working on projects such as the "Big Dig" in Boston and the Woodrow Wilson Bridge in Alexandria, Virginia, and Prince George's County, Maryland.
At that time, in 2001, I started in the FHWA Resource Center where I spent time in our Baltimore and Atlanta field offices.
Finally, I made my way to the Washington D.C. headquarters to join Jerry DiMaggio until he retired from Federal Highways (FHWA).
Shortly thereafter, I was offered the opportunity to take his position which, I think (laughter), I gladly took! And here I am today!
PB: Can you tell us about your duties in that position?
SN: I'm the principal geotechnical engineer for FHWA and my office is charged with managing the geotechnical program for federal highways, which is essentially direction and leadership for the geotechnical team.
We handle strategic planning, policy and policy support, which are done in the development of documents, such as our GEC series and all of the textbooks that people use on a regular basis for design. We handle the development of training courses and the identification of training that we are going to be doing.
The maintenance of a strategic plan that handles all of our program activities is tied in with our research activities, our training development and training delivery activities.
PB: Can you talk more specifically about some of the programs?
SN: I think we have a lot of flexibility, but, specifically, we have developed a strategic plan that looks at a few focus areas for which we are right now doing work and funding the program.
This is in support of some agency initiatives, such as our development and now implementation, of GeoTechTools, and implementation of GRS-IBS (Geosynthetic Reinforced Soils Integrated Bridge Systems) initiative.
We spend a lot of time maintaining technical guidance in a number of areas of geotechnical engineering that allow us to have a recommended set of guidance documents in support of our (FHWA) development and maintenance of geotechnical policy for how we would like to see highways and bridges built.
Our remaining focus areas center on emerging areas in the program so we are spending a lot of time working on such things as performance management and asset management for bridges, as well as, geotechnical features.
It's a broad program that allows us to look at a lot of different areas that we think state D.O.T.s would like to see guidance developed and maintained.
PB: I interviewed Frank Townsend, University of Florida, and Joe Caliendo, Utah State University, and they said there really wasn't a state geotechnical program prior to the 1970s, so this is a fairly recent development considering the expansive highway and bridge systems that have been built. Is this also true for the federal government?
SN: Geotechnical specifications, as established in code such as the AASHTO (American Association of State Highway and Transportation Officials), did not become what we would consider comprehensive, until about the mid 1980s.
Over the last 30 years or so, there has been a huge evolution and transition to be much more complete with respect to geotechnical guidance in the AASHTO code. FHWA has been a significant contributor to this effort over the years.
So, yes, it has only been recently that we have been this comprehensive with our technical guidance and codes.
PB: You are now dealing with aging infrastructure, so how do these new standards apply to that issue?
SN: The interstate highway system is complete. We are essentially done with the building of the interstate system.
We do some new construction for part of replacements, but we don't really do much new alignment construction anymore.
The Federal Highway Administration and the state D. O.T.s are really in the business of operations, maintenance and preservation.
So a lot of what we are doing is moving programs toward a risk-based structure for understanding performance, maintaining structures, preserving structures and for making determinations when structures have to be repaired or replaced.
A lot of what we are doing in the developing and maintenance of our documentation, guidance, and information, is focused on those types of risk-based approaches.
PB: What area of your job are you most interested in?
SN: I like how broadly we get to look at the program, at geotechnical engineering as a discipline.
We get to look at all areas of geotechnical engineering, from design through construction, and through maintenance, and rehabilitation.
We look at slopes. We look at structural foundations. We have a large and varied program that has the flexibility to look at a lot of different things that may have an impact on transportation systems.
PB: What is the new virtual program that you are using?
SN: The virtual world development is part of our training program.
It's a new piece that we are developing with the National Highway Institute (NHI).
With diminishing budgets, state D.O.T.s are finding it more and more difficult to attend professional development events, such as conferences and meetings where they can actually engage with subject matter experts that are in the industry, but not a part of their state.
So we came up with the idea of developing a networking and a conferencing facility online that essentially uses gaming software to allow states an opportunity to virtually participate at an event such as IFCEE15 without having to travel.
We've created a really neat, user friendly environment, that allows them to engage with experts that are at the conference, or that we can bring in from anywhere in the world.
They can network with one another and they can share ideas and concepts in ways that they were never really able to do before.
We like it! (laughter)
PB: What do you see for your future at the FHWA?
SN: I think we have a few really big technical initiatives in front of us that we are going to be spending a lot of time on.
I'm looking forward to addressing those.
We are beginning implementation of a huge research effort on Service Limit State Design (SLSD) that will be going on for several years.
I think the idea of better understanding how geotechnical features and foundations perform is paramount. Something we have taken great interest in as part of this operation and preservation of the system is how do we know whether or not an item that we build, or have built, is performing well or performing poorly?
Those are the two things that I am looking toward the future as things we will spend a lot of time on. We will be very happy to spend the time it takes to advance those two areas.
PB: Are you running into difficulties with the funding of projects for infrastructure?
SN: I'm not the one to talk about those issues, but we are hopeful that this year we will get a long-term highway bill.
PB: As the Federal Highway Association do you oversee all of the states?
SN: We don't really oversee. We are more of an administrator that has technical staff. We help states fund projects on federal aid highway system projects, which consists of all the interstate highways and some select important roads that comprise the national highway system. We are also charged with maintaining a bridge inventory of all of the bridges and tunnels in our country, and inspection standards for maintaining those in a safe manner such that there is minimal public safety risk.
States are owners. They own, build and maintain their infrastructure. We set rules and guidelines by which we would want them to do that in a safe and efficient manner.
PB: Do you prioritize the many infrastructure projects?
SN: Yes, state agencies have processes by which they identify projects of need in every state. We are also developing risk-based asset management plans, and states will be required to have plans that justify why and what they are spending money on. So yes, there is a prioritized structure to how states spend money.
PB: Are you involved with Design Builds and P3s?
SN: We have a major projects office which handles the oversight of those types of innovative contracting structures. From the technical side we're really concerned with developing guidance for states on how to actually develop complete geotechnical pieces for design build contracts and for other innovative contracting structures, as there are significant differences in how the geotechnical requirements will look.
PB: We've talked a lot about the technical aspects of your position. Can you tell us a bit about what inspires you personally?
SN: I've always watched my parents and my godparents, and their drive and their appreciation for accomplishments and success. I think I will always have a fear of achieving less then what they have achieved. With regard to geotechnical engineering, apparently I've always enjoyed playing in dirt, (hearty laughter) so I enjoy what I do!