How to Prepare for OSHA Inspections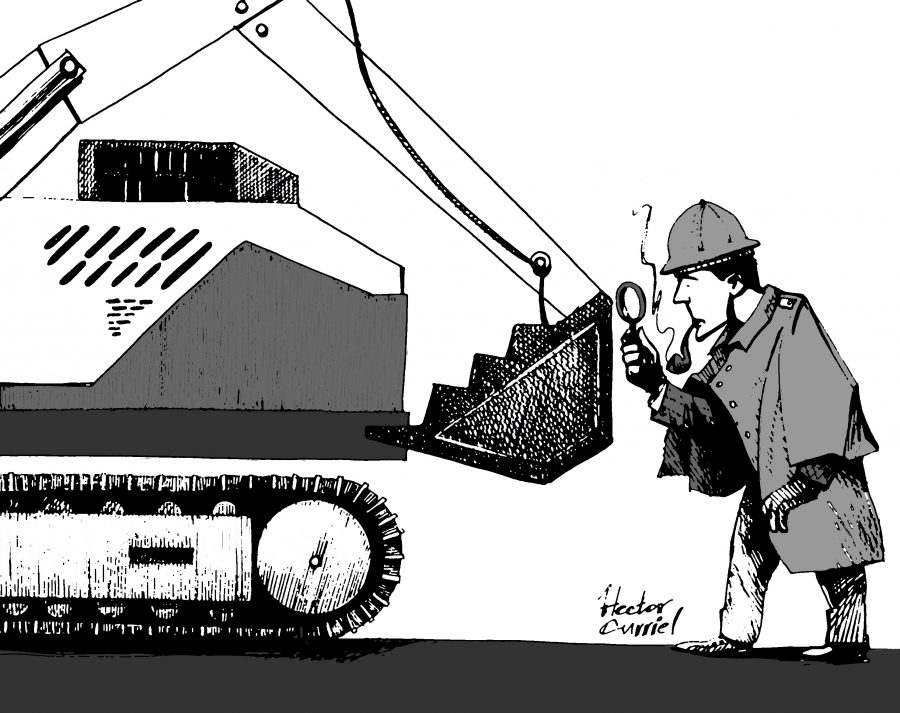 The Proactive Approach
Hazardous conditions are a constant when conducting pile, caisson, excavation or marine construction operations. Because of this, OSHA and state plan agencies maintain a continual focus on contractors that perform these jobs, often enforcing health and safety compliance via onsite inspections.
For contractors that receive a scheduled (programmed) or unannounced (non-programmed) visit from an OSHA or agency inspection officer, survival of an inspection comes down to preparation and prevention.
Violations can often be avoided by adhering to a self-created OSHA checklist that stresses proactivity and training.
Know what OSHA standards apply to your operations and equipment.
Hydraulic and diesel hammers, along with other dedicated pile drivers, fall under the OSHA crane standard. However, vibratory drivers are not covered under this standard because these drivers can also extract piles and are not considered "dedicated."
Maintain accurate records
During the review portion of an inspection the officer will request all OSHA 300 forms documenting injuries, illnesses, exposures, confined space permits, hazards, training, evacuation drills and self-conducted inspections. A $5,000 fine can be levied on a contractor for each unproduced record. Out-of-date or incorrectly posted forms can also garner fines.
Designate a safety manager
Select an employee that is capable of identifying existing and predictable hazards and designate the person as safety manager. In this role, the individual will inspect the site or facility daily and be authorized to take immediate corrective measures to eliminate any observed hazard. The safety manager should also accompany the inspection officer during the entire onsite visitation.
Establish an inspection team
A group that includes the safety manager, upper management and any labor representation should be assembled prior to an inspection. The team should review OSHA compliance basics and conduct a mock inspection that takes into account multiple scenarios. The entire inspection team should meet with the inspection officer prior to a walk through.
Train all employees
Because an inspection officer can privately interview any employee, your workers should receive OSHA standards-related training and be made aware that an inspection is a possibility. Keep a copy of the training materials, dates of training and who was trained as part of the documentation available for an onsite inspection.
Develop an OSHA inspection plan
When an inspection officer arrives, it is imperative that the person who greets visitors, such as front desk receptionist or security guard, knows to check the individual's credentials and immediately contact someone from the inspection team. Protocol should be in place to ensure all required documents are retrieved quickly and that the inspection team is assembled.
Track regulatory changes and OSHA goals
Rule changes related to reinforced concrete, confined spaces, fall protection systems and working surfaces are an annual occurrence, making compliance an ever-changing task. Of late, OSHA has expanded inspection criteria to include businesses with as few as 20 employees and increased focus on recordkeeping. 
Develop an internal whistle blowing program
A number of unannounced OSHA inspections are in response to worker complaints, it's wise to proactively maintain a program where employees are encouraged to bring health and safety concerns to upper management. Stress to employees that the company is serious about code adherence, take immediate action if a violation occurs and communicate the correction.
Common Inspection Mistakes
Even with an inspection plan in place and trained employees, mistakes can still be made that equate to unnecessary violations and fines. Be aware to avoid these common mistakes during an onsite inspection.
Providing too much information
A contractor is not required to provide copies of documents or allow use of their copying equipment.
Avoid leaving documents in plain view.
Listen to questions from the inspection officer before answering.
Never admit fault or to having violated a standard.
Remind employees and management that anything said to the inspection officer can be used in a decision against the company.
Being argumentative or untruthful
Always answer questions thoughtfully, basing your statements on facts and personal knowledge.
Avoid debate with the inspection officer.
Don't lie.
Ignoring safety rules
During walk through, ensure that all employees and the inspection officer are following all safety rules.
Don't allow an inspection officer to wander off alone.
If a violation is pointed out that can be fixed immediately, do so.
Operations, Equipment
OSHA rules for pile, foundation and marine construction operations vary, as do the requirements for the equipment utilized.
Caisson Installation
Rules focus on employee protection, stamping of outer shaft shells, staircases and landings, gauges at bulkheads, soil reports, erosion controls, and concrete strength verification.
Pile Drivers
Requirements concentrate on overhead protection, stop blocks, guards at head blocks, lead stabilization, steam hose connections, rig stability and employee access during operations.
Excavation – Trenching
Rules put an emphasis on cave-ins, falls, falling loads, protective systems, hazardous atmospheres, trench inspection and operation of equipment near excavations.
Cranes
The recent collapse of two construction cranes in New York City likely has OSHA planning to increase its crane-related enforcement. Rules related to securing cranes in high wind conditions and pre-erection inspection should be reviewed by contractors and operators.
Marine construction
Requirements relate to drowning hazards, adequate guardrails, protective equipment, damp and slippery conditions, operating cranes on barges, maintaining rigging equipment, and diver safety, training and equipment.
Conclusion
OSHA rules and regulations are designed to prevent and reduce job-site injuries and death. Operations aside, obtaining a violation-free OSHA inspection report is beneficial to all contractors, as breaches of health and safety rules have initial and long-lasting consequences.
Post-inspection fines typically start at $7,000 and include jail time for serious abuses. A violation also damages a contractor's reputation, as OSHA frequently publicizes offenses via press releases.
Because of the short and long-term impacts of OSHA violations, preparation and prevention on the part of contractors can't be stressed enough.