Transportation Partners & Logistics LLC takes North America's first Liebherr LTR 1220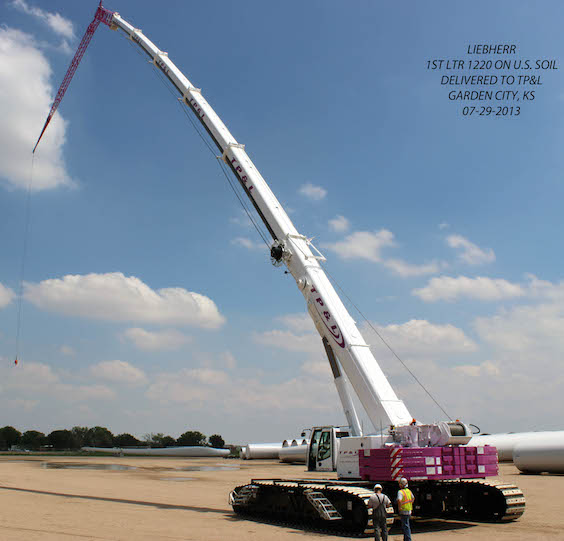 The first Liebherr LTR 1220 telescopic boom crawler crane in North America has started work in Kansas for Transportation Partners & Logistics LLC (TP&L).
With a rated lifting capacity 220 metric tonnes (242 US tons) and a 60-metre (197 ft) telescopic boom, TP&L's new LTR 1220 is the largest telescopic boom crawler crane in the Americas.
The crane landed at the Port of Galveston on 24 July from the Liebherr crane factory in Germany and arrived at TP&L's rail distribution yard at Garden City, Kansas, two days later.
Here the crane has been put to work unloading wind turbine mast sections off rail cars and loading them onto trucks for onward road transport.
Telescopic boom cranes are usually on rubber tires, while cranes with crawler tracks usually have lattice booms that have to be assembled on the ground and then pinned onto the body of the crane. The hybrid telescopic crawler concept offers the advantages of quick-set up with the power of a crawler body. The low ground-bearing pressure of the tracks lets the machine access all areas while the telescopic boom can be extended or retracted in just seven minutes.
No assist crane or team of riggers is needed to put it together, and the boom can stay on for transportation when the job is done. Mobilizing a crawler crane has never been easier or quicker than this.
For Jim Orr, president of TP&L, what really sealed the deal for the LTR 1220 is its ability to get in and around pipe racks on industrial sites while carrying its full load. Even with a load on the hook, the boom can be telescoped in or out to avoid obstacles.
"We needed at least a 200-ton capacity crawler to pick and carry 150,000-pound loads and when Liebherr developed the LTR 1220, it fitted our needs perfectly," he says.
"The great thing about the LTR 1220 is we can retract the boom and move around a location where power lines or piping are obstacles. With a lattice boom crawler, you might have to take boom sections off to move the crane around, and that costs time and money to us and our customers."
The fact that the crane is a Liebherr is a further bonus, he says.
"The other reason we chose the LTR 1220 was the quality of Liebherr," Mr Orr adds. "They have a great product and reputation in the crane market. This crane will be the first LTR 1220 delivered to the US and we are excited to receive it."
Versatile boom system
The 60-metre telescopic boom of the LTR 1220 comes from Liebherr's well-established LTM 1220-5.2 all terrain crane. With the Liebherr Telematik telescoping system it can be extended automatically to the desired length.
Additional reach can be achieved by adding a biparted swing-away jib, 12.2 to 22.2 metres long, which can be lengthened still further with two seven-metre lattice sections.
For an alternative boom configuration, a seven-metre lattice section can be fitted between the telescopic boom and the swing-away jib, to raise the connection point of the jib. This can be luffed by up to 45°.
As an option, the swing-away jib can also be adjusted hydraulically. Under full load, the jib can be moved between 0° and 45°.
TP&L specified the full boom package, with all the options, including a remote control that gives the operator the choice of running the crane from out of the cab. This is especially helpful when rigging up, Jim Orr says.
Strong and adaptable base unit
The LTR 1220 is powered by a six-cylinder 312 hp (230 kW) diesel engine, providing torque of 960 lb-ft (1300 Nm). The hoist gears provide a high cable pull of 23,600 lb force (105 kN) for fast line speeds and quick lifting.
For TP&L's work installing wind turbines, the LTR 1220 also fits the bill, thanks to its ability to drive on wind park roads with a track-width of just 14ft 9in (4.5m). It can then extend its track base hydraulically for lifting operations to an intermediate 19ft 3in (5.88m) or full width of 23ft 9in (7.25m). The crane's LICCON 2 computer has load charts for all three crawler widths.
As well as being able to travel over uneven ground, the LTR 1220 can lift with side inclination angles of up to 4°, with the LICCON 2 system keeping safe control of operations. The secondary hoisting gear for two-hook lifts is also a popular feature for handling turbine blades.
For transportation to job site the LTR 1220 weighs in at 198,400 lbs (90 tonnes).  The crawler tracks can be removed, reducing weight to 119,000lbs (54 tonnes) and load width from 5.01 meters to 3 meters. By removing the transverse beams, weight get down to 103,600 (47 tonnes). Once on site, hydraulic jacks enable the crane to assemble itself without any need for an auxiliary crane.