Maintaining Project Flow for Pioneering Hydro Project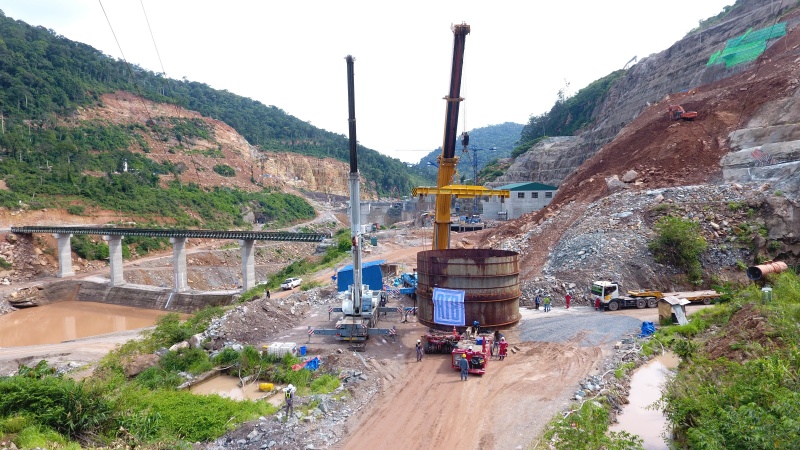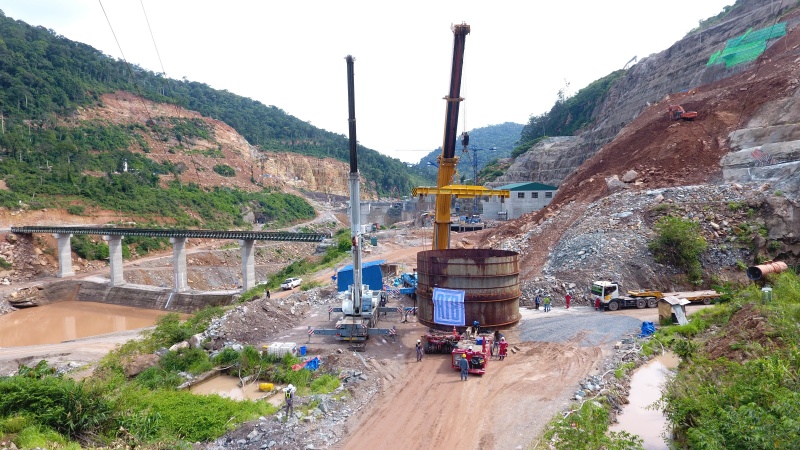 The Nam Theun 1 Hydropower project is an ambitious development designed to bring additional renewable power to Laos and neighboring Thailand. But this important project required remarkable logistics expertise to move 50 huge critical components through tight underground tunnels with no margin for error, all during rainy season.
Nam Theun 1 will generate 650MW of power; enough to deliver clean energy for over 500,000 homes and play a key role in the region's energy transition. Building a hydropower plant on this scale is a complex task, with components needed at their installation location intact and on time if the schedule is not to be impacted.
A major challenge facing contractor ATB Riva Calzoni was the transportation of 50 pipe sections, each measuring up to 10m in diameter and weighing up to 50t, from their onsite fabrication site into position underground.  These key components would channel the water as it flows through the hydropower system and were being produced 3km from their installation site – a route that included several steep gradients and a 400m tunnel which would prove an extremely tight fit.
Any delays in navigating the route or damage to the pipe sections would have serious repercussions for the project schedule. This led ATB Riva Calzoni to enlist specialist support from Mammoet to ensure this risk was minimized and work was kept on track.
Gerardo Ruotolo, Site Manager – Hydropower for ATB Riva Calzoni:
"We recognized that the expertise of a heavy transportation specialist was needed to handle the movement of the pipe sections from the fabrication yard. The knowledge and capabilities Mammoet brought have been extremely important in avoiding any significant issues in this high-risk part of the project."
Safe hands
Comprehensive planning was key to the project's success. Mammoet recognized that whilst the weights involved were not particularly challenging, the restricted dimensions of the tunnels required a detailed plan and highly skilled SPMT operators to execute.
Mammoet's extensive in-region experience proved crucial here – ensuring that necessary permits were obtained for the 3km journey across varying gradients and qualities of terrain. Preparatory work was then performed for the sizeable cargo to be ready for transportation via 16 lines of SPMT.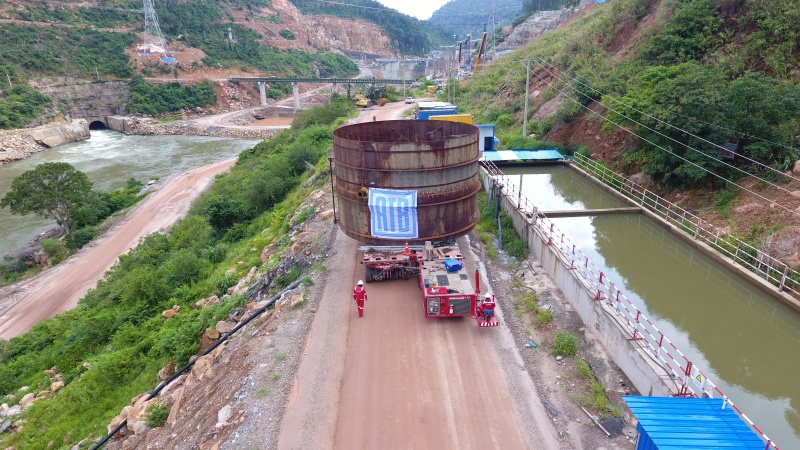 Already a formidable job, this was made all the more challenging by adverse weather conditions. Heavy rain significantly increased the risk of the oversized but relatively lightweight cargo causing the SPMTs to slip or lose traction. This again highlighted the importance of Mammoet's local experience. Having worked under similar conditions in other countries in the region, the team were able to identify the hazards presented by the rain and plan ahead to avoid accidents.
Their skills were also put to the test in navigating the restricted space of the tunnel, whereas with the rain-soaked gradients, one false move and the project could have been delayed by weeks or even months.
On schedule
Mammoet completed the transportation of all 50 components within the required time frame – overcoming the elements and a real test of close SPMT control to ensure that construction of Nam Theun could continue as planned.
Thanapon Varintree, Sales Manager at Mammoet:
"When moving large components in such a confined space there is a high risk that either the item or the surrounding tunnel will be damaged, which in turn can lead to prolonged project delays whilst this is put right. At Nam Theun this was made even more difficult by heavy rain increasing the risk of the cargo slipping when moving up or downhill.
"Using SPMTs and experienced operators gave us the ability to be very precise in how we moved through the tunnels, making small adjustments in direction or speed where necessary to avoid damage."