Premium Piledriving by the VALKYRIE Crew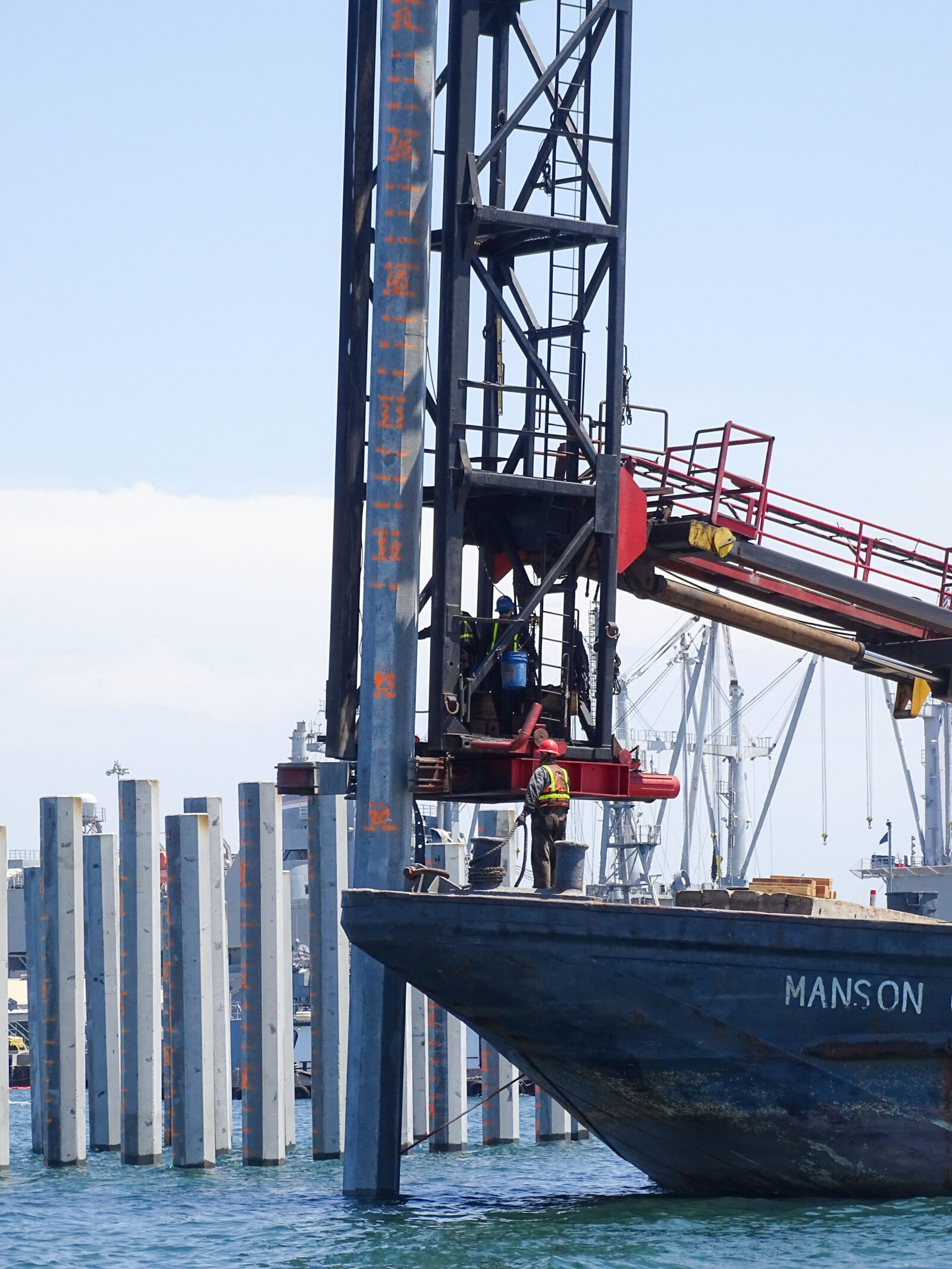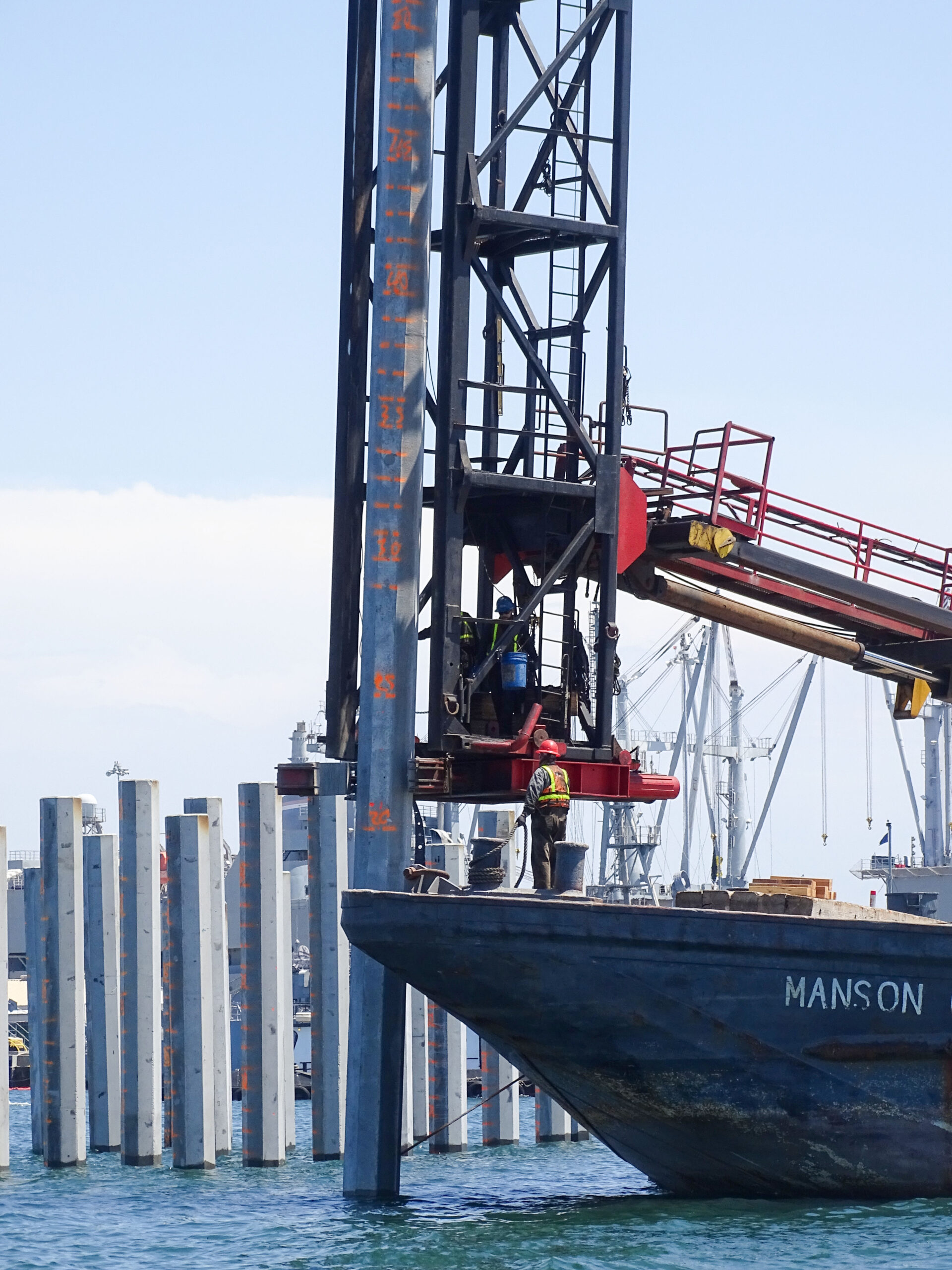 by J. Anthony Tedpahogo – Manson Copywriter
Manson's 135-ton derrick barge VALKYRIE has worked up and down the West Coast on some of the company's most ambitious projects. One of the company's premiere rigs, the VALKYRIE hosts a hard-working crew whose camaraderie and project experience have been critical to their success of completing projects year in and year out.
General Foreman Eddie Heredia—considered a legend to many in Manson's California regional offices—understands the importance of surrounding oneself with a crew that trusts, relies, and supports each other. "Having a crew where each member understands their role is the best feeling in the world," Eddie explains. "I think it helps that all of us have been together and we know what needs to get done on all these different jobs." The crew—depending on if members are pulled away to different projects—consists of Eddie, Crane Operator Casey Prowse; Piledrivers Tony Diaz and Vincent Diaz; Piledriver Ricky Sanchez, Oiler Bryan Locke, and Deck Engineer Bradley Carter, who have all completed ground-breaking projects for Manson.
The longevity and experience of the VALKYRIE crew starts with Eddie, who was introduced to pile driving by his dad more than 40 years ago. "My dad drove piles for three decades starting in the 1950s," Eddie says. "He taught me all that he knew about pile driving and marine construction and the experience inspired me to follow in his footsteps."
After decades of working as a deckhand and eventually a pile driver for several contractors in California, Eddie joined Manson in 2000. Not long after, he joined the VALKYRIE and forged a brotherhood with the crew that has lasted more than 20 years. "Eddie is a wealth of information when it comes to pile driving and working on the rig," explains Project Superintendent Christopher Eagle. "When I first got hired on at Manson in 2004, I had the opportunity to work on the VALKYRIE and learn from Eddie and the crew."
The VALKYRIE crew are a tight-knit group of experts who rely on each other to complete projects in a safe and timely manner. The team of seven live by three rules while on the VALKYRIE: Do your job; Call out for help; and Demonstrate safety. "Safety is our focus 100% of time whenever we are on the VALKYRIE," Eddie says. "We assess and exercise every option before we make moves in order to avoid dangerous situations that can lead to serious injury."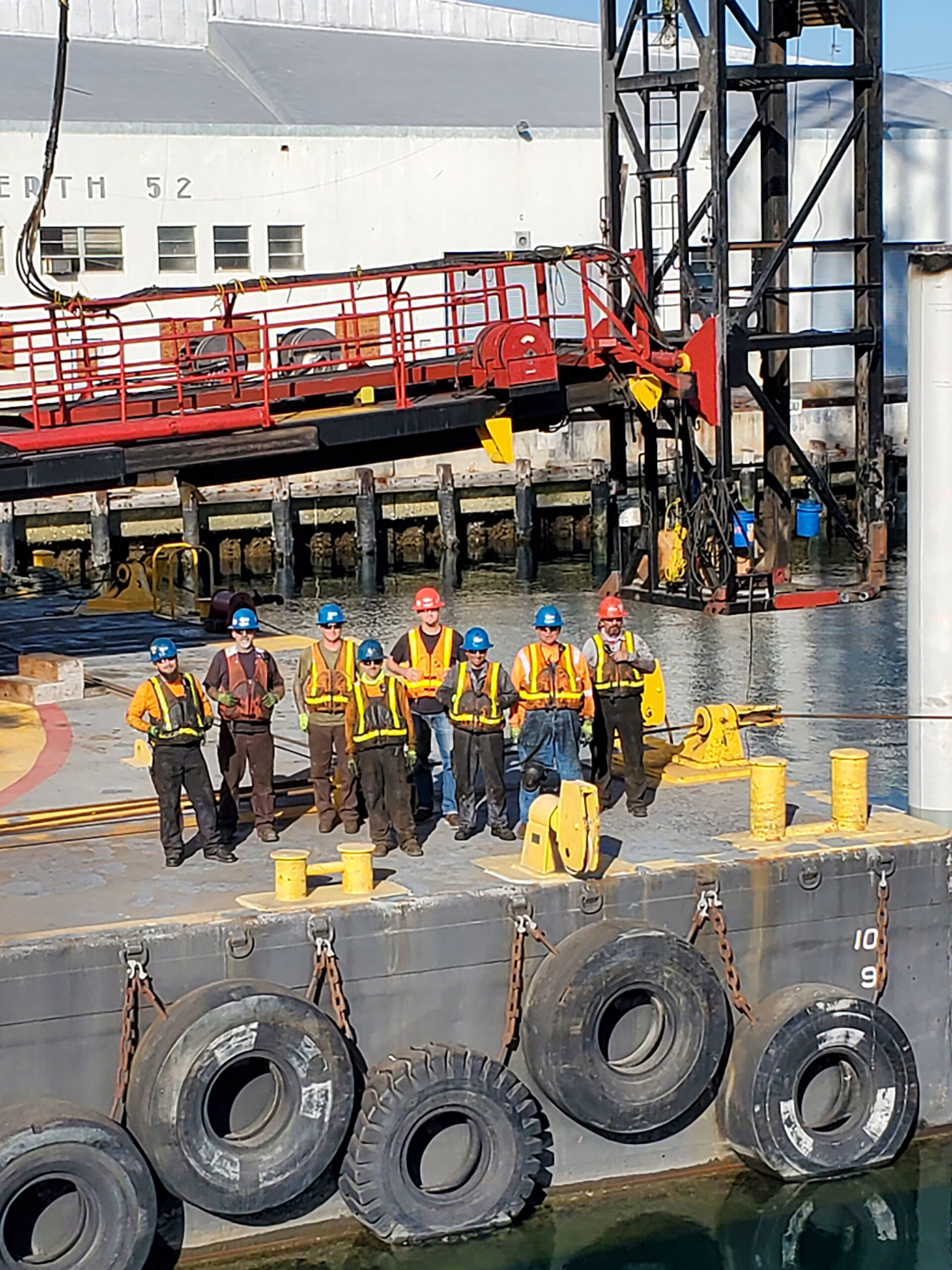 The VALKYRIE crew have seen their fair share of projects, one of them being the TraPac Terminal Expansion Berth 145-147 project for the Port of Los Angeles in California. In 2009, Manson was hired to modernize and expand Trans Pacific's aging and underutilized 7.6 million sq. ft. container terminal to meet the Port's current operations. The job consisted of the demolition of an aging timber wharf and the partial demolition of a concrete wharf. In addition, the project required deepening the waterside at Berths 145-147, construction of a new wharf, and an upgrade to backland work. Manson mobilized two derrick barges—the VALHALLA and VALKYRIE—to assist with pile driving operations. "The TraPac project was one of the biggest projects we've worked on as a crew," Eddie explains. "It's a project that I will always remember because of the amount of piledriving we did." The VALKYRIE shared the workload with the VALHALLA to remove 791 timber piles and 347 concrete piles. With the help of a landside crane, the VALKYRIE drove 699 concrete piles ranging in length from 47 ft. to 118 ft. The 27-month long project ended in 2012, adding 2.9 million sq. ft. to the Port's terminal capacity including backland improvements. The TraPac Terminal Expansion project is just one of the many jobs under the VALKYRIE crew's resume. Other notable projects include driving production piles at Naval Base San Diego (NBSD) in California, for multiple projects including Pier 10, 12, 8, and most recently Pier 6.
In Spring 2021, Manson was contracted by the U.S. Naval Facilities Engineering Systems Command (NAVFAC) Southwest to demolish and reconstruct Pier 6 at NBSD. The P-443 Pier 6 Replacement project will enhance and support berthing for modern naval and auxiliary ships. The new marine structure is nearly identical to the pier replacement projects at Pier 8 and Pier 12 at NBSD—also completed by Manson within the last 5 years—along with similar enhancements to accommodate naval equipment. The VALKYRIE crew driving piles at NBSD is a familiar sight.
"Eddie and the VALKYRIE crew are one of the best piledriving crews in the industry," says Project Sponsor Matt LaRue. "A lot of those guys have been together for a long time which makes them one of the best." The VALKYRIE crew completed driving 517 piles at Pier 6 in late June 2022, incident and injury free and ahead of schedule, setting up the project for success. Since they finished the job at Pier 6, the crew got called to work on the P-224 Causeway, Boat Channel and Turning Basin & P-226 Ammunition Pier project in Seal Beach, CA, Eddie explains. "The crew is always ready to go and eager to help out on the next job."