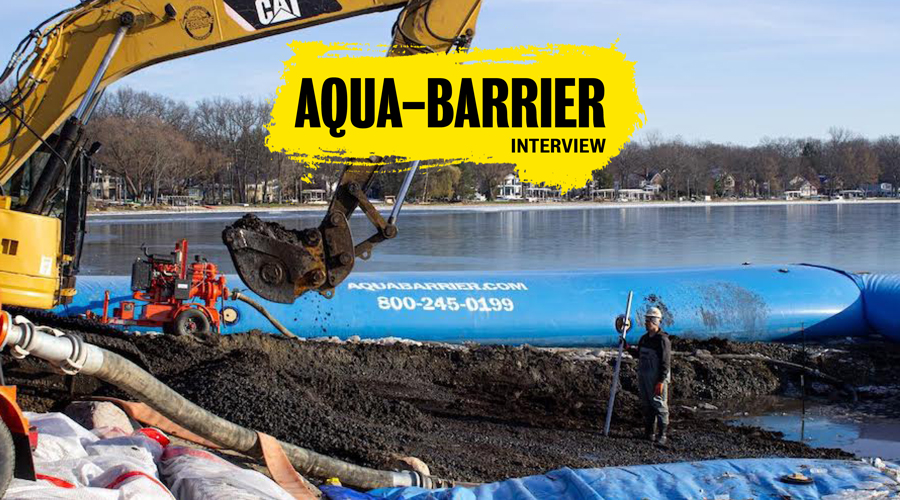 Pile Buck's interview with Aqua-Barrier, a premier provider of dewatering solutions and flood protection.
PB: What is the Aqua-Barrier cofferdam?
AB: The Aqua-Barrier cofferdam is an inflated, water-filled barrier that is essential for dewatering construction sites or restricting flood water. It is a single tube device with a unique inner restraint stabilizing system required for stability.
PB: What's it made of?
AB: Aqua-Barriers are made of a specialized scrim-reinforced PVC material that makes them extremely durable thus allowing for high reusability.
PB: How does it compare to sandbags or sheet piling?
AB: Its unique internal baffle system ensures a stable product that is environmentally safe to use while outperforming traditional methods like sandbags and sheet piling. Also, the Aqua-Barrier can be reused and repurposed for any application.
PB: Why do you believe that Aqua-Barrier is the best dewatering solution?
AB: If you're in need of a dry worksite, having a way to divert water is necessary. Unlike conventional cofferdam methods, the Aqua-Barrier can be installed 3-5x faster with little to no environmental impact and site restoration costs.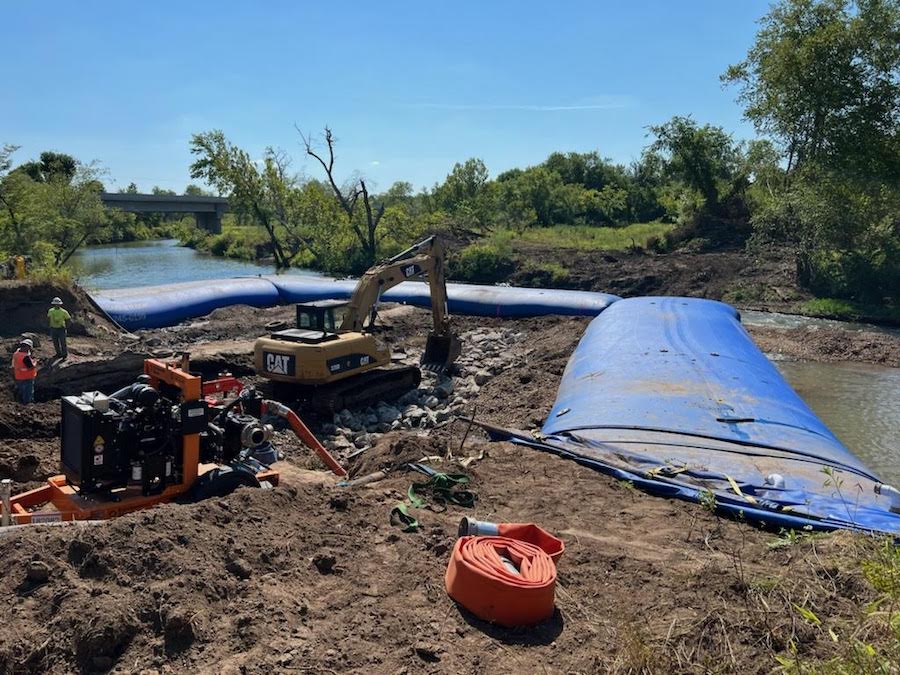 PB: How much water depth can an Aqua-Barrier control?
AB: Due to varying conditions, there is no simple answer to this question. However, by rule of thumb, our largest barrier will control up to six feet of water and sediment combined.
PB: What about freeboard?
AB: Each size needs to have a minimum of 25% freeboard.
PB: Why is 25% freeboard needed?
AB: Once a minimum of at least 25% freeboard is acquired, the Aqua-Barrier will begin to stabilize. Freeboard requirements may increase if the barrier is exposed to high water velocities (3 feet or more per second), slick soil conditions, or other unplanned hydrostatic conditions.
PB: How does the Aqua-Barrier cofferdam work?
AB: Three components interact together to stabilize – surface friction, freeboard, and the baffle system. In addition to the unique internal baffle system, Aqua-Barrier inflatable cofferdams are specially engineered to safely divert water from work areas to create a dry space.
PB: How are Aqua-Barriers typically used?
AB: Aqua-Barrier water-inflated dams are used to control invasive water in floodwater situations. They are also a means of water management to provide access to underwater areas for construction and maintenance operations.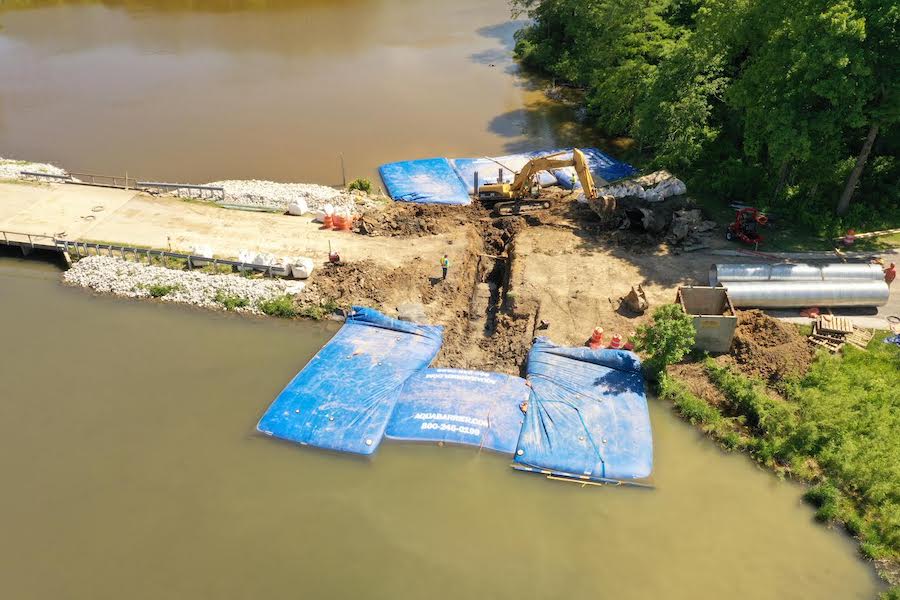 PB: What about hazardous liquid containment?
AB: Aqua-Barrier products are used for hazardous liquid containment as well as sediment retention in environmentally sensitive areas. Our clients are continually expanding the list of water control related applications.
PB: How are Aqua-Barriers repaired in the field?
AB: The PVC fabric used to create the inflatable dam is infield repairable using a vinyl adhesive and patch material.
PB: What happens when an Aqua-Barrier is exposed to uneven hydrostatic pressure?
AB: The Aqua-Barrier water-inflated dam maintains mechanical stability in addition to providing anti rolling when exposed to uneven hydrostatic pressure from either side.
PB: How are inflation and draining achieved?
AB: The Aqua-Barrier is a self-contained water inflated dam that has threaded fill ports and drain ports for rapid inflation and draining. The dam is equipped with end lifting loops used to control the dam with equipment during the installation and removal process.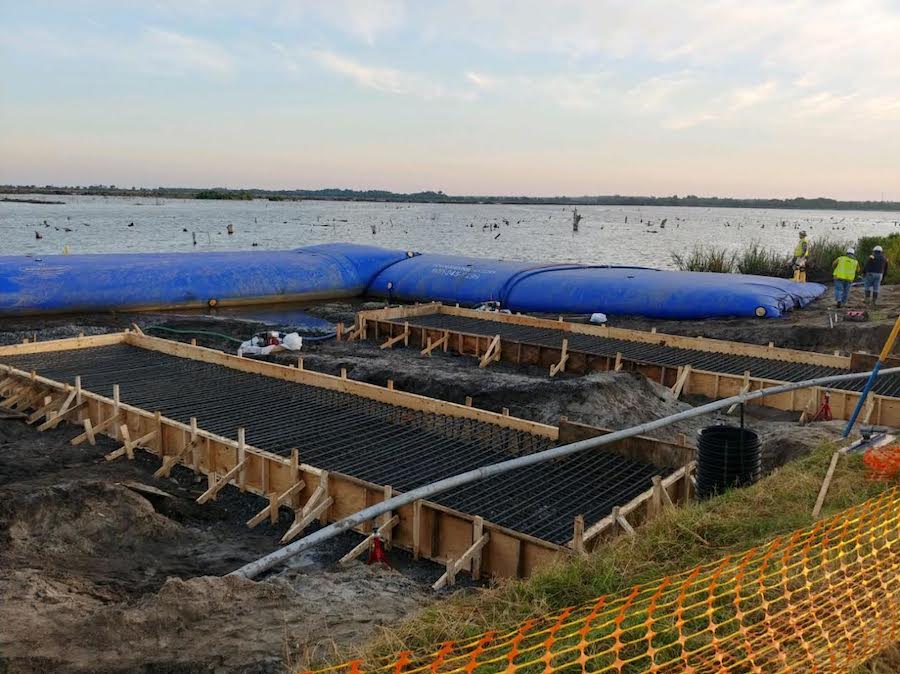 PB: What can affect size-requirements for an Aqua-Barrier implementation?
AB: There are a lot of variables. That's why a comprehensive site evaluation should be performed.
PB: What are some of the considerations?
AB: Excess slope, high water velocities, dynamic loads resulting from wave actions, mounting surface irregularities, and changes in interrelated hydrological conditions can increase the required water inflated dam height versus retention height requirements.
PB: What are the three primary types of Aqua Barrier installations?
AB: Moving water, dry land, and standing water installations. I'm happy to give you a general overview of each.
PB: Let's start with a moving water installation.
AB: When dynamic or moving water is present at the installation location, barriers are positioned properly by controlling the ends of the unit with hydraulic equipment – such as a 200 series or larger track hoe, crane – and/or anchoring at least one end of the barrier at the shoreline.
PB: How about dry land installation?
AB: If the location where the barriers are to be installed has no water present, the barriers are simply unrolled and inflated. This style of installation is generally used in anticipation of flood waters.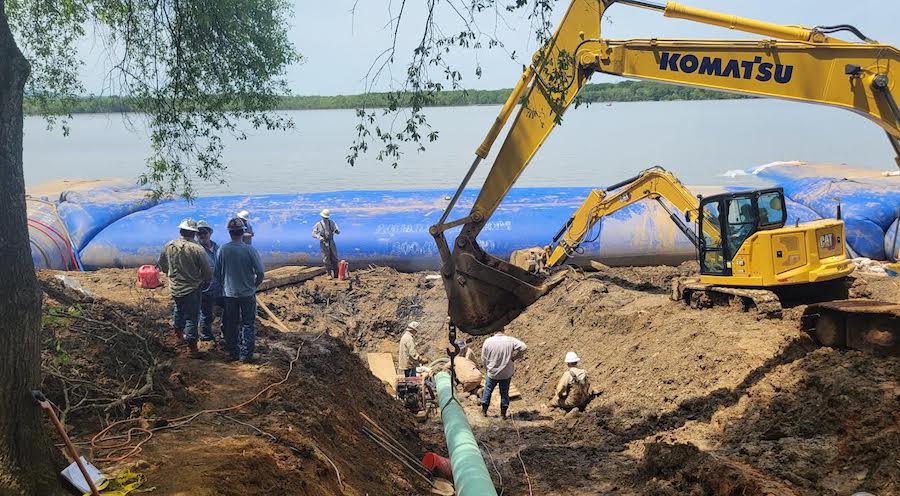 PB: And, finally, standing water installation.
AB: If non-moving water is present at the installation location, the barriers are buoyant and will float on the water's surface. The barriers are placed at the water's edge, unrolled on the water's surface, and floated into position.
PB: Where can readers find detailed installation information?
AB: More detailed installation information must be provided by a trained HSI Services, Inc. representative on all Aqua-Barrier installations.
PB: Can multiple Aqua-Barriers be used?
AB: Aqua-Barriers can be overlapped at any angle necessary to accommodate your project site's layout. Connect with our team of trained technicians to ensure you have the tools you need for proper installation.
PB: Is it watertight when overlapped?
AB: The ends of the individual units are overlapped which creates a watertight connection. No other devices or methods for connecting the barriers are required.
PB: What is the EZ Roller System?
AB: HSI Services, Inc. is proud to be an exclusive distributor of the EZ Roller System. If you're the owner of an Aqua-Barrier, investing in an EZ Roller System is guaranteed to cut your dismantling time significantly.
PB: How does it work?
AB: Essentially, a small portion of the barrier is tucked into the roller and the handlebars work to guide the material through the device. In a matter of minutes, two people can fold up and store your Aqua-Barrier. We have a demonstration video of the EZ Roller System on our website.
PB: Do you offer accessories for the Aqua-Barrier?
AB: Every Aqua-Barrier is manufactured with unique accessories to ensure long term durability. These include floatable drain ports, floatable fill ports, and patented end pipeloops.
PB: How can our readers learn more about Aqua-Barrier?
AB: We offer free webinars to discuss Aqua-Barrier in more detail. You can check available dates on our website. We also offer webinars tailored specifically for your company. Contact us to schedule one.
PB: What's covered in the webinars?
AB: We delve into the different applications for the Aqua-Barrier and how it can help your dewatering, temporary damming, and flood protection needs.
PB: What else do you want our readers to know about Aqua-Barrier?
AB: We offer rentals and purchases to accommodate any project length. With over 26 years of experience, we're your source for water management solutions. Contact us to discover how the Aqua-Barrier inflatable cofferdam works in different situations.