Maintaining and Protecting the Integrity of Steel Sheet Piling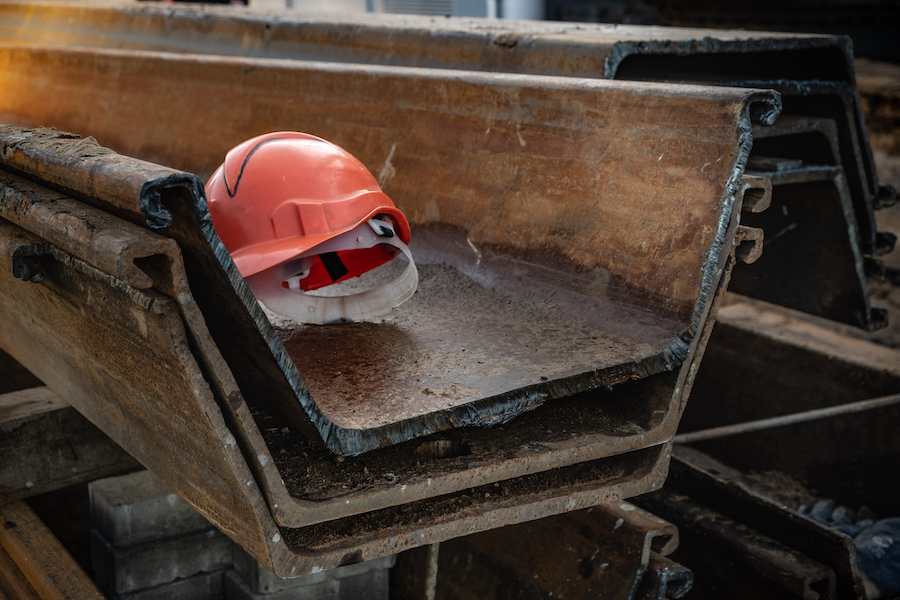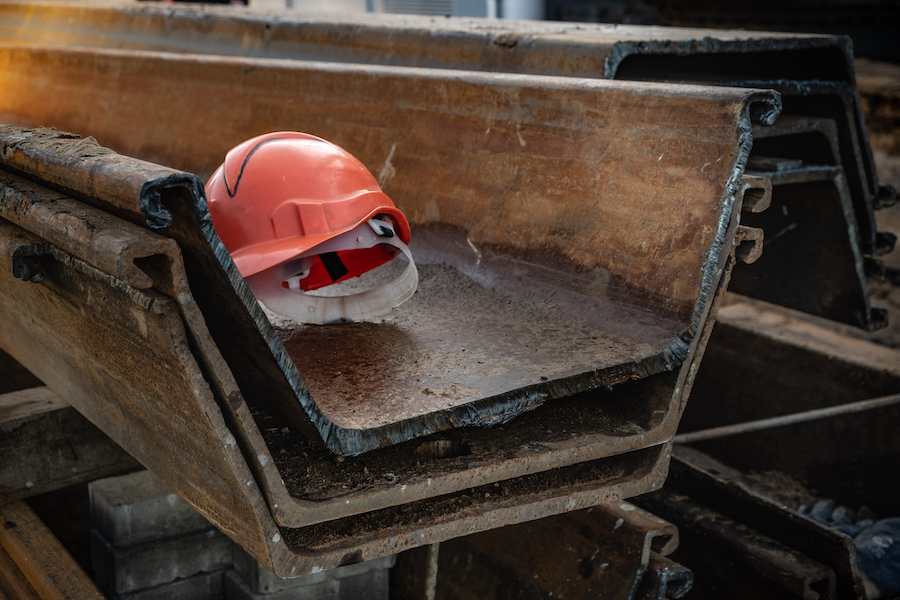 View the complete article here.
Steel sheet pilings play an instrumental role in the world of construction, silently supporting and safeguarding both terrestrial and marine structures. Renowned for their formidable strength and versatile design, these pilings act as bulwarks against the forces of nature—whether holding back the earth or resisting the relentless push and pull of the tides. That being said, it's imperative to recognize the importance of the steel's integrity. This article will discuss the multifaceted applications of steel sheet pilings, the risks associated with compromised structural integrity, and the measures to ensure their longevity and optimal performance.
The Importance of Steel Sheet Piling Integrity
Steel sheet pilings, with their robust design and versatile applications, are the unsung heroes in both marine and land-based construction projects. Their unique interlocking capabilities make them an indispensable asset in retaining soil, defending coastlines, and providing foundational support for a range of structures.
Ideal Applications for Steel Sheet Piling
Steel sheet pilings play a pivotal role in the construction of retaining walls, particularly in settings that demand a robust barrier against soil movement. Their interlocking design provides a continuous wall against lateral earth pressures, making them particularly suitable for areas with soft soils or where space is constrained. As a result—these walls can effectively hold back soil, prevent landslides, and protect adjacent structures or spaces from potential soil encroachments.
In marine environments—steel sheet pilings serve as crucial defenses against erosion, wave action, and tidal forces. They are extensively used in constructing seawalls, jetties, and bulkheads. Given their resilience and strength, these pilings can withstand the corrosive effects of saltwater and the persistent battering of waves—ensuring the longevity of marine infrastructures. Their ability to form a watertight barrier also makes them invaluable in projects such as ports, docks, and waterfront developments.
Beyond holding back soil or water, steel sheet pilings are integral to the foundation of various structures. In areas with unstable soils or high water tables, these pilings can provide the necessary stability by transferring the structural load to deeper, more stable ground layers. As a result—buildings, bridges, and other structures can maintain their upright positions without succumbing to subsurface vulnerabilities.
Risks of Compromised Steel Sheet Piling Integrity
The integrity of steel sheet pilings is paramount to their performance. A compromised piling can lead to a cascade of adverse outcomes including, but not limited to:
Structural failures: A weakened or damaged sheet piling may not bear the stresses imposed upon it, potentially resulting in a collapse of the retaining wall or the structure it supports.
Water ingress: In marine structures, breaches in the piling can allow water to seep through—jeopardizing the entire purpose of the barrier. This can lead to flooding, erosion, or undermining of adjacent structures.
Economic impacts: Repairing or replacing damaged pilings, especially after a structural failure, can be significantly more expensive than routine maintenance or early remediation. Moreover, there could be indirect costs associated with disruptions to business operations—especially in commercial settings like ports or waterfront businesses.
Safety concerns: Compromised pilings in public areas or work sites can pose severe risks to people. A sudden collapse could lead to injuries or, in worst-case scenarios, loss of life.
Environmental concerns: In settings where pilings act as barriers against contaminants or protect delicate ecosystems, their failure could lead to ecological damage—impacting flora, fauna, and water quality.
In light of these potential risks—regular inspections, timely maintenance, and choosing quality materials during the initial installation are of paramount importance.
Preliminary Signs of Compromised Integrity
Steel sheet pilings, revered for their strength and versatility in numerous construction applications, are not immune to the challenges posed by nature and time. From the corrosive grip of salty marine atmospheres to the inherent pressures from the ground they secure, these pilings can exhibit telltale signs of wear and compromise. Recognizing symptoms like corrosion, physical deformities, and leaks early on is pivotal to ensure the continued safety and performance of structures relying on these pilings.
Visible Corrosion, Rusting, or Discoloration
Corrosion is the natural enemy of steel structures, particularly those exposed to marine environments or other corrosive elements. Over time, if unchecked, corrosion can critically undermine the structural integrity of steel sheet pilings. The most overt sign of corrosion is the appearance of rust. Discoloration, on the other hand, can indicate not only rust but also potential chemical reactions or coatings wearing thin. It's crucial to regularly inspect for these signs, as early stages of corrosion or rust can compromise the piling's ability to withstand lateral pressures and loads.
Deformities, Bending, or Misalignment
The structural integrity of a steel sheet piling wall is heavily reliant on its shape and alignment. Deformities—such as noticeable bends or bulges in the pilings—can signal overloading, uneven pressure distribution, or underlying ground movement. These deformities might jeopardize the piling's load-bearing capacity and potentially threaten adjacent structures or spaces. Misalignment, where pilings are not perfectly vertically oriented or have shifted from their intended positions, can also indicate problems. Such misalignments might be due to initial installation errors, ground settling, or external forces.
Leaks or Seepage at or Near the Pilings
Steel sheet pilings, especially in marine applications or where groundwater levels are high, often serve as watertight barriers. The presence of leaks or seepage indicates a breach in this barrier—which might be due to gaps between interlocking sections, corrosion-created holes, or structural damages. Seepage can exacerbate corrosion, cause soil erosion behind the pilings, and even jeopardize the very structures the pilings are meant to protect. Identifying the exact location and cause of the leak is critical, as it aids in deciding the best remedial action—whether that be patching, sealing, or a more extensive repair.
Methods to Check Piling Integrity
Steel sheet pilings demand rigorous and versatile inspection methods to ensure their longevity and reliability. From traditional visual inspections to innovative drone technology and advanced ultrasonic methods, professionals today are equipped with a variety of techniques to assess and maintain these crucial structural components.
Visual Inspection
Scheduled walkthroughs are vital for maintaining steel sheet pilings. Through consistent checks, professionals can spot early signs of wear or damage—ensuring timely interventions. Documenting these inspections helps track changes over time. Drones offer an innovative solution for inspecting hard-to-reach pilings. With high-resolution cameras, they provide detailed visuals from multiple angles. Some advanced drones can also detect issues like leaks or corrosion, ensuring thorough and accurate assessments.
Ultrasonic Testing
Ultrasonic testing is a cutting-edge method employed in inspecting steel sheet pilings. Using sound waves, it gauges the material's integrity—providing insights that aren't visually apparent. Detecting flaws pinpoints inconsistencies like thinning or flaws within the steel. Sound waves reflect off imperfections, revealing areas of potential concern—thus ensuring structural reliability.
Dye Penetrant Inspection
Dye penetrant inspection is an invaluable tool for assessing steel sheet pilings. By exploiting a dye's capillary action, it unearths flaws not immediately visible. Applying the dye to steel pilings, it seeps into surface anomalies. Upon inspection, these marked areas point out potential weak points—ensuring the piling's structural soundness.
Environmental Factors Affecting Integrity
Steel sheet pilings, while durable and reliable, are not impervious to external challenges. Whether it's the relentless corrosive attack from saltwater, varying pH levels in the surrounding soil, or the sheer force exerted by natural physical elements—these pilings face a barrage of potential threats. Understanding these challenges is vital, not just for maintenance, but for optimizing the longevity and performance of these vital structures.
Effects of Saltwater Corrosion in Marine Environments
Saltwater is notorious for its corrosive properties, primarily due to the presence of dissolved salts—particularly chloride ions. These ions can aggressively attack steel, accelerating the oxidation process that leads to rust. Over time, this corrosion can significantly weaken steel sheet pilings—undermining their load-bearing capacity and shortening their service life.
Impact of Soil Acidity or Alkalinity
The pH level of the surrounding soil can have a pronounced effect on the durability of steel pilings. Acidic soils can hasten the corrosion process, leading to rapid material degradation. Conversely, alkaline soils can precipitate calcium carbonate—which can act as a protective layer. However, it can also lead to other forms of corrosion under certain conditions. Therefore, understanding the specific soil chemistry is crucial for predicting and mitigating potential piling issues.
Physical Forces: Wave Action, Ice, and Debris
Beyond chemical threats, steel pilings in marine environments face physical challenges. Constant wave action can exert repetitive stresses, leading to metal fatigue over prolonged periods. Similarly, ice can induce pressure and mechanical wear—especially during freeze-thaw cycles. Floating debris, carried by currents or tides, can collide with pilings—causing dents, scratches, or other physical damages. Such repeated impacts can compromise the integrity of the pilings, demanding regular inspections and maintenance.
Maintenance and Protection Measures
To ensure the long-standing resilience and functionality of steel sheet pilings, several precautionary and protective measures are crucial. From the application of protective coatings to the strategic use of cathodic protection, each step is pivotal in counteracting the natural adversaries of steel. Moreover, the method of installation plays a defining role in determining the lifespan and performance of these pilings.
Coatings and Sealants: Their Role and Best Practices for Application
Coatings and sealants serve as the first line of defense against environmental aggressors that can compromise steel sheet pilings. They provide a protective barrier, preventing direct contact between the steel and corrosive elements. The key to their effectiveness lies in proper application. Ensuring a clean, rust-free surface is paramount before application. Additionally, selecting a product that is designed for the specific environment—whether marine, freshwater, or terrestrial—is essential. Regular inspections are needed to check for any chipping or wear in the coating, ensuring timely reapplications as required.
Cathodic Protection for Corrosion Prevention
Cathodic protection is a proven technique to prevent corrosion in metallic structures. It works by making the steel sheet piling act as the cathode (or the protected metal) in an electrochemical cell, thus preventing it from corroding. There are two primary methods: galvanic cathodic protection, which uses sacrificial anodes—and impressed current cathodic protection, which employs an external power source. The choice between the two typically depends on the project's scale and specific requirements.
Best Practices in Installation to Ensure Longevity
The longevity of steel sheet pilings is significantly influenced by the precision of their installation. Proper site analysis, including understanding soil composition and hydrodynamics, helps in choosing the right type and length of piling. Ensuring the interlocks between pilings are adequately sealed and aligned guarantees a strong, watertight barrier. Using equipment calibrated for the specific load and condition can prevent overdriving or underdriving the pilings, which could compromise their structural integrity. Finally, post-installation checks ensure that pilings are correctly positioned and free from any immediate damages or misalignments.
Conclusion
From marine bulwarks to terrestrial reinforcements, the role of steel sheet piling is indispensable. However, like any structural element, they aren't exempt from the wear-and-tear of time and nature. It's crucial for professionals in the field to understand, monitor, and address potential integrity issues—ensuring that these steel barriers continue to serve their vital roles effectively.