Kris Bailey Hired as CZM Southeast Sales Manager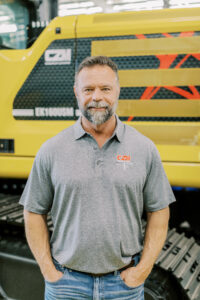 May 11th, 2023– SAVANNAH, GA – CZM Foundation Equipment has hired Kris Bailey as Southeast Sales Manager. Bailey will oversee all aspects of sales and consulting in the Foundation, Utility, and Pile Driving industries for the 8-state territory.
Bailey has over 15 years of industry experience including his roles as Business Development manager for Spiradrill and Sales Manager for Jeffrey Machine, Inc. He will work directly with the CZM team in Ellabell to manage both rentals and sales in his new territory: Alabama, Florida, Georgia, Mississippi, Arkansas, Tennessee, and the Carolinas.
CZM Foundation Equipment offers a comprehensive line of machines engineered for a variety of foundation applications. CZM Foundation Equipment is the American division of CZM Corp., the leading foundation equipment manufacturer in South America, founded in Brazil in 1976. The U.S. home office and manufacturing facility is in Ellabell, GA just outside of Savannah. For more information, visit www.czm-us.com
For more information, contact:
Barrett Rahn
Director of Sales and Marketing North America
912.200.7661
[email protected]
Who is Kris Bailey?
Kris Bailey is an experienced professional in the construction equipment industry. He has recently been hired as the Southeast Sales Manager for CZM Foundation Equipment. In his new role, Bailey will be responsible for managing and driving sales operations in the Southeast region.
What is the role of a Sales Manager at CZM Foundation Equipment?
The role of a Sales Manager at CZM Foundation Equipment involves managing and driving the sales operations within a specific region. This includes building customer relationships, promoting CZM's products, achieving sales targets, and ensuring customer satisfaction. The Sales Manager plays a crucial role in the company's growth and success by effectively selling CZM's high-quality drilling rigs and other foundation equipment.