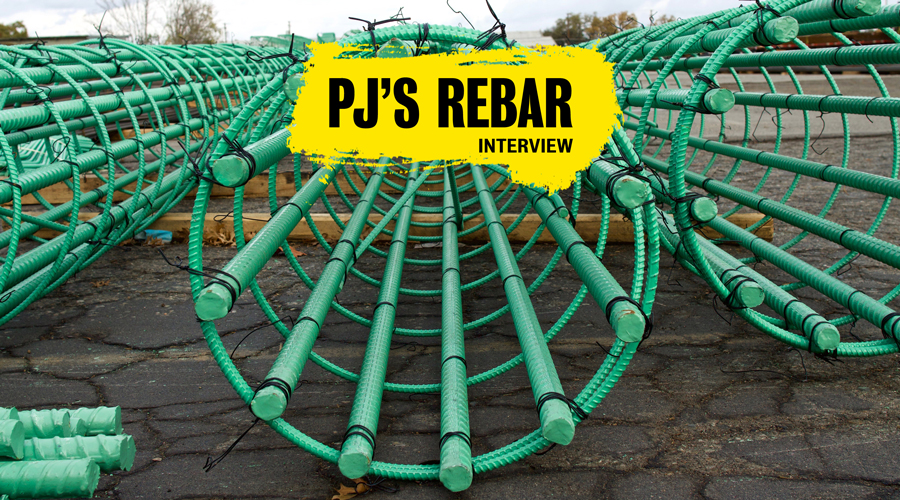 Pile Buck's interview with PJ's Rebar who has been providing high-quality rebar and concrete forming products since 1985.
PB: Tell us about PJ's Rebar.
PJ: PJ's has been providing rebar, concrete forming products, and pre-assembled rebar for nearly four decades. We specialize in pre-assembled rebar products, rebar fabrication, and stock rebar.
PB: How is rebar used?
PJ: Reinforcing steel or rebar has been used for decades to add strength, both shear and tensile, for all concrete and masonry projects. Concrete holds up well under compression, but any horizontal or vertical shifting will cause it to fail if no reinforcing is provided.
PB: You have quite an operation up there in Fremont, California.
PJ: We have the capacity to fabricate or pre-assemble and deliver 1,000,000 pounds per day. PJ's drivers make over 35 deliveries per day within the thirteen western states.
PB: Your Turlock, California facility helped you expand capacity.
PJ: In 2017 we purchased a 10 acre facility in Turlock, California that increased capacity of fabricated rebar, preassembled rebar cages and stud rails. This facility is uniquely situated to provide additional capacity into the Bay Area, as well as easier distribution into Southern California and the Pacific Northwest.
PB: You joined the Post Tension Institute that same year, yes?
PJ: We did. We also joined the American Concrete Institute in 2017. This was important to support the growth of our stud rail manufacturing and to learn what engineers and contractors need into the future to be successful.
PB: You were one of the first fabrication companies on the West Coast to implement computerized bending equipment, yes?
PJ: That's right. This allows us to produce common and unique rebar shapes quickly and accurately. We now deploy three EVG coil fabricating machines and one Schnell machine. PJ's fabricates more coiled rebar than any other independent rebar fabricator on the West Coast. We operate five spiral machines in total, which use coiled and spooled rebar to create continuous spiral rebar products used in CIDH, piers, and drilled shafts from 6" OD to 12' OD. We are the largest rebar coil/spool producer on the West Coast.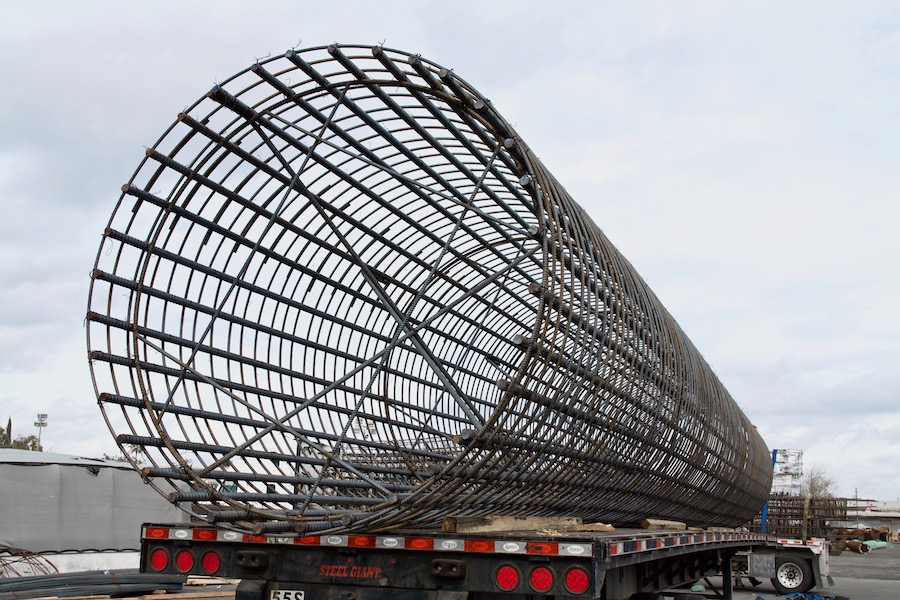 PB: What are some of your pre-assembled rebar products?
PJ: We specialize in pre-assembled rebar including cages, piers, columns, footings, pretied walls, beams, and more.
PB: Let's talk about some of these products. Tell us about your pre-assembled cages.
PJ: PJ's reinforcement cages are built using 15g tie wire, bracing bars for added stability, and in some cases inner "crush" cages. All of this combines to produce a rebar cage that will not fall apart in transport or on the job during unloading or setting.
PB: What do you offer in rebar columns?
PJ: Rebar columns come in many various designs and are engineered based on the loads, building height and or proximity to seismic faults. While rebar columns are unique to each project, PJ's has the experience and training to fabricate and pre-assemble just about any type of column. We'll deliver it to your project and all you have to do is set it in place.
PB: Do you offer pre-assembled footings?
PJ: Nearly all foundations require some type of rebar footing or grade beam. The footing rebar is what holds the slab and piers together as one unit. You can order your material fabricated and delivered for your installation or have PJ's pre-assemble your footing rebar and deliver a finished product right to your jobsite.
PB: What options do you offer for wall reinforcement?
PJ: There are many types of walls that need reinforcement. Wall rebar can also be a single curtain or double curtain reinforcement depending on engineering requirements. While reinforcement in foundations is important, it is even more critical in walls due to the loads placed on them.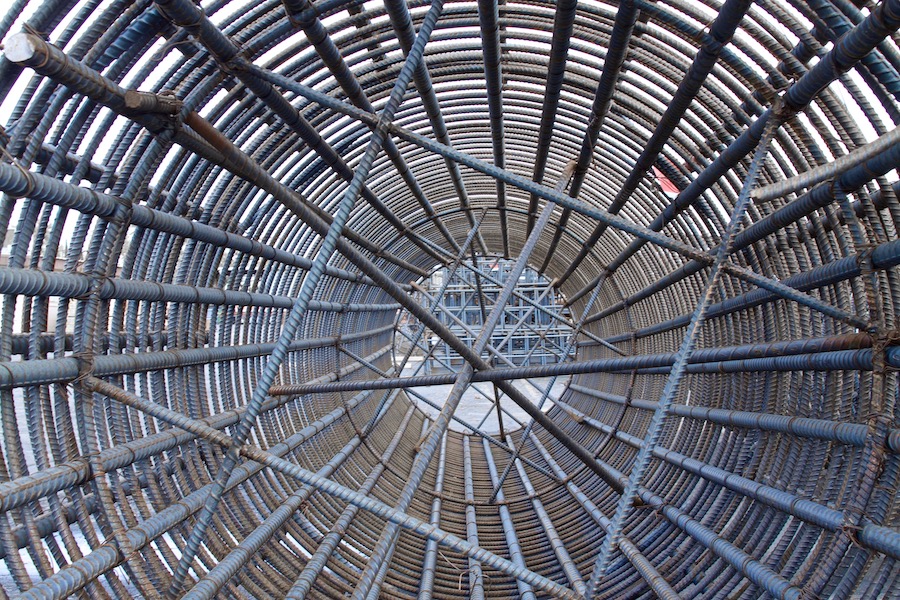 PB: That includes retaining walls.
PJ: That's right. You can order stock rebar for retaining walls if you are building it yourself. You can also let PJ's fabricate your order or we can pre-assemble your wall, saving you time and money.
PB: There are several ways to get your slab on grade or slab on deck rebar installed.
PJ: The most common way is using stock 20 ft or longer rebar and install it on site. PJ's has a better solution for your slab rebar installation. Pre-tied slabs are gaining in popularity primarily because the cost of onsite installation has increased over the years. We can pre-assemble and stock pile your slab rebar, allowing for you to simply unload and drop right into place.
PB: How does PJ's Rebar help companies implement these pre-assembled products?
PJ: Our estimating and detailing team can help you design your project to maximize the use of these products. Our customers find that this approach saves labor on the job, reduces their insurance costs, and increases safety on the jobsite. It also gets their concrete poured much sooner.
PB: What are the benefits of using stud rails?
PJ: There are many! The use of stud rails in a construction project can reduce overall weight and reduce congestion at slab-column connections. It can provide more headroom and greater overall footage on each floor. They also allow for the elimination of drop caps / pile caps for structural or aesthetic reasons.
PB: Tell us about your custom PSR stud rails.
PJ: We offer a range of options, allowing you to custom specify your stud rails to match your exact requirements. Stud diameter, Rail length, thickness and width is determined by the structural engineer for our shop. As with preassembled rebar, PJ's offers preassembled stud rail units that allow our customers to quickly set up the units and column capitals. PJ's ships stud rails in all 50 States.
PB: How are your stud rails constructed?
PJ: Our stud rails are constructed of our special PSR (punch shear resistor) studs and flat steel base rails. All components are manufactured from high quality, high strength ASTM A29 steel (grades 10-10 through 10-20) and meet ASTM A1044/1044M requirements.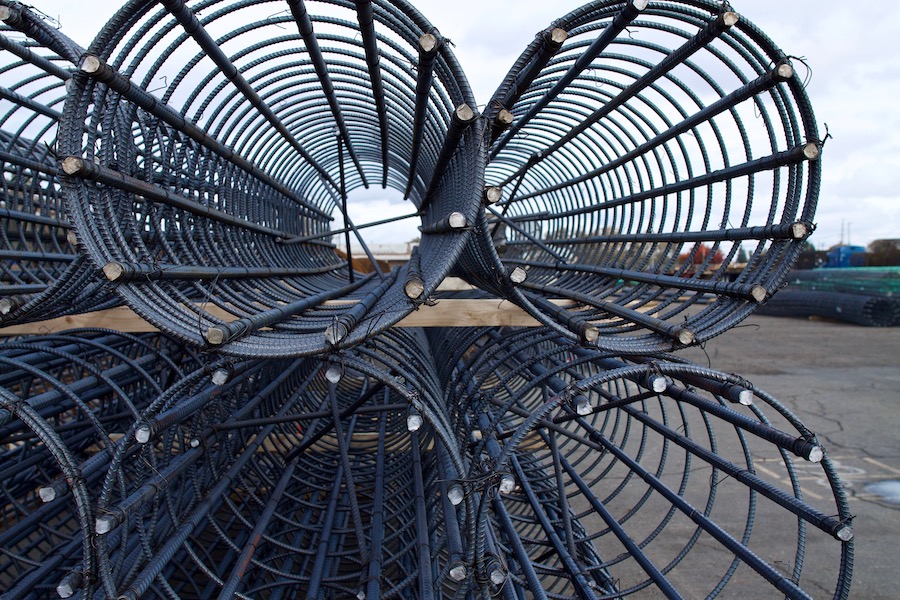 PB: Rebar end preps have become key components for the construction industry.
PJ: For both cast-in-place concrete buildings and deep foundation projects. These end couplers and terminators take the place of right angle bends and other splicing methods.
PB: When used properly, end preps provide numerous advantages.
PJ: Absolutely. We're talking reduced construction time and labor, lower weight and less material waste by replacing multiple feet of "traditional" splicing, improved yield strength over other splicing methods. It even makes rebar easier and safer to transport and handle.
PB: What rebar end preps to stock?
PJ: We stock a variety of mechanical couplers, headed bars, and other products from some of the industry's most trusted manufacturers. We offer end preps from Headed Reinforcement Corp. (HRC) and Erico LENTON (now part of nVent).  We are a licensed and approved fabricator for both HRC T-heads and couplers and Erico LENTON threaded couplers and terminators.
PB: What else do you want our readers to know about PJ's Rebar?
PJ: That what separates us from the other mill owned rebar fabricators is our commitment to on time deliveries, flexible scheduling, and fast fabrication. You can fill out a request for pricing online or contact us. One of our rebar experts will gladly answer any of your questions.