INTERVIEW: Matrix Construction Products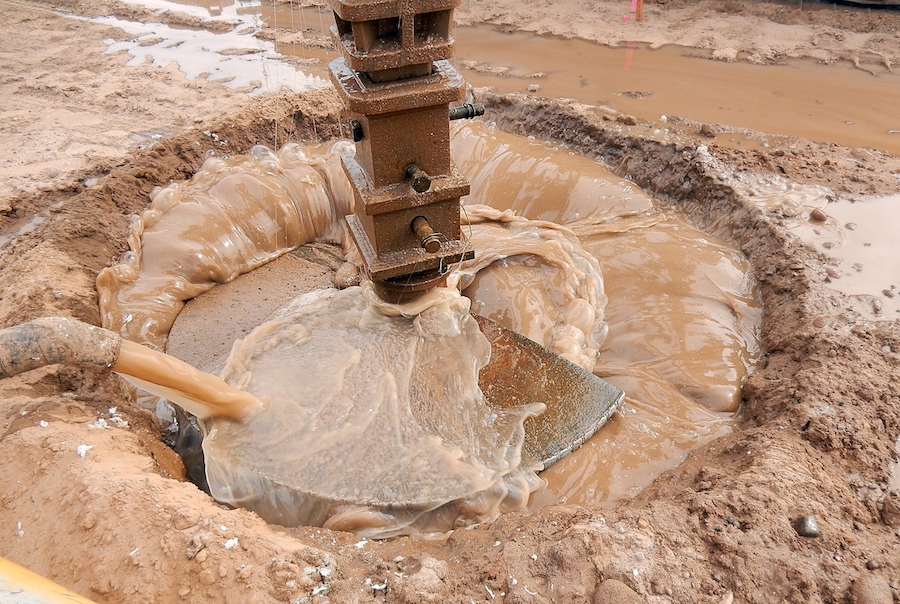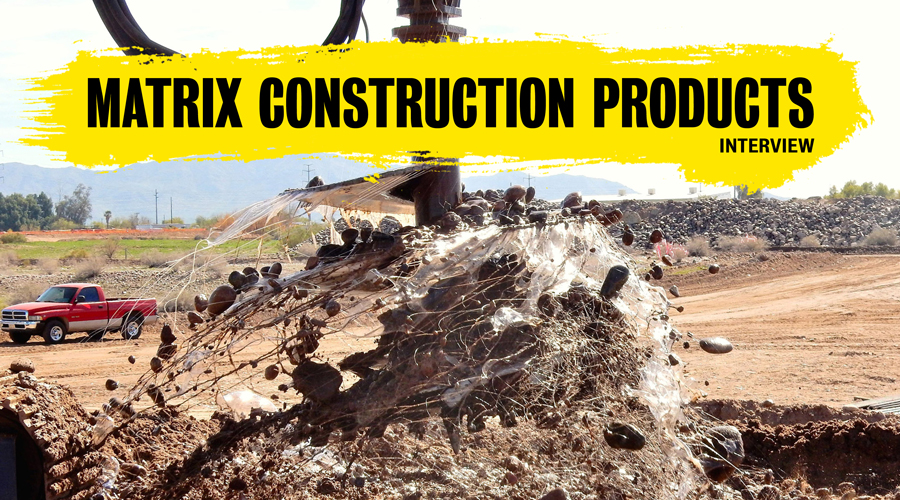 Pile Buck's interview with MATRIX Construction Products, a leader in the drilling fluids space. Matrix offers three decades of experience in drilling fluids and proprietary approaches to solve drilling issues for their customers. 
PB: When did MATRIX Construction Products get started?
MC: We opened in 2013 and have been growing rapidly since then. Our goal is to improve how slurry drilling fluids are used in today's construction market. We develop high-quality slurry products and technical solutions to the foundation drilling industry.
PB: BIG-FOOT® Polymer Slurry is a new offering in the drilling fluids space. Tell us about it.
MC: The BIG-FOOT polymer slurry system is formulated to make a viscous slurry fluid to fortify even the most challenging soil conditions. BIG-FOOT soil stabilizing polymer is an easy mixing, 100% active polymer packaged as a granular powder. Due to its concentrated formula, small amounts of BIG-FOOT polymer mixed with fresh water builds high viscosity.
PB: What are the applications for BIG-FOOT?
MC: BIG-FOOT is ideal for drilled shafts, mini-piles, slurry trenching, diaphragm walls, horizontal directional drilling (HDD), reverse circulation (RC), rotary drilling, and tunneling.
PB: What are the advantages of BIG-FOOT?
MC: There are several advantages to using a high molecular weight polymer slurry such as BIG-FOOT®. It provides improved excavation quality and its superior construction quality increases productivity. Moreover, workers find it easy to use – which saves time in the field.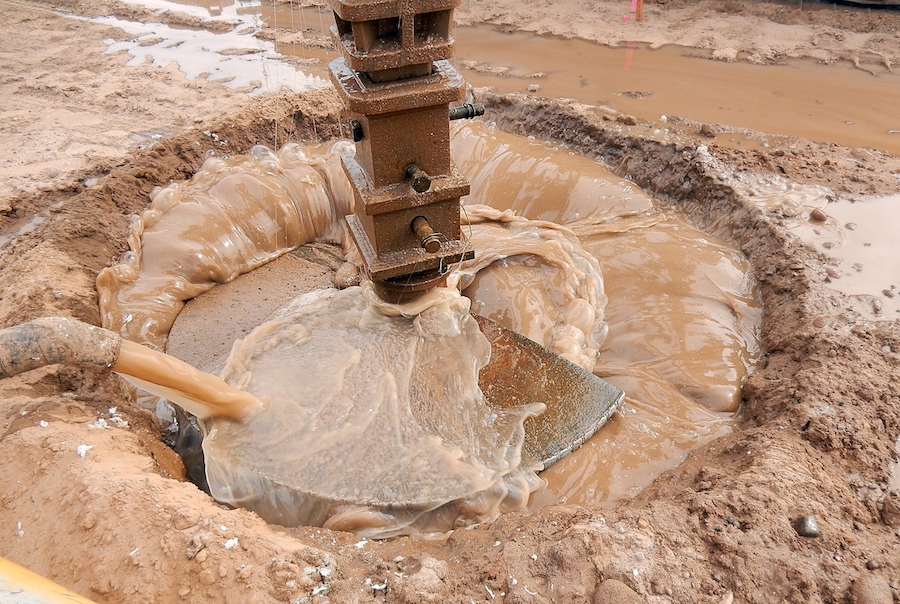 PB: BIG-FOOT® Polymer Slurry system is Caltrans approved. Why is that important?
MC: California's Department of Transportation – Caltrans as its commonly known – is considered the gold standard in the construction industry. If your product gains Caltrans' approval, most other states will automatically approve its use in their state. That's because Caltrans puts the products they consider through a grueling 17 months of testing. Their high standards exceed all other state and federal Department of Transportation testing requirements.
PB: What does it take to get CALTRANS certified?
MC: For BIG-FOOT Polymer Slurry to be approved, MATRIX had to meet their high standards in several areas. For example, we had to provide evidence that the product would not materially reduce the nominal geotechnical capacity of the pile, the bond between steel reinforcement and concrete, and concrete compressive strength or serviceability.
PB: What can you tell us about the BIG-FOOT® Hydro-Mixer?
MC: The BIG-FOOT® Hydro-Mixer directs water from the inflowing water into the mixing hopper that generates a swirling vortex inside the hopper. This cyclonic flow is drawn down into the jet mixer suction and out the discharge effluent, allowing faster, clog free-mixing. The top opening is custom engineered for mixing in high winds and reducing dust. It is made from steel and painted black. This sturdy Hydro Mixing Jet Hopper is designed specifically to mix BIG-FOOT Dry Polymer and MATRIX Dry Additives.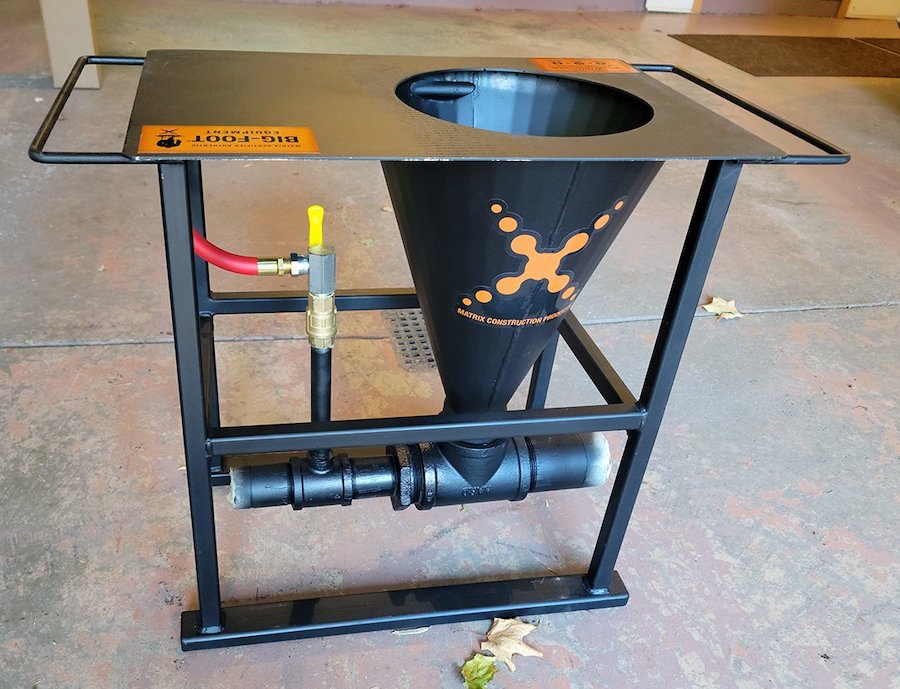 PB: Tell us about some of your other slurry products.
MC: We've got our BLACK-BEAR™ Biodegradable Drilling Fluid which can be used in a variety of drilling and tunneling operations. It's a horizontal directional drilling (HDD) fluid designed for environmental sensitive conditions associated with tunneling operations and drilling horizontal directional recovery wells for groundwater remediation. Black Bear is biodegradable. Matrix Enzyme Breaker is used to completely breakdown Black Bear without any untoward effects.
PB: Tell us about some of your other additive products and what they do.
MC: GRID-LOCK® is a specialty polymer that quickly swells to form countless different sized blobs. GRID-LOCK can shut off slurry loss in very porous ground conditions, such as gravels, cobbles and boulders. It assists in the creation of a membrane along the excavation sidewall playing a major part in stabilizing low cohesion soils.
PB: I believe MESH-SET® is a granular sealing material.
MC: Yes. MESH-SET® sealing material contains #8-#20 mesh size high swelling natural minerals. The special matrix of the structure lets it absorb over five times the weight of water to a volume of 14-16 times its dry bulk, making it a perfect plugging sealant. Used dry, the MESH-SET fine granules expand against casings and soil formations within the excavation to produce a very low permeability flexible grout seal.
PB: Then there's Mo's Mud. We love that name. What does it do?
MC: So do our customers. MO'S-MUD® is a highly concentrated liquid polymer specially designed as a multi-purpose copolymer cross link additive. It promotes micro-bonding of the polymer slurry producing a framework for strength. Additional functions are for stabilizing the excavation during unscheduled down time, and as an instant viscosity booster added directly at the excavation. MO'S-MUD can also be used to provide friction reduction, inhibition and lubricity in fresh water as needed in all drilling disciplines. It is also Caltrans approved.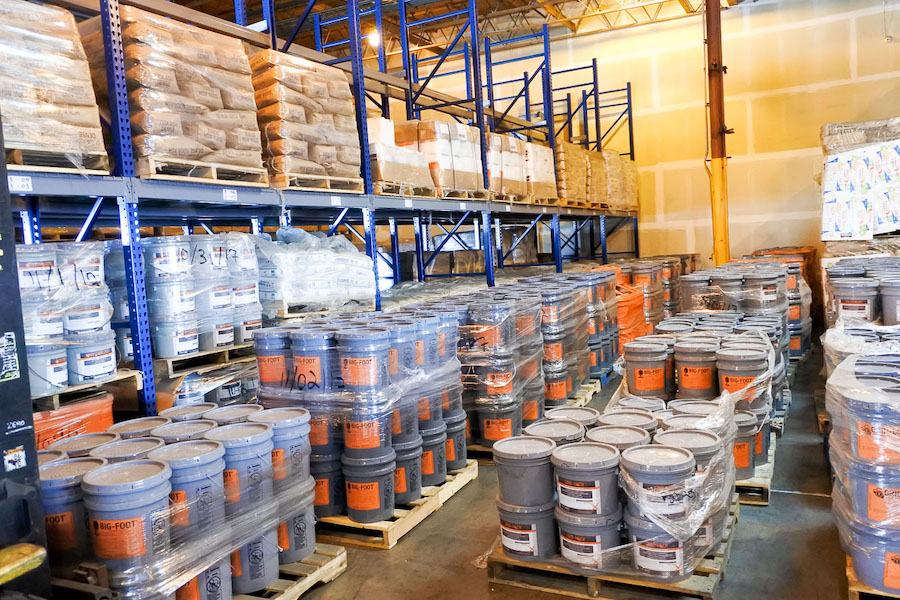 PB: You also sell some equipment, yes?
MC: We have Matrix Slurry Test Kits, Matrix Slurry Samplers, Marsh Funnel Viscometers to measure the thickness of fluid, and much more. All of our equipment is high-quality.
PB: Matrix gives more than lip service to caring about the environment.
MC: We truly do. At MATRIX we operate with an awareness of the environment and a sense of responsibility for guarding it. We are committed to providing products and services that have no undue environmental impact and are safe in their intended use. We strive to offer products that can be recycled, reused, or disposed of safely.
PB: What else do you want our readers to know about MATRIX?
MC: Matrix has provided solutions where other slurries have failed. There are several examples – you can read the case studies on our website. We have proven experience providing solutions to our customers in the toughest of environments. There's a reason our products get Caltrans approval and NSF/ANSI Standard 60 certified. If you need slurry products you can depend on, contact MATRIX.
In addition to slurry system programs, Matrix offers on-site Slurry Engineering.  This service includes oversight of the drilling slurry testing and record keeping as per site specific requirements.  Our professionally trained Slurry Engineer will adjust the drilling slurry if there are changes in soil borings or drilling conditions.
On a final note, Matrix is now classified as a Veteran Owned Small Business. John H. Berry, our Chief Operational Officer, served in the Marine Corps, and we are very proud of this designation.
Matrix mission statement: To provide the very best polymer slurry products & services, backed up with experienced onsite technical support.