MKT's Dual Approach: Revolutionizing Pile Driving with Crane-Hung & Excavator Innovations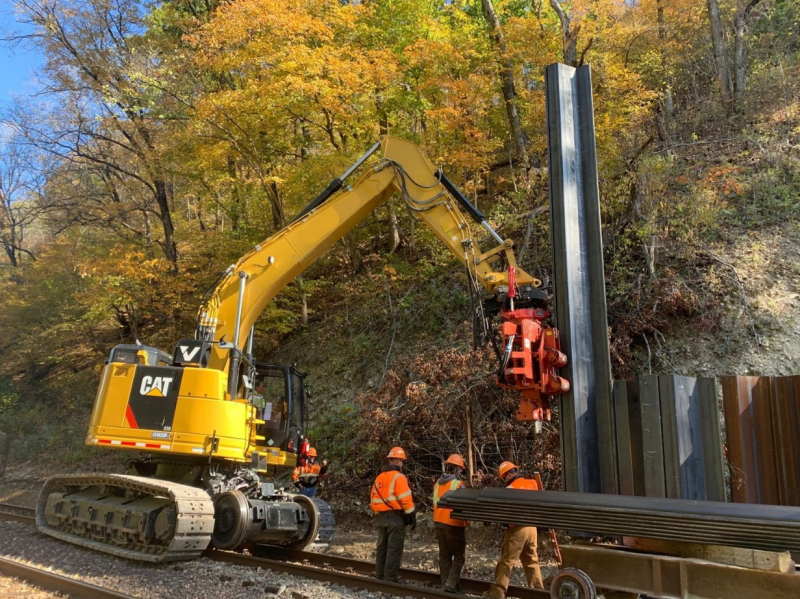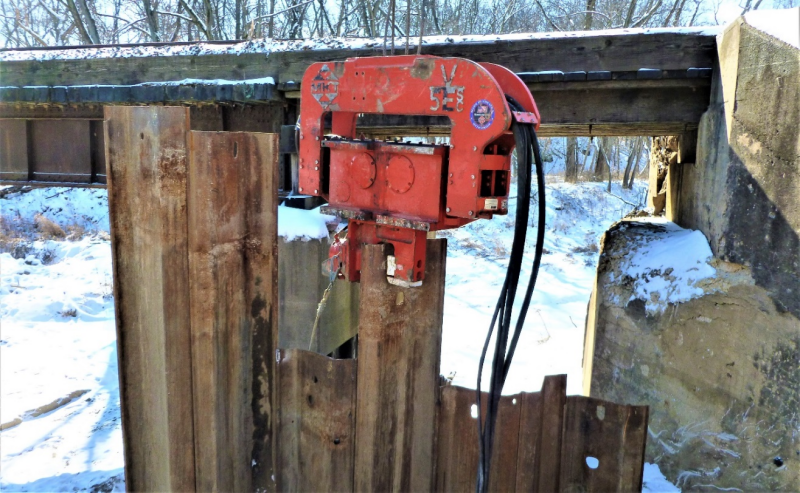 MKT Manufacturing has been manufacturing some of the most cost-effective and durable vibratory Pile Driver/Extractors for well over 30 years. The MKT V-5E and V-2E crane-hung vibratory Pile Driver/Extractor systems have been staples in the pile-driving industry for decades.
In the early 2000s, MKT ventured into the excavator-mounted, side clamp-equipped vibratory Pile Driver/Extractor sector. They took their tried-and-true crane-hung models and modified them to accommodate a side clamp and the industry-leading Rototilt to connect to an excavator. This innovation marked the birth of the MKT E.S.C. (excavator-mounted Side Clamp) Pile Driver/Extractor line.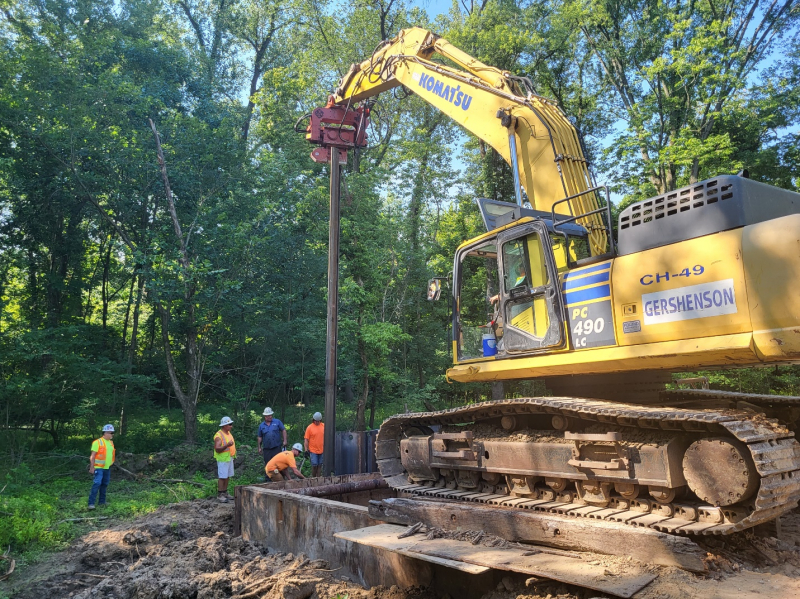 In the past 5 years, MKT has further expanded their range by introducing small to mid-sized vibros with the development of the V-8Esc (80 tons of driving force, 1,150 in-lbs.) and V-4Esc (40 tons of driving force, 575 in-lbs.). With excavator-mounted side clamp capable Pile Driver/Extractors ranging from 25 tons to 80 tons of driving force, they cater to virtually every pile driving application.
Furthermore, the MKT ESC vibro line stands out for its unmatched versatility. They are the sole manufacturer that offers a base model Pile Driver/Extractor capable of being either crane-hung or excavator mounted. This design consideration is geared towards helping MKT's distributors and customers maximize their equipment usage and return on investment. Essentially, customers don't have to invest in both an excavator-mounted vibro and a crane-hung-only variant; with MKT's ESC Pile Driver/Extractor, they get the best of both worlds. It embodies the principle of one Pile Driver/Extractor with unlimited possibilities.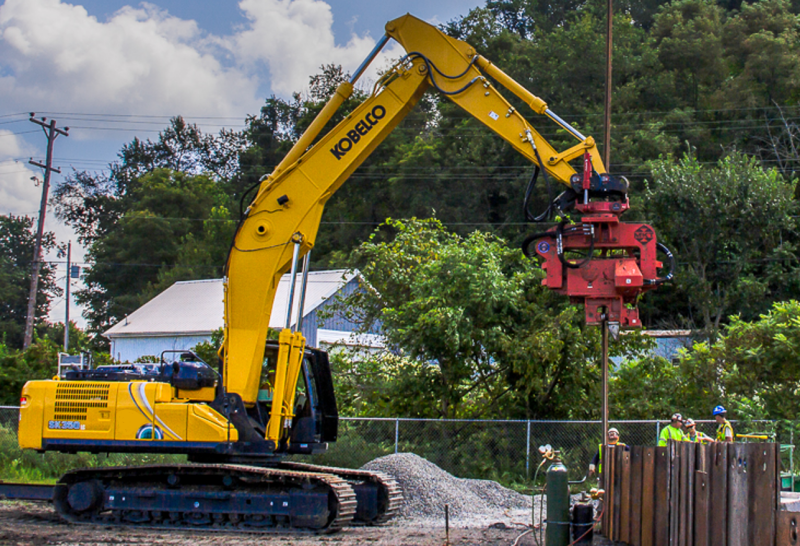 Traditional Crane Hung Systems
MKT has been well known for the quality, robustness, and driving ability of their crane-hung vibratory Pile Driver/Extractor systems. Each one of the ESC Pile Driver/Extractor lines can be paired with a power unit to drive piles in a traditional crane-hung configuration. They offer both high-frequency machines (V-8Esc/V-4Esc) and low-frequency machines (V-2Esc/V-5Esc) for various applications. With a variety of attachments these units can be used to drive sheet piling, H-pile, caissons, pipe, timber, among other things.
Excavator Bracket and Sequence Valve
MKT's V-2Esc, V-4Esc, V-5Esc, and V-8Esc can be adapted to a single-pin excavator-mounted system by simply bolting on a few additional components to the existing vibro suppressor housing. These units are connected via a mounting pin and can be manually rotated to adjust for the jobsite demands. These vibros can be run directly from the excavator hydraulic system via a control manifold out on the Pile Driver/Extractor. No excavator modifications or additional valves are required. If the end user doesn't want to tie into their excavator circuit, the Pile Driver/Extractors can be paired with an MKT power unit to run the hydraulics. This application is great for smaller jobs and pile. MKT has seen extreme usage and success of this set up driving small H-pile for the solar panel industry.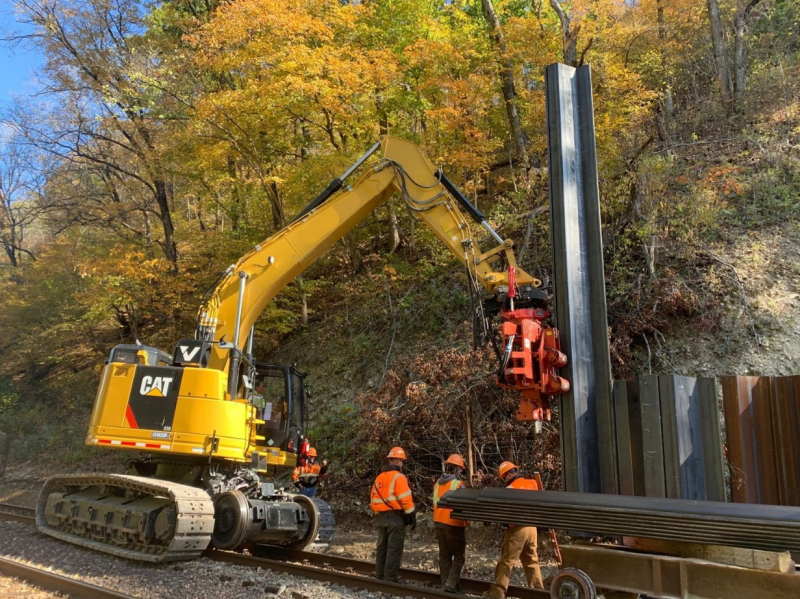 Excavator Mounted Customer Owned Pin Grabber/Tilt Rotator Style
Tilt-rotators such as Rototilt, Engcon, and Steelwrist have been a game changer for excavator operations like digging, rock breaking, excavating, and PILE DRIVING. There are a vast number of contractors and excavator rental houses that utilize these machines to improve efficiency in the work that they do. By using a quick coupler paired with a tilt-rotator they can quickly cycle between the tools that a jobsite demands. MKTs standard excavator mounted side clamp equipped vibros come with an R8 Rototilt mounted on top. Rather than selling something that a customer already owns MKT has been building pin adapters that allow customers to utilize tilt-rotators that they already own. Would MKT love to sell an additional piece of equipment, of course, but that doesn't help the customer and that is what MKT prides itself on. With the tilt-rotator and quick coupler combination a customer with this set up can quickly grab a vibro and get to driving pile wherever a side clamp vibro is required. The Pile Driver/Extractor hydraulics can be run directly via the excavator auxiliary circuit or can be paired with an MKT power unit for quick projects or when the end user doesn't want to tie into the excavator hydraulics.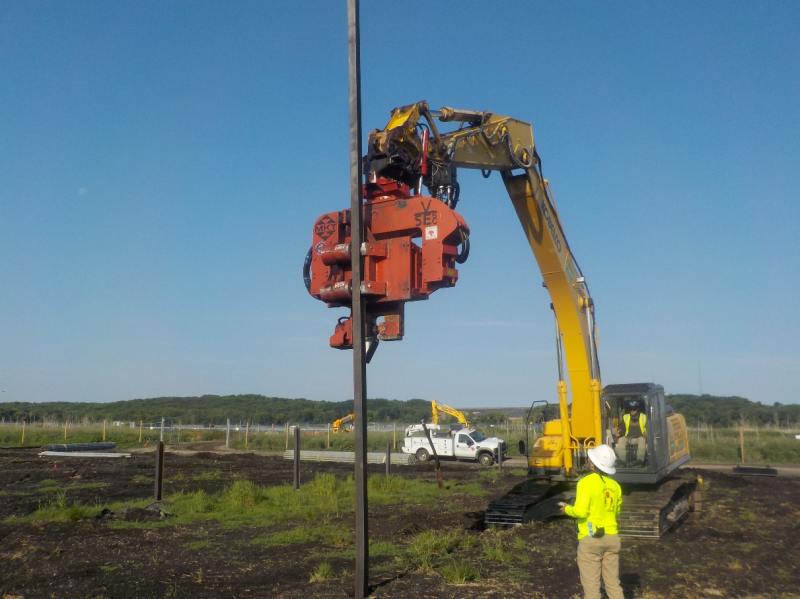 Factory standard ESC Excavator Mounted Side Clamp Pile Driver/Extractors
MKT's flagship ESC product line utilizes the same base Pile Driver/Extractor models and adapter them to an excavator by simply bolting a Rototilt on top and side clamp on the front. MKT's product line is the only one in the industry with that capability and versatility. This set up is perfect for low headroom applications or job sites where a crane can't simply fit. This set up eliminates crane mobilization and set up costs and increase pile driving efficiency. These pile drivers have increasing been used successfully in the rail construction and maintenance industry along with the energy sector included solar pile driving. The Pile Driver/Extractor comes factory fitted with a control manifold out on the unit so no excavator modifications or addition valves are required. MKT designed this concept with the end user in mind so they don't have to dedicate an excavator to a pile driving rig. They can use a quick coupler to grab the R8 Rototilt pins, do their pile driving work, then release the Pile Driver/Extractor then go back to whatever other tool they might need. Like the previous set ups, this unit can be run directly from the excavator hydraulics or paired with an MKT power unit to run the Pile Driver/Extractor. They wanted these Pile Driver/Extractors to be as modular as possible to help their distributor and customer network enhance their customers product utilization and ROI.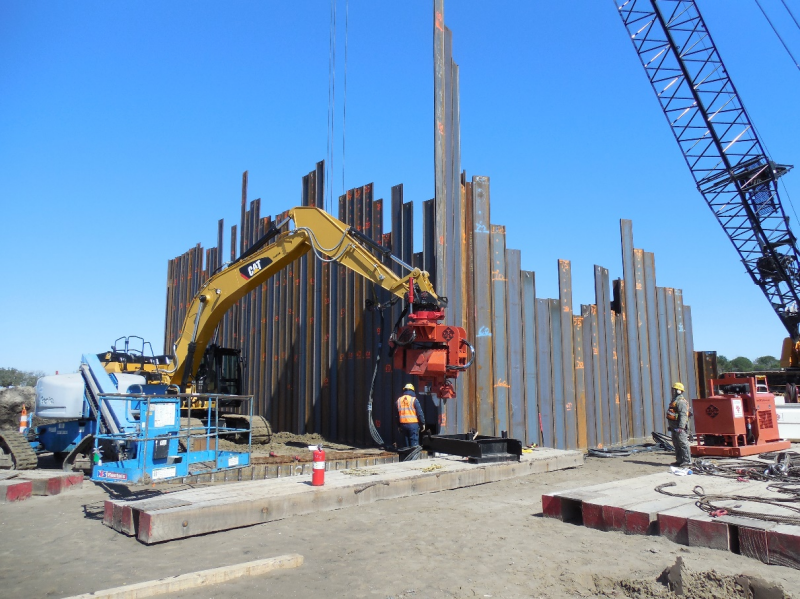 Interested in becoming a distributor?
Looking to increase your rental fleet's ROI? Looking for another excavator tool to expand into new and growing markets? MKT Manufacturing has been building some of the most durable, efficient and lifetime cost effective excavator mounted side clamp equipped vibratory pile drivers for over 20 years and is looking for new distributors to partner with. If you are interested in increasing your ROI and diversifying your product lines to penetrate new markets, please reach out today at 314-388-2254 or at www.MKTPILEMAN.com