The Patriot P1 Truck Mounted Drill Rig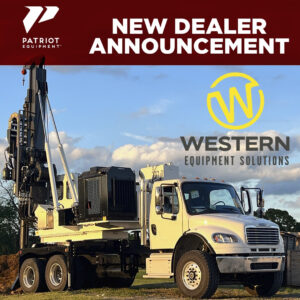 You asked for more versatility, more capacity, a better service experience, a modern and efficient hydraulic design, a comfortable operator cab, and a way to make drilling easier for your operators. Patriot delivers all that and more with the new P1, making this the perfect drill for every job. The P1 is built to deliver the most capacity in its class while drilling up to 96" diameter and 35-70' deep. The integrated DrillPro software automates much of the drilling process, improving operator performance and limiting many common mechanical issues that can be caused by operator error. This all adds up to a lower total cost of ownership, more productivity, and improved safety. The Patriot P1, Drilling equipment has evolved.
More Versatility: One machine that can do it all. The P1 is equipped with a patent-pending sectional mast, allowing you to quickly change the configuration to several other mast heights or drill depths based on your needs.
More Comfort: The P1 comes with a climate-controlled Cab to help create a comfortable, more intuitive working environment for the operator. The efficient, cockpit-style design positions all of the controls within easy reach. The exclusive one-piece curved glass windshield helps improve visibility. Work conditions and long hours can be tough on operators, but Patriot's cab is equipped to keep your operators comfortable and productive through the entire shift.
Better View: In an effort to increase operator visibility and improve safety, Patriot designed our Patent-pending Pivoting cab. This climate-controlled cab pivots out from the body while drilling to provide the most visibility of any drill.
Screen: A 12" full-color touch screen display, the largest in the industry, provides performance data in one simple, clear screen. This touchscreen gives the most relevant information to the operator in a clear manner and is easily programmable and customizable for various operator skill levels. THE FULL SPARE PARTS AND OPERATIONS MANUAL IS INTEGRATED AND ACCESSIBLE THROUGH THE SCREEN!
Improve Safety: The P1 is equipped with multiple cameras with wide angle views of hazardous zones, leading to greater visibility and safety. The P1 also has a high voltage detector that can sense as little as 110 volts AC, warning the operator that he is in the vicinity of a high-voltage power line and immediately stopping the mast from being raised. The operator does not need to activate this feature or even respond to a notification. This is always active, and the machine responds automatically.
Made For Rock: Already equipped with the most power, we also turned our attention to a new bar design aimed at improving performance while reducing maintenance. The P1 comes with larger diameter, round interlocking Kelly bars that now have 3 rows of locks, providing more engagement and better performance. Not all bars are equal, outperform the other guys with these rock bars.
Engine: Patriot is the only drill manufacturer to utilize CAT engines and ours come with the most hp in its class. These reliable and powerful engines are backed by CAT's worldwide network for parts and service.
What is the Patriot P1 truck-mounted drill rig?
The Patriot P1 is a truck-mounted drill rig designed for various drilling applications, including geotechnical, environmental, and water well drilling. It features a compact design, a powerful rotary head, and an efficient hydraulic system. The Patriot P1 provides versatility, reliability, and ease of operation, making it suitable for a wide range of projects and site conditions.
What are the benefits of using the Patriot P1 truck-mounted drill rig?
The benefits of using the Patriot P1 truck-mounted drill rig include its compact design, which allows for easy transportation and access to confined spaces; a powerful rotary head that offers efficient drilling performance; a user-friendly control panel for easy operation; and a hydraulic system designed for minimal maintenance and maximum uptime. These features make the Patriot P1 an ideal choice for geotechnical, environmental, and water well drilling applications.