Jim Tippett Hired as CZM West Coast Sales Manager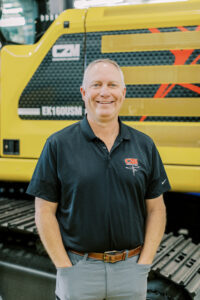 Jim Tippett Hired as CZM West Coast Sales Manager
May 11th, 2023– SAVANNAH, GA – CZM Foundation Equipment has hired Jim Tippett as West Coast Sales Manager. Tippett will oversee all aspects of sales and consulting in the Foundation, Utility, and Pile Driving industries for the 10-state territory.
Tippet has over 18 years of industry experience including his roles as CEO of Bay Shore Systems and Western Sales Manager at Watson Drill Rigs. He now brings his wealth of industry knowledge to the West Coast for CZM. He will work alongside the CZM team in Ventura, California to manage rentals, sales, and tooling in his territory which includes: Arizona, California, Nevada, Utah, Colorado, Wyoming, Idaho, Oregon, Washington, Montana, and Western Canada.
CZM Foundation Equipment offers a comprehensive line of machines engineered for a variety of foundation applications. CZM Foundation Equipment is the American division of CZM Corp., the leading foundation equipment manufacturer in South America, founded in Brazil in 1976. The U.S. home office and manufacturing facility is in Ellabell, GA just outside of Savannah. For more information, visit www.czm-us.com
For more information, contact:
Barrett Rahn
Director of Sales and Marketing North America
912.200.7661
[email protected]
Who is Jim Tippett?
Jim Tippett is a professional with significant experience in the construction equipment industry. He has been hired as the West Coast Sales Manager for CZM Foundation Equipment, a leading manufacturer of drilling rigs. In his new role, Tippett will be responsible for managing sales operations across the West Coast region.
What does CZM Foundation Equipment specialize in?
CZM Foundation Equipment specializes in the production and distribution of high-quality drilling rigs. The company provides solutions tailored to meet the needs of various foundation projects, including pile driving, drilling, soil mixing, and more. CZM is known for its customer-focused approach and commitment to delivering reliable, efficient, and innovative equipment.