Top 6 Foundation Drilling Rigs on the Market Today

Drilling holes in the ground. That's the name of the game.
Knowledge of the various drilling methods–anchored earth retention, pile construction, drilled shaft foundations–etc. is paramount. Also, it is recommended that you have a sober operator behind your half million dollar piece of machinery.
But none of this matters without the proper equipment.
There's plenty of job site issues that seem unavoidable–delays, change-orders, budget overruns, etc.–But we like to think you do have control over the choice of equipment you and your team made months, if not years, before you were even on this job.
What makes a great drilling rig? The size? Engine power? Torque? The ability to operate and maneuver in difficult conditions? Pile Buck believes a solid drilling rig encompasses all of these qualities (and more), but we've used these parameters to narrow down our favorite rigs on the market today.
Here are Pile Buck's choices for the top foundation drilling rigs on the market today, in no particular order…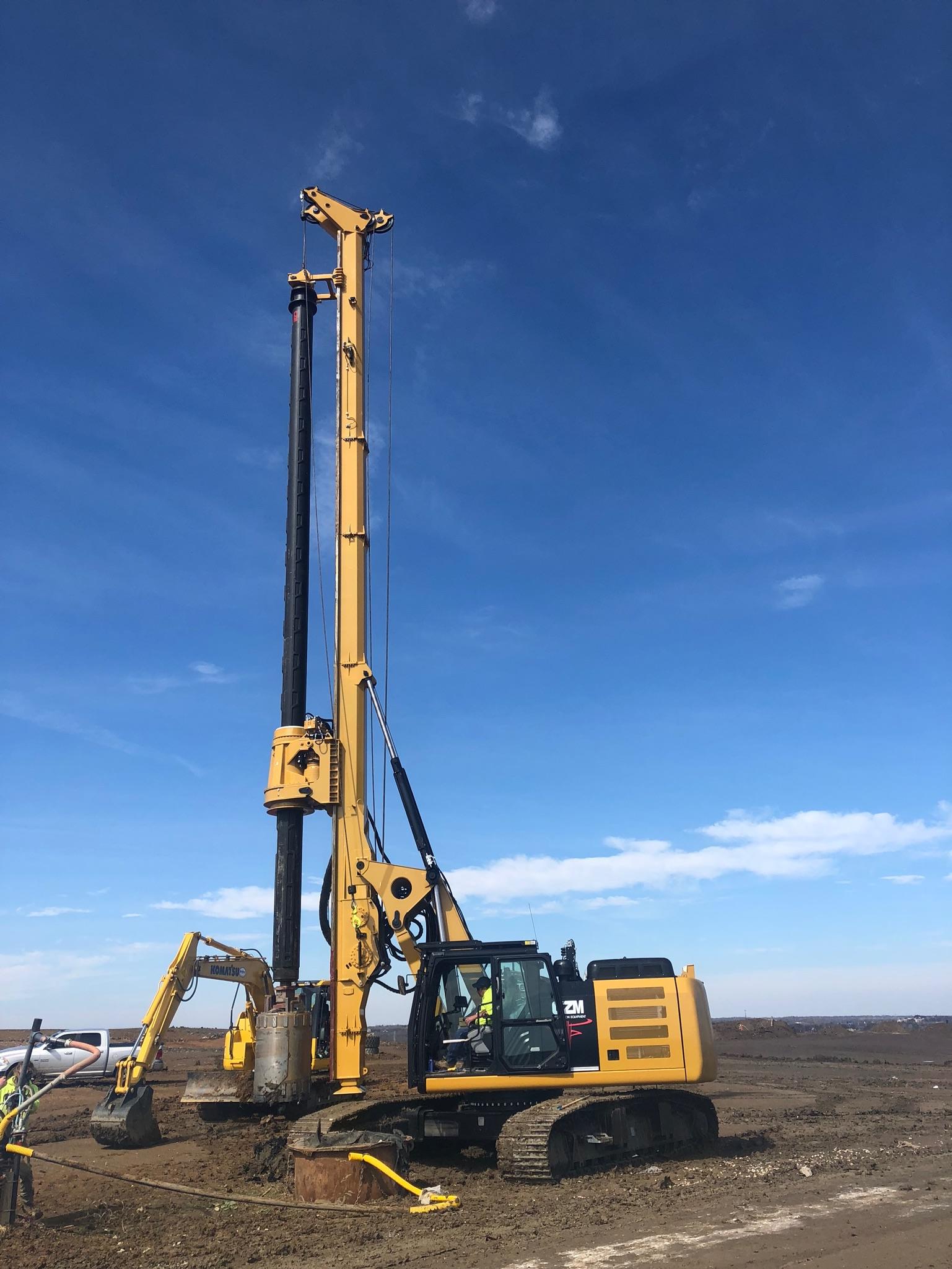 EK160 (CZM Foundation Equipment)
The EK160 is engineered in response to customer demands for a machine with the power of a larger model and the ease of greater mobility- it can be transported in one load.  It is available in standard and short masts and has transport weights of 100,000lbs/91,000lbs with the Kelly bar. Built on a CAT 330F base with an installed 242 horsepower, the EK160 delivers an impressive maximum effective torque force of 151,100lbs. It has all set up functions inside the cabin and it can be drilling minutes after unloading from the truck. It also has automatic operator assistance features, like mast auto level, return to center, high spin off, auto gear shifting for rotary and main winch, drill lock and telematics. This machine has excellent stability due to hydraulic extendable crawlers, additional counterweight and a mast manufactured in "Weldox" steel (light weight – high yield strength) and has a max drilling diameter of 11ft.
Technical Specs
Standard Chassis: CAT330F L (Tier IV)
Application: Kelly Bar
Installed Power: 242 hp
Maximum Nominal Torque: 134,300 lbf.ft
Main Winch Nominal Pull Line: 41,000 lbf
Crowd Force: 44,200 lbf
Maximum Depth: 120 ft
Maximum Diameter: 10 ft
Minimum Transport Weight: 91,000 lb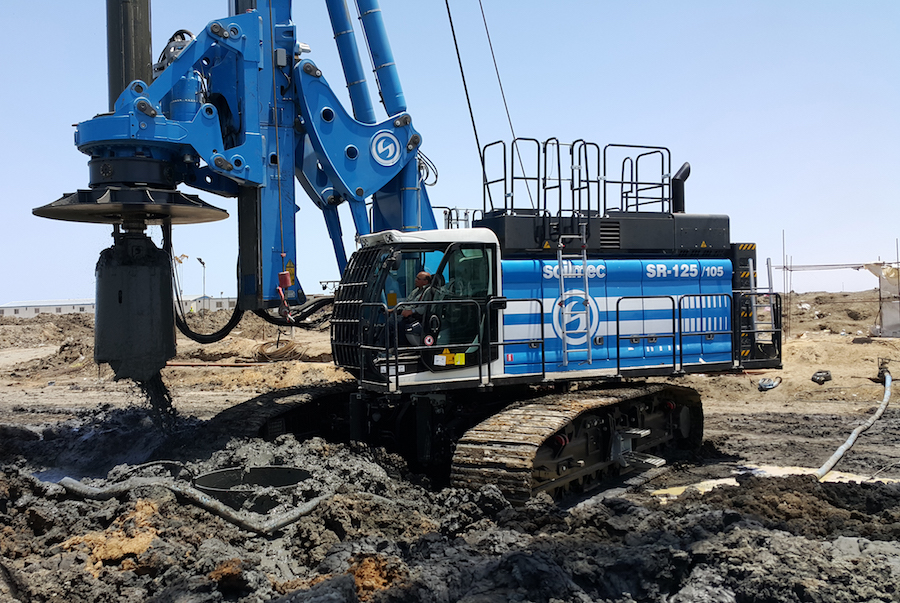 SR-125 (Soilmec)
The SR-125 is one of the newest rigs in the large diameter piling category. Part of the High Technology Line, whose main driver is the multifunctionality, SR-125 has been designed for bored piles with kelly bar and CFA, but can be easily converted to perform the majority of piling and soil consolidation techniques, to improve productivity and operating flexibility to higher degrees.
The SR-125 is fitted with the latest masts and rotaries from Soilmec, reducing overall weight, while adding increased strength, torque, and pull-up capacity. SR-125 is a major upgrade compared to previous generations. The H-cab has been designed to offer the operator maximum comfort and the complete control and monitoring over the rig and technological parameters with the DMS 12" touchscreen. Like all Soilmec rigs, the SR-125 is self-assembling, versatile, and easily transportable.
Technical Specs
Weight: 281,310 lb
Power: 630 hp
Torque: 303,133 lb-ft
Extraction: 121,395 lbf
Max diam.: 138 in (or 157 with special kit)
Max depth: 395 ft
DMS: 12" standard (DMS PC and Manager 4.0 available)
---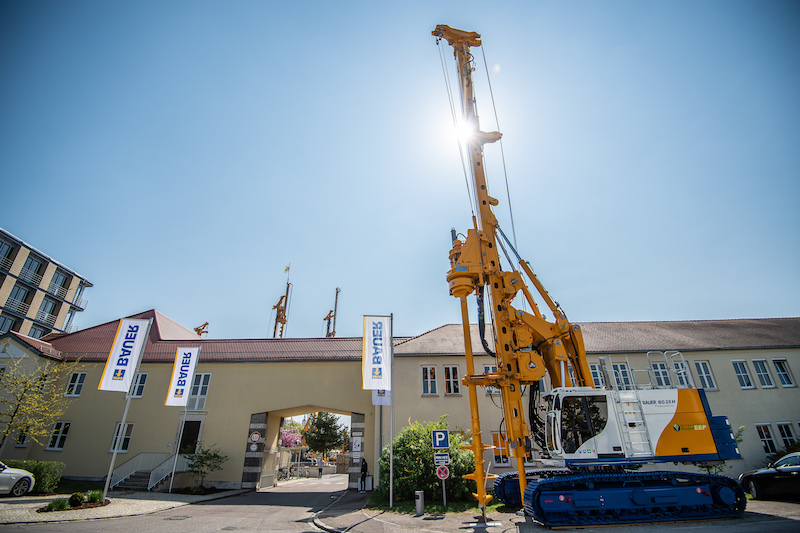 BG 28 H (BT 85) Premium Line Drilling Rig (Bauer)
The BG Premium Line stands for multifunction equipment for a variety of foundation construction systems. The selection between two model ranges allows an optimum choice for differing project or transportation requirements. Specific highlights of the BG PremiumLine are: High safety standards – Environmental sustainability, economic efficiency and performance – Easy to transport and short rigging time – High quality standard – Long lifetime and excellent resale value.
Technical Specs
Engine: CAT C13 (Tier IV final)
Installed Power: 475 hp
Maximum Nominal Torque: 204,304 lbf.ft
Main Winch Nominal Line Pull: 28,101 lbf
Crowd Force: 95,094 lbf
Maximum Depth: 215.6 ft
Maximum Diameter: 8.2 ft
Maximum Height: 81.7 ft.
Low Headroom Height: 28.7 ft
Operation Weight (upgraded version): 225,092 lbs
Minimum Transport Weight: 153,442 lb
---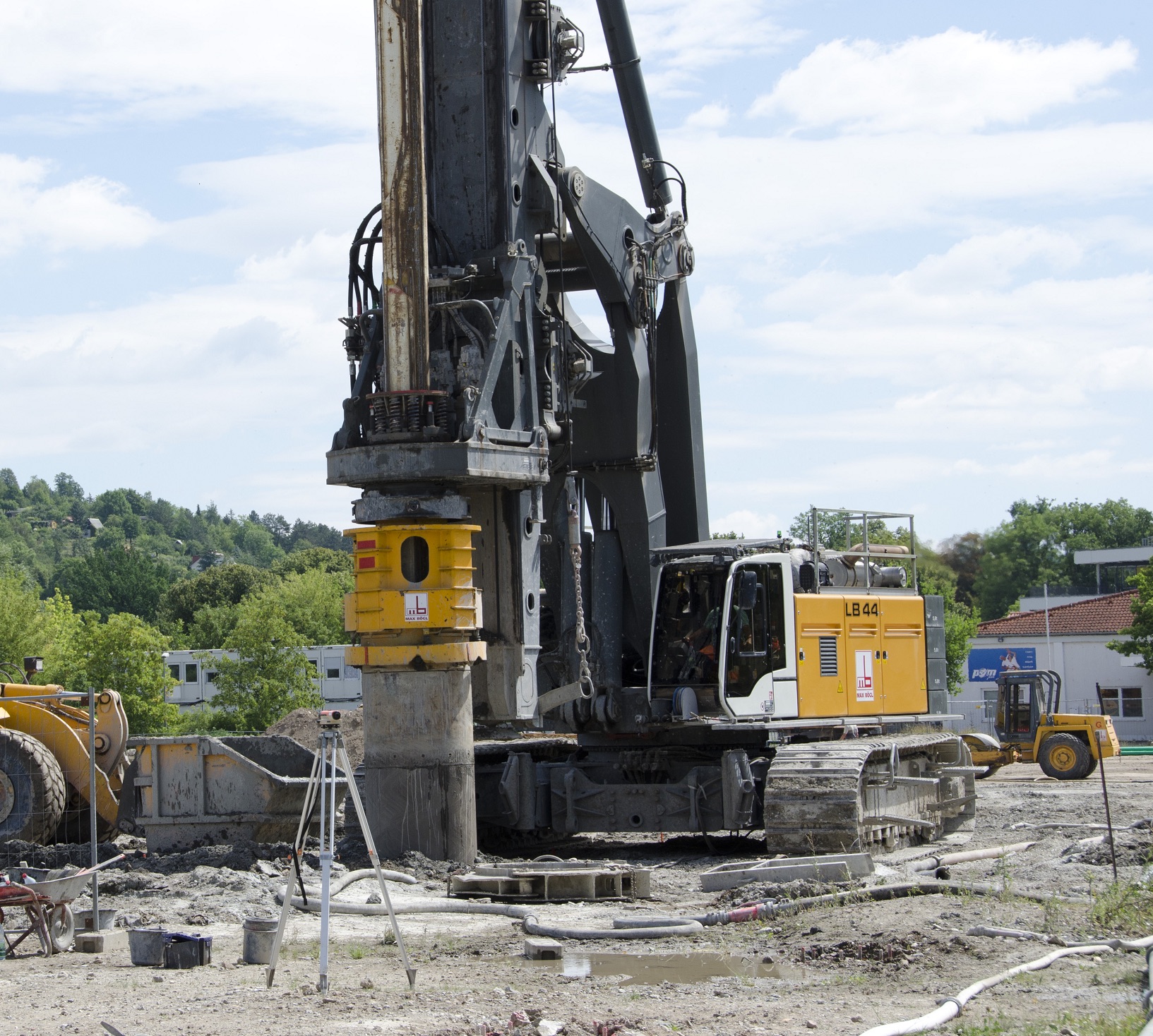 LB 44-510 (Liebherr)
The LB 44-510 drilling rig is the most powerful representative of the well-known LB series from Liebherr. Besides the common Kelly drilling other methods like continuous flight auger drilling, drilling with full displacement tools or double rotary drilling can be applied. The heavy-duty machine with an enormous torque of 510 kNm is very compact in design which guarantees a cost effective transportation and fast mobilization on site. The rig is equipped with a powerful diesel engine which convinces through low consumption and reduced emissions. In combination with the board hydraulics and the operator-friendly rotary drive the LB 44-510 is designed for continuous operation and very fast drilling cycles.
Technical Specs
Operating weight: 155.0 t
Max. torque: 510 kNm
Max. winch line pull: 500 kN
Max. crowd force: 560 kN
Engine power: 505 kW
Kelly drilling, max. drilling depth: 94.2 m
Kelly drilling, max. drilling diameter: 3,000 mm
Continuous flight auger drilling, max. drilling depth: 30.0 m
Continuous flight auger drilling, max. drilling diameter: 1,400 mm
Full displacement drilling, max. drilling depth: 30.0 m
Full displacement drilling, max. drilling diameter: 600 mm
Double rotary drilling, max. drilling depth: 23.0 m
Double rotary drilling, max. drilling diameter: 900 mm
Min. transport width: 3,480 mm
Min. transport height: 3,390 mm
---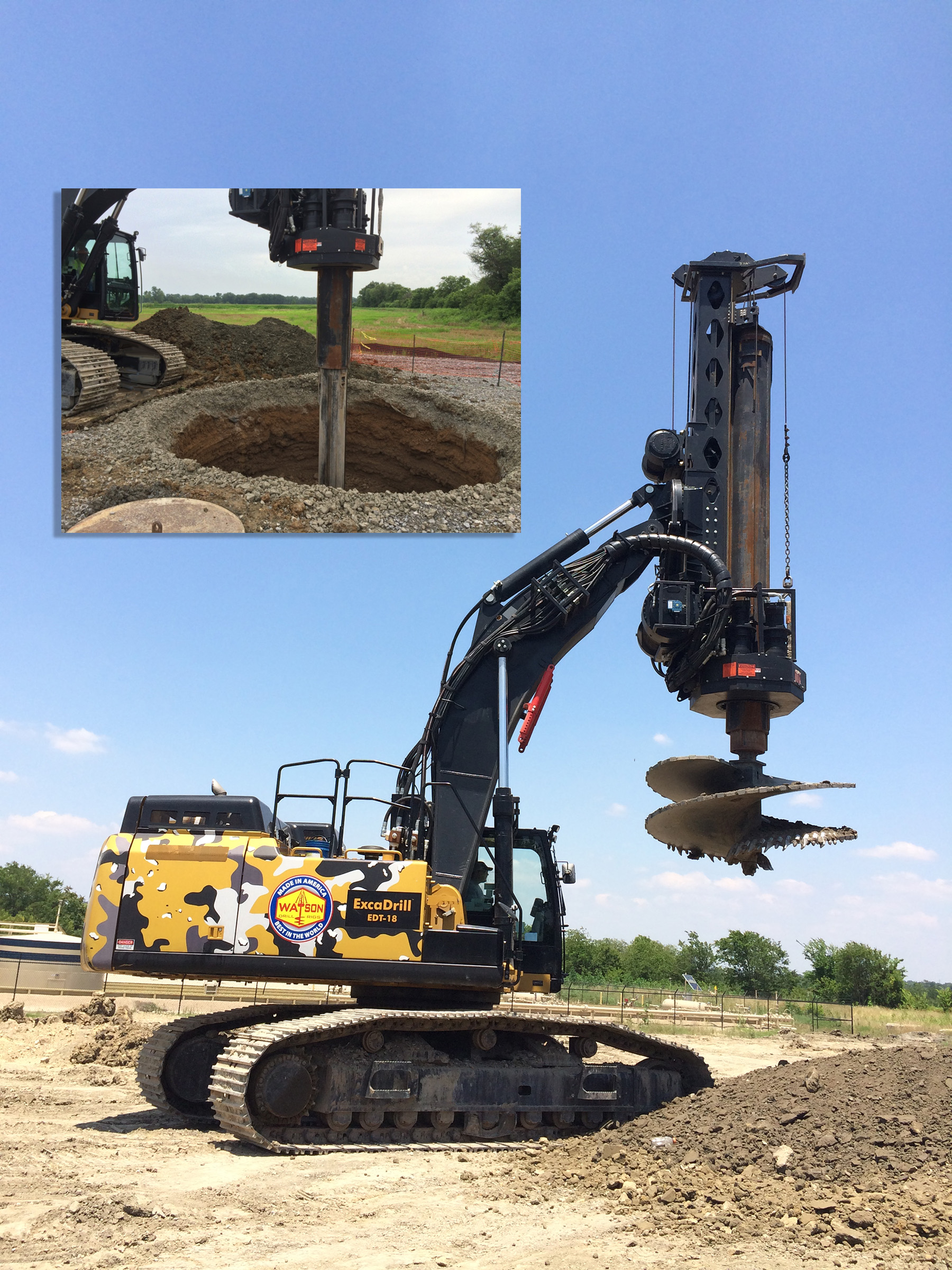 ExcaDrill EDT-18 (Watson Drill Rigs)
The largest of the Watson Excadrill Range matches a low headroom 180,000 ft-lbs [244 kNm] drill with a new or used 50 ton class excavator.  The combination of a single layer freefall winch, 4 element round locking kellys, and proven top-crowd system boosts production, while the highly mobile drill is capable of going where other machines cannot and drilling holes up to 16' [4.9m] diameter.  The quick detach option reduces the main transport load to 100,000 lb [45,000 kg] and assembles without the need for a crane.  Watson's modular rotary solution utilizes 4 drive motors to achieve up to 100 rpm spinoff without the need for clutches, gearshifting or electronics.  As will all Watson drill rigs, the EDT-18 is built for decades of large diameter, hard rock drilling.
Technical Specs
Weight: 135,000 lbs [61,200 kg]
Net Power: 396 hp [295 kW]
Torque: 180,000 ft-lbs [244 kNm]
Linepull: 40,000 lb [178 kN]
Crowd: 50,000 lb [222kN]
Max Diameter: 16 ft [4.9m]
Max Depth: 80 ft [24.4m]
---

MPx90 (Junttan)
Junttan MPx90 is a multipurpose pile rig for heavy-duty working. The rig can be equipped with CFA, displacement, driven pile or large diameter piling equipment. The maximum torque of JD45 rotary head is 450 kNm. The rig has a proven productivity due to top piling performance with Junttan rotary heads. With optional Junttan equipment, optimised working set-up of the rig can be easily achieved.
Technical Specs
Average working weight (Displacement): 125,000 kg (275,578 lb)
Average working weight (CFA): 125,000 kg (275,578 lb)
Average working weight (Kelly): 125,000 kg (264,555 lb)
JD45 rotary head: max torque 450 kNm (331,900 ft-lb)
Engine power: 503 kW (675 hp)
Max drilling depth (Kelly): 70 m (230 ft)
Undercarriage: Length 6,325 mm (249 in)
Undercarriage: Width (900-mm shoes) 3,470–5,010 mm (137–197 in)