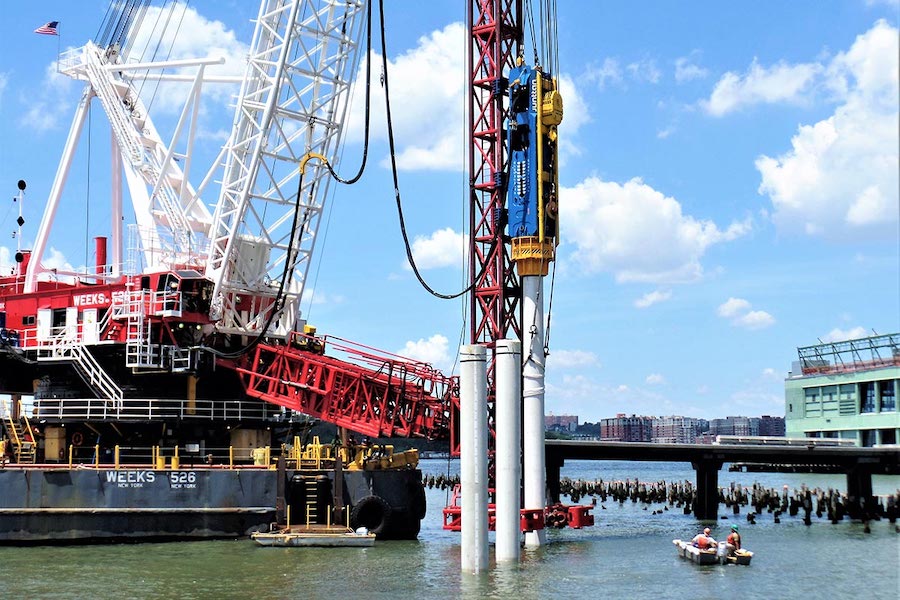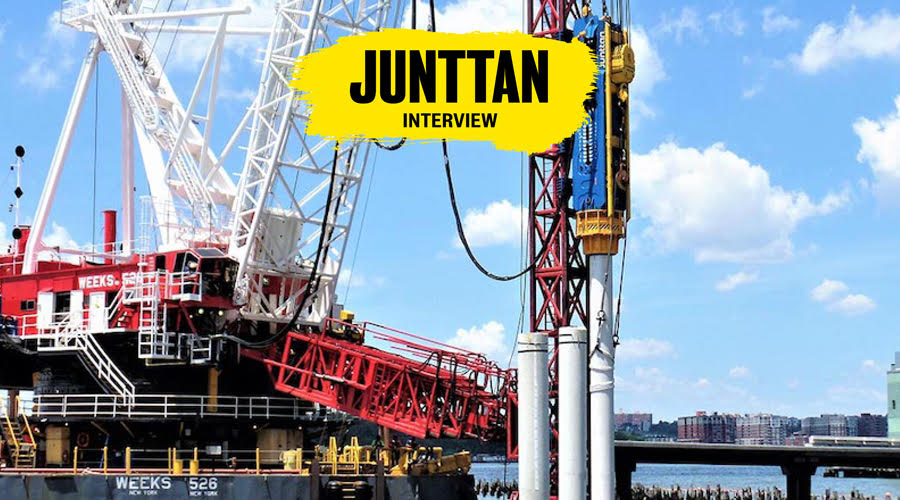 Pile Buck's interview with Junttan, a leading manufacturer of piling rigs and hydraulic impact hammers. They design, manufacture, and market high-quality piling equipment and hydraulic impact hammers to companies worldwide.
PB: Junttan has close to 900 piling rigs and over 2,000 hydraulic impact hammers manufactured. When did Junttan build its first rig?
J: Junttan was founded in Finland in 1976. We built our first piling rig in 1979. In fact, all our equipment is assembled right here in Finland. We manufacture major mechanical parts in our workshop.
PB: It looks like Junttan really took off in the 2000s.
J: We really did! It started with a new factory in 2000. We launched a new hydraulic hammer range in 2001 – the HHK S. Maybe it was the inspiration of a new century. We went on to build the HHK25S in 2007 – which was then our biggest hydraulic hammer.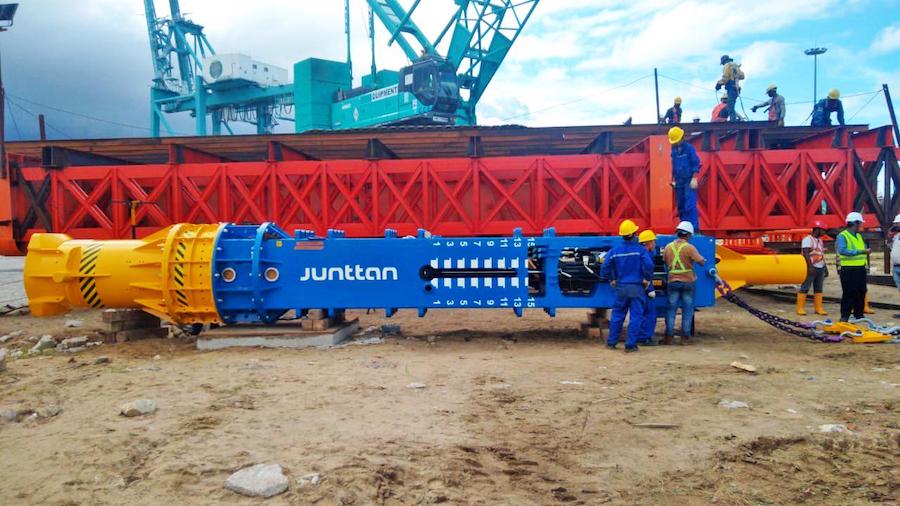 PB: You hit some major manufacturing milestones around that time, yes?
J: We did. We manufactured our 1,000th hydraulic hammer in 2007 and our 500th drilling rig in 2008. That was also the same year we moved into new production facilities.
PB: We understand that 2010 was yet another big year for Junttan.
J: It truly was. The Brotherus family became a majority shareholder in 2010. We launched our PMx pile driving rig series and SHARK hydraulic hammer concept that year.
PB: Tell us more about the PMx series.
J: Pile driving rigs in the X-series were completely redesigned with new hydraulics. Along with the Junttan control systems, these models provide amazing productivity. They also have the lowest fuel consumption. Junttan X-series models are available with the latest technology and modern engines. Our X-series pile driving rigs offer fast and safe operations. Customers love their monitoring and reporting capabilities – for GPS positioning of piles and wireless piling data transfer.
PB: What are some of the PMx series models?
J: We have several models in our pile driving rig X-series. The Junttan PMx20 is compact and lightweight – it has a working weight of only 55 tons. It literally sets up in minutes. It's perfect for driving steel, timber, and concrete piles up to about 66 feet. On the other end of the X-Series spectrum is the PMx28. It's Junttan's largest pile driving rig. It has a working weight of nearly 100 tons. It can handle a max pile length of 91 feet. It is meant for heavy duty use. The leader capacity is about 33 tons. It is a very powerful and efficient piece of equipment. With 6 models in the X-series, there's a pile driving rig for every size job.
PB: Which is Junttan's most popular pile driving rig?
J: Our most popular rig in North America (and throughout the world) is by far the PM25H.  the PM25H is unmatched in the market being able to drive up to an 80' pile with our HHK5S.  no other manufacturer provides these capabilities which gives contractors an edge for maximizing driven pile lengths and reducing splices.  Junttan piling and drilling rigs also offer piece of mind when it comes to stability. We comply with the European Safety Standard EN 16228 in all our designs and always keep safety in mind while designing our word leading piling machines.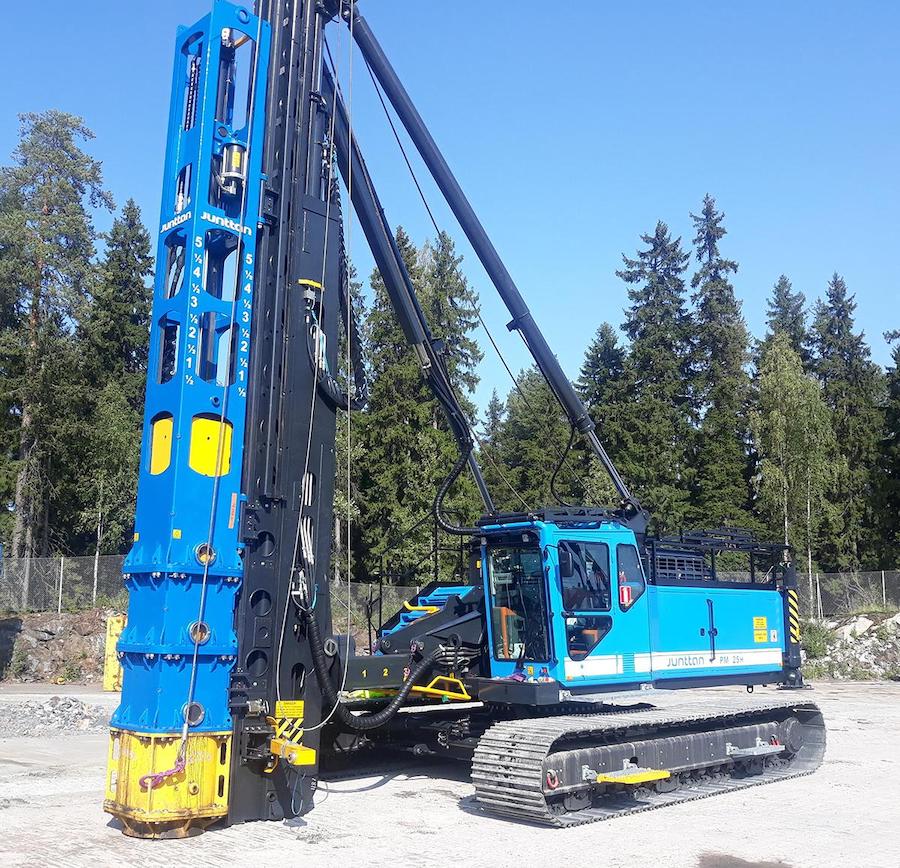 PB: Why does Junttan focus on pile driving?
J: We believe pile driving is the most versatile piling application. It's suited to a wide variety of soil conditions. We see it as the fastest – and most efficient – way of piling. We also consider it to be an environmentally friendly piling application. More companies are becoming aware of their environmental impact. They want to reduce their footprint. Junttan pile driving rigs help them move toward this goal. Our rigs also help increase productivity. It's a win-win.
PB: We understand Junttan specializes in hydraulic impact hammers. What advantages do they offer over other hammers on the market?
J: There are many. From a purely mechanical perspective, advantages of the Junttan HHK hydraulic hammers include up to 95% energy transfer – compared to just 60% on diesel hammers. They have an accelerated down stroke, so we produce highly efficient energy transfer to the pile There is no smoke or pollution from the exhaust. Our power packs are all Tier-5 compliant. Some are even outfitted with biodegradable hydraulic oils. The HHK hydraulic hammers offer low-noise level and low-impact vibration. Again offering environmentally-friendly features for our customers.
PB: What is an accelerated hydraulic hammer?
J: Traditional pile hammers use a force to lift the ram and then utilize gravity to pull the weight downward and strike the pile.  Also, some traditional pile hammers have double acting mechanisms that force the ram upwards and downwards.  Junttan accelerated hydraulic hammers are different in the sense that we utilize 100% of lifting force from hydraulic oil and then introduce just enough downward force from hydraulic oil to increase the rate of gravity by 20%.  Therefore, you have an accelerated downward motion that sends the energy into the pile and no forces are lost in frictions from the guides, cylinder, or piston surfaces. All this is controlled by the Junttan control box which allows acute adjustments to the stroke and dwell times between each strike.
PB: Who buys Junttan equipment?
J: We serve huge, multi-national companies – and small contractors. We operate worldwide in 45 countries. We keep growing but manage to provide personalized service to each of our customers by cultivating local partnerships. Junttan is dedicated to quickly providing help to our customers no matter the size of their company or where they do business.
PB: What else do you want our readers to know about Junttan?
J: The Junttan mission statement literally says our goal is to "…deliver the most reliable piling and service solutions, which ensure competitiveness for our customers." We want your readers to know that this is more than just words on a website page. We prove it to our customers around the world every single day.