INTERVIEW: Antaeus Foundation Equipment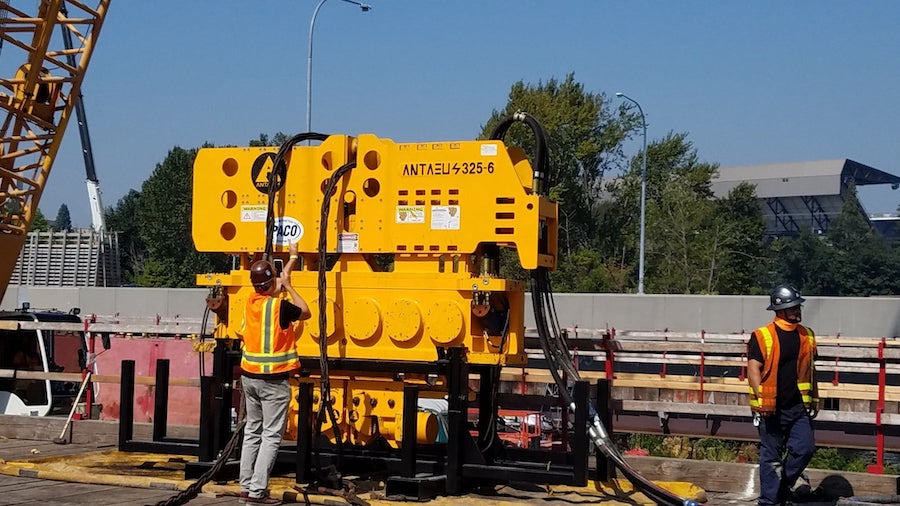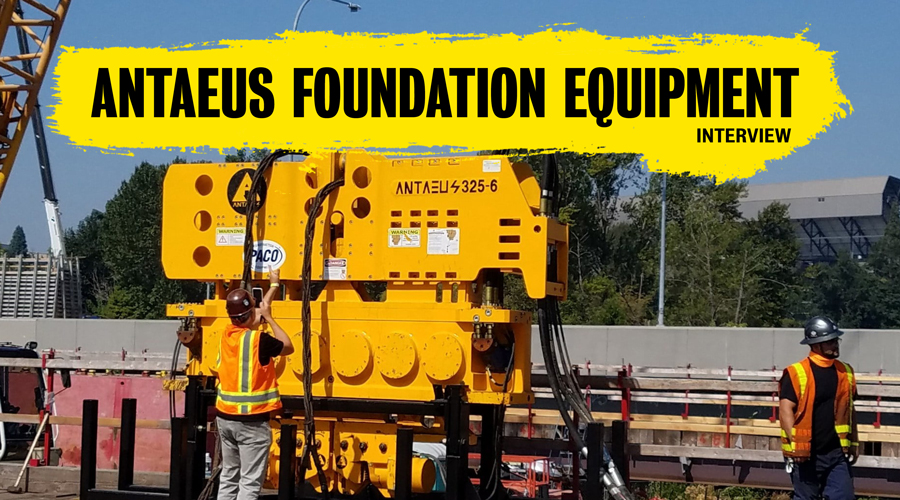 Pile Buck's interview with Antaeus Foundation Equipment — a leading manufacturer of vibratory pile drivers and diesel hammers.
PB: Tell us about Antaeus Foundation Equipment.
A: Antaeus sells cutting edge vibratory pile drivers and diesel hammers, as well as other related equipment, including — but not limited to — lead guides, drive caps, high pressure pumps, power units, and more.
PB: Antaeus is the second company  your CEO — John White — founded, yes?
A: It is. John founded American Piledriver Equipment (APE) in 1992. Recently, he decided to jump back into the game and started Antaeus.
PB: John White is more than a CEO — he's an inventor.
A: John revolutionized this industry. His first invention was a small hammer to drive piles in tight spaces. It used vibration rather than concussion and heavy tungsten rather than steel.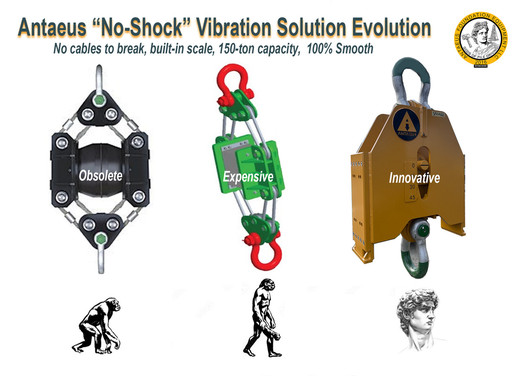 PB: We watched the video of John's son, David White, demonstrating the Antaeus No-Shock 45T and were quite impressed.
A: Another game-changing invention by John White. This is the most advanced vibration dampener on the market. It protects your crane from vibration damage on older vibratory hammers.
PB: Tell us about the Load / Safety pin.
A: The Load/Safety pin allows for a visual indication of how much weight is being held by the crane. You can know how much load your crane is actually holding by simply looking at the safety pin in the center of the machine.
PB: The No-Shock has almost no moving parts.
A: That's right. We use shackles instead of wire rope. Competitive units have 200% more parts that can go wrong or vibrate loose, our design has almost no moving parts.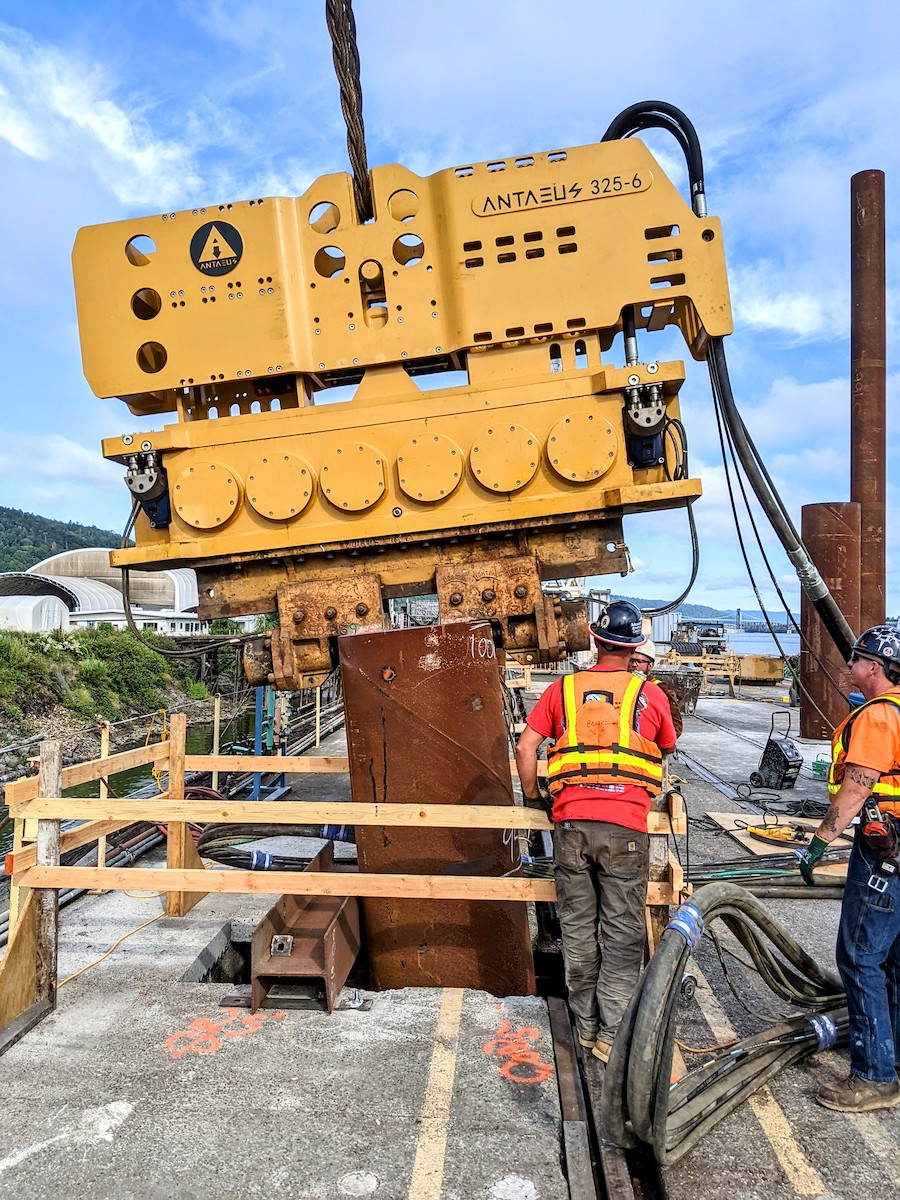 PB: How much of the vibration is dampened with No-Shock 45T?
A: This device is going to dampen about 95% of all vibration to the crane. Don't believe it? Try one and be amazed. You won't want to do another job without one. This thing is seriously amazing.
PB: Are Antaeus products made in the USA?
A: 90% of our machine is made here in the USA. The CAT engine has all kinds of components on it that are not made in the United States, and we use German-made hydraulic motors and USA made pumps. If you compare our building materials to any of our competitors, we are more American than any of them.
PB: What makes other gearboxes inferior to yours?
A: The spur gears are weak and cannot handle sudden impact. Furthermore, straight roller bearings cannot handle batter piles due to their inability to handle thrust. That's why you see many of them breaking in the field. Unlike our competitors who offer a one-year warranty, we stand behind our products with a 5-year warranty.
PB: What's special about one-piece eccentrics?
A: The first one-piece gear/eccentric was introduced in 1990. Most machines from 1992 until 2012 sport one-piece eccentrics. The next step was to go from a casting to a forging. That is what we have done. The precise alignment of a forged fully machined eccentric gear is the final step in creating the most accurate eccentric in our industry.
PB: How has Antaeus managed to build a high-quality gearbox at a lower price?
A: The reason our gearbox is less expensive but higher in quality is due to superior design plus machining programming of multiple parts at the same time. In addition, we have a one step process. Rather than machining a round, cutting the gear, heat treating it, grinding it, and bolting it to an eccentric that must go through all those same steps.
PB: How does your one-step approach result in a higher quality gearbox?
A: Our competitors' multistep process results in an outdated 1920s tractor assembly that is typically unbalanced and because of this it sounds like a 1920s tractor. Balancing is usually ignored or if accomplished is very expensive. It's the difference between a Russian tank and an F35.
PB: What else should we know about Antaeus?
A: Antaeus is always striving to design and build equipment that rarely breaks down — and if it does — is easy to repair in the field. We manage to provide superior products — made almost entirely in the USA — at a lower cost. We back up our claims with reliable customer service and an industry-busting 5-year warranty.
Who is Antaeus Foundation Equipment?
Antaeus Foundation Equipment is a company specializing in the manufacturing, sales, and rental of foundation equipment. Their product range includes hydraulic impact hammers, vibratory hammers, hydraulic drill rigs, and other related accessories for various foundation applications.
What makes Antaeus Foundation Equipment stand out in the industry?
Antaeus Foundation Equipment stands out due to their dedication to customer satisfaction, commitment to product quality, and innovative approach. They provide customized solutions, offer in-depth technical support, and continuously invest in research and development to enhance their product line and meet the evolving needs of the industry.