Growing Factors within Damen Marine Components and Damen Anchor & Chain Factory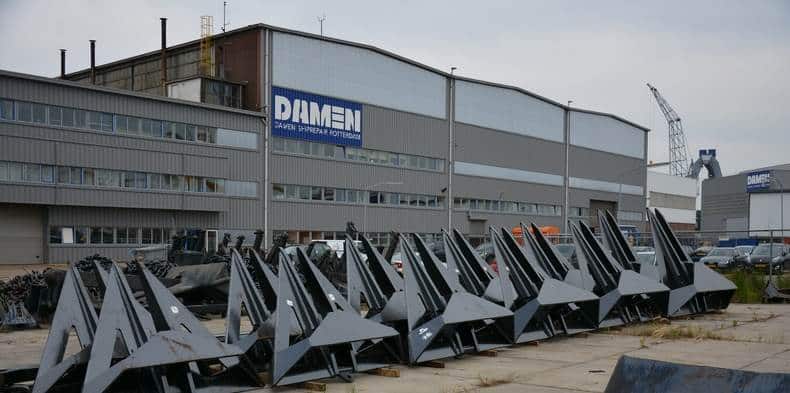 In the past weeks Damen Marine Components (DMC) and Damen Anchor & Chain Factory (AKF), both part of Damen Shipyards Group, reported successes in their line of business. DMC has completed several projects for the offshore, ports, defence and fishing markets, and is expanding its business and facilities in Poland. It also acquired  a new ISO certificate. AKF expands its ready available stock anchors. A round-up.
AKF is proud to report the arrival of the first shipment of additional stock size HYT-12 and HYD-14 anchors in June. The direct available range for HYT-12 anchors has increased up to 2.140 kgs and for HYD-14 anchors up to 7.000 kgs. It is the result of the agreement AKF concluded with China-based Jiangsu Ziangsheng Heavy Industries to become the exclusive dealer in Europe for the products of the Chinese anchor manufacturer. This company produces Class certified anchors, today ready available from stock in Schiedam (Europoort, the Netherlands) at competitive prices.
The Chinese products definitely are an alternative for European make. The HHP HYT-12 type anchors from this Jiangsu Ziangsheng Heavy Industries are of high quality, LRS certified and in smaller sizes commonly used for Damen new buildings.
The bigger HYD-14 ABS certified off-shore mooring anchors Damen Anchor & Chain Factory demonstrates the serious intention of Damen to become a respectable supplier and partner for the versatile marine off-shore market.
Offshore
Another success of AKF's is that of a leading shackle manufacturer who commissioned AKF to execute the class test procedure for a large offshore project. AKF Manager Theo Kloosterman tells: "The tests were witnessed by the class society, the ultimate owner and our principal. The project contents the proof load of 10 anchor shackles and 20 joining shackles at a proof load of 11.847 kN (approximately 1200T).
We executed break load tests at a load of 18.027 kN (approximately 1840T)."
The project was scheduled and executed in three days of testing. AKF was awarded the order because of their Lloyds approved testing house certificates and capacity to test this size of equipment. For more information on AKF see www.akfanchorchain.nl
Talking about offshore, sister company DMC has recently delivered a twin propeller nozzle set for MAN in Chile, which also ordered a second set. The MAN AHT type nozzles have an inside diameter of 4,020 mm and will be mounted into AHTS vessels.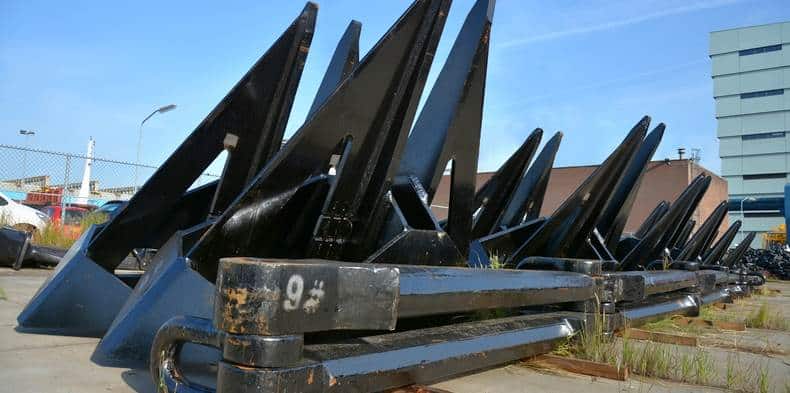 Ports
Push-tow shipping company ThyssenKrupp Veerhaven (the Netherlands) took delivery of the converted pusher tug 'Neushoorn IV'. The Neushoorn IV is capable of pushing six loaded barges. The ship is 40 x 15 metres and offers space for nine crew cabins, a gym, a changing room, a mess room and a cook's galley. There also is a large wheelhouse and a control room. The power is generated by three Wärtsilä 8L20 diesel engines, each providing 1380 kW at 1000 rpm. Propeller propulsion is ensured by Damen Optima nozzles with an inside diameter of 2,060 mm.
Training
DMC was contracted for engineering works and the stir produce of a Damen Sail Training Vessel. The rudder trunk of this new STV will be delivered in July, while the stir will be delivered by DMC Gdańsk (Poland) in August 2013.
Fishing 
DMC delivered a number of steel and aluminum components, such as prefabricated fish bins, for fishing vessel 'TX 43'. The vessel docked at Damen's facilities on the Dutch isle of Texel (a docking and repair location of Damen Shipyards Den Helder) for the proper works to be done.
Rolls-Royce
DMC was very proud to welcome al large delegation of the Rolls-Royce Procurement Management on its facilities in Gdansk. The delegation, led by Mr Gordon Tytler, Executive Vice President Purchasing Marine, noticed the in-house developed production system of propeller nozzles, based on the spinning method and resulting in smooth, single-weld nozzles.
QHSE
Propeller nozzle and maritime constructions specialist DMC has gained the new and comprehensive quality assurance status by way of an upgrade and extension from its previous ISO 9000:2004 certificate. Bureau Veritas issued the ISO 14001:2004 certificate. This includes an array of environmental, HRM and legislative aspects. Manager Organisation and Operation of DMC, Mr Nick Hoegee says: "Such a certificate is no window-dressing for is, nor do we consider it to be the conclusion of the assessments and auditing proceeds. It is the continuation of our ongoing strive for improvement."
Expansion of production capacity
DMC's expansion at its Polish facilities has started. The production hall in Elblag is now fully in operation. Production capacity will continue to grow as new machines are being installed in the next few months. Because of this expansion, DMC will soon be able to deliver its products  to virtually all customer requirements.
All developments are proof that both Damen Marine components and Damen Anchor & Chain Factory are never satisfied with current results. They go on aiming to be best in class.