INTERVIEW: IDEAL Foundation Systems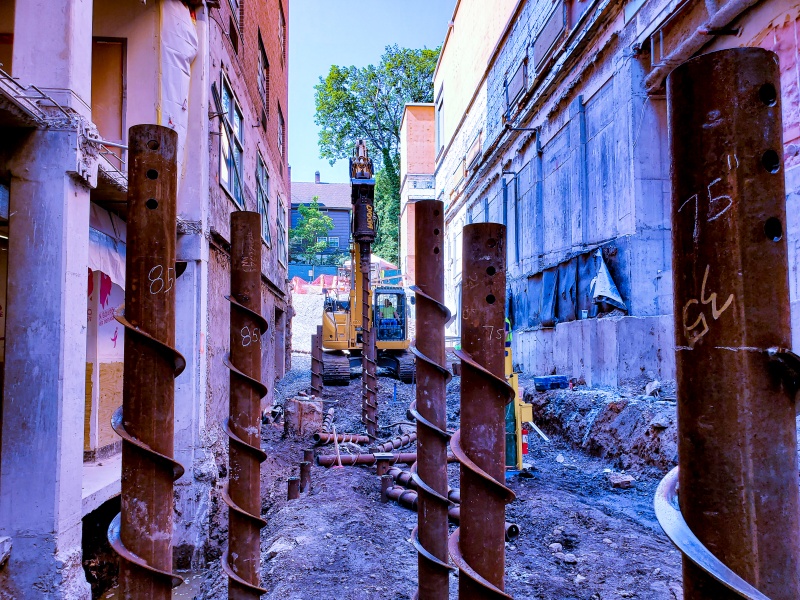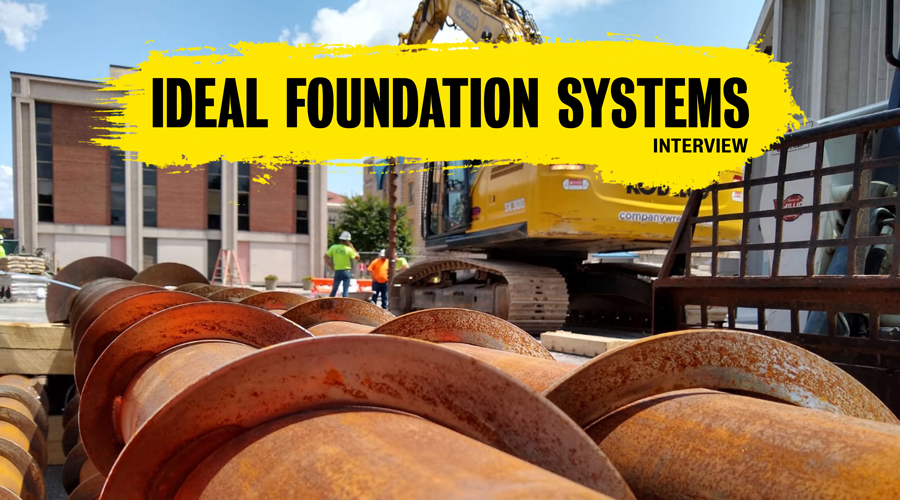 Pile Buck's interview with Ben Stroyer at IDEAL Foundation Systems, a leader in the high-capacity helical pile and micropile industries.
PB: How did IDEAL get its start?
BGS: My grandfather and his two sons started C.S. Stroyer & Sons in 1956, so we've been around construction all our lives. Through building custom homes and additions, we were taught the importance of high-quality craftsmanship and attention to detail from an early age. It didn't matter how much money we were making (or not making), getting the job done right was never optional.
During our interactions with homeowners in our area, we recognized a demand for basement waterproofing. So, in the early '90s, Art and I started a waterproofing business. That evolved into residential foundation repair. With our time spent in the trenches underpinning homes with helical piles, it became very clear that the industry needed to see some change. So, in 2003, we began fabricating our own piles. Along the way, we have found so many great opportunities to grow and shape the high-capacity helical pile and micropile industries. We were actually the first US company to mass-produce high-capacity helical piles.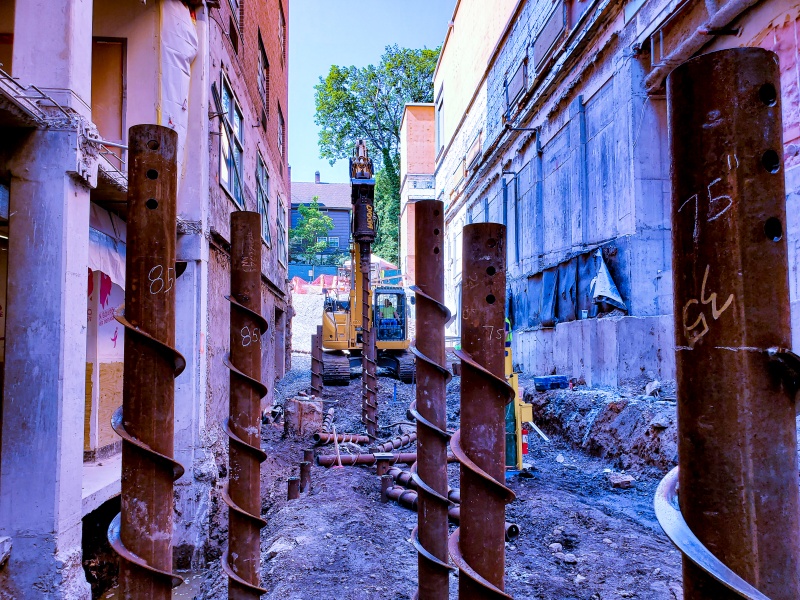 PB: It looks like IDEAL has a lot of patents.
BGS: We do. In the last five years, we have logged several International patents and patents pending, improved many parts of the helical pile, developed and patented the STELCOR® Drilled-In Displacement Micropile as well as Greenwalk, our modular boardwalk system. The reason for patenting is to, first and foremost, protect our customers, but its also important to protect the reputation of our technology and products within the industry.   Of course, we aim to be successful and gain market share, but America is a great country that's more than full of opportunity for all of us to get a piece of the pie. We're not afraid of competition. In fact, we encourage it. It keeps us all on our A game. That's the reason we got into this industry in the first place. With helicals, we saw opportunities to improve something that was already good, but needed to be better.
PB: We've seen a lot about STELCOR in the past several years. What sets the STELCOR® Drilled-In Displacement Micropile (DDM), as you call it, apart from a more traditional micropile?
BGS:  The STELCOR® DDM is embedded into the improved soil with a unique corrugated weave of grout which greatly enhances the soil bond and load transfer capacity. For one, it uses relatively small installation equipment, most of which is already on every site already. Instead of a cumbersome rig, you're using an excavator, so tight access, especially overhead, is of no concern. The mob/demob of equipment used for other pile types can be cost-prohibitive depending on the project location. Mess is another factor. If you've ever been on a site where a traditional micropile is being installed, you've seen how bad it can get. With STELCOR, there is no mud, no mess, no water – just some minimal grout here and there. The result is greater loads at lesser depths that consistently produces better results than were projected in the design.
PB: How about some of the other STELCOR-type piles come into the market in the last couple of years. Is there anything that makes STELCOR different?
BGS: Simply put, if the pile is not a STELCOR pile, don't expect it to perform the same way. I don't say this to infer that other pile types are inherently bad, that's certainly not the case. Every product has its own unique advantages. However, we take umbrage when other piles are referred to as "like STELCOR" when they lack each of the elements that make this pile type unique.   As you can imagine, this is something we're very passionate about. We've had many situations where other pile types have been referred to as being "like STELCOR", specified for a project, and then failed in a situation where, based on our empirical data, STELCOR would have excelled. As a company who has put so much thought, research, design, and passion, into the technology, this can be rather irritating.    The one upside is that in many situations where this type of thing has occurred, we've been able to prove its (STELCOR) success after the fact, which is fantastic. The answer to this question really has a few important parts. Should I dive further into this, or do we move on?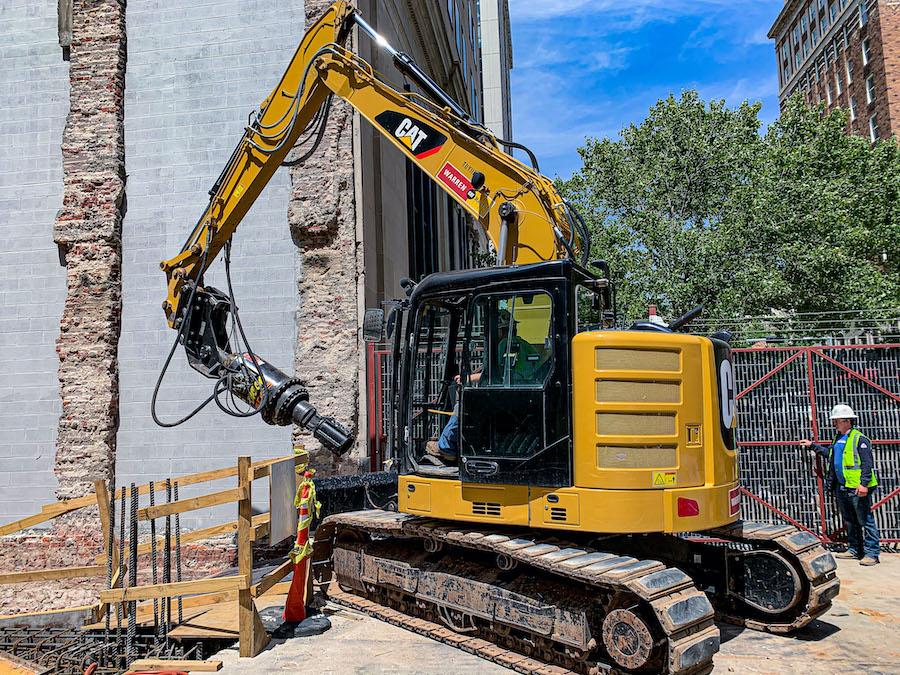 PB: I'm always interested to learn and I'm sure our readers are as well.
BGS: I promise to keep this factual, and I'll try to make it brief. So, first, STELCOR has a unique and patented displacement head that allows it to advance easily into any soil type with a specified design for that soil type. This displacement head moves the soil outward creating a quantifiable annulus around the pile shaft. Second, there's a deformation structure which creates a secondary groove or secondary deformation in the annulus created by the lateral displacement plate. This screw like profile is filled with grout and provides a higher friction coefficient in its contact with the displaced soil in comparison with a smooth grout column. This is also covered by international patents. Third, and again, internationally patented, we have the reverse-auger. The reverse-auger is a structural element which extends the full length of the pile and ensures that the grout is filling the annulus, as well as the secondary deformation grooves, on the entire length of the pile. The reverse-auger also transfers the load through the grout from the ground into the steel core and ensures there will be no shear between the grout and the smooth pile shaft. It is puzzling to me why other grouted piles, which all have a smooth shaft, are given consideration for the shear strength when any delamination of the grout from the smooth shaft renders it useless to the pile capacity. This is not the case with STELCOR as the grout is always captive between the reverse auger flightings. All these features are exclusive to the STELCOR pile and are patented. Does that cover it?
PB:  Have you had some resistance to the STELCOR® pile?
I'm not sure I would call it resistance. It's not surprising that when there's an advancement in the industry, people have questions about it – and engineers are no exception. They have an obligation to have 100% confidence in something they're specifying. So, from that point you could say there has been resistance or hesitation. I think its more about educating the engineering community – which we've put a lot of effort into and its certainly paid off. That was then – this is now. STELCOR has been embraced by the engineering community and it's become a useful tool in their toolbox.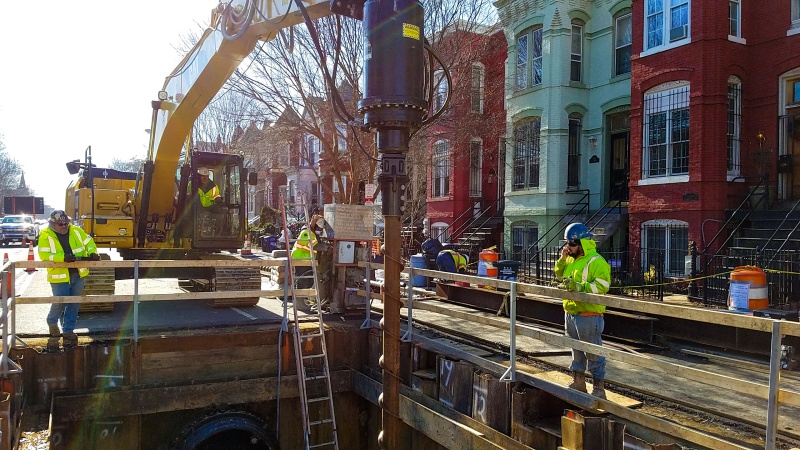 PB: Have you experienced any unexpected successes with STELCOR? 
BGS: Actually, no. But there is a reason for this. We have an excellent design team and they review all of the project information before presenting STELCOR as a viable option. We don't pursue a project if the data tells us its not a good fit. The Clean Rivers project in DC is a good example. A helical pulldown pile was specified but engineers believed that it would have failed in torsion at less than 20,000 ft⋅lbf. With time restraints, limited access, and other factors, we knew STELCOR was going to be a perfect fit. A pile was tested and exceeded the requirements. STELCOR had a resistance of 30,000 to 40,000 ft⋅lbf in the top 10 feet, and a torque capacity of over 50,000 ft⋅lbf. The loads were 102 Kips compression and 114 Kips Tension.
PB: Bet they were impressed by those results.
BGS: I do think they were quite impressed.
PB: Can you give our readers a brief lesson in helical piles?
BGS: Ok I'll try to keep this simple. A helical pile is a deep foundation. Its purpose is to transfer a structural load to deeper, stronger, and less compressible materials bypassing any weaker and more compressible materials that would be unsuitable for the support of conventional shallow foundations. As a deep foundation, a helical pier should be considered for most applications that would call for a driven pile, drilled pier, or mini pile. With our large diameter helicals, we like to refer to them as torqued in pipe piles. Think of them sort of like an end bearing pipe pile but installed by torque and with an end bearing plate much larger than the pile shaft.

PB: What's the difference between a helical pier and a helical anchor?
BGS: The unit is called a helical pier if it resists compressive loads, which are usually downward. It is called a helical anchor if it resists tensile loads, which are usually upward or inclined. Many helical units function as both piers and anchors. A helical unit is installed by simply screwing it into the ground.
PB: Can you describe a typical helical unit?
BGS: A typical helical unit consists of a central steel shaft, to which can be attached one or more steel helices. The central shaft can be lengthened by adding extension pieces as necessary. The final component to the helical unit is the Load Transfer Device (LTD).
PB: What does the LTD do?
BGS: The LTD (load transfer device) is used to transfer the tension or compression load from the structure to the helical unit. The helical unit transfers tension or compression load to competent soil strata below incompetent soils. Wherever tension loads are present, the LTD is bolted to the helical unit.
PB: Helical piles literally came to the rescue at the beginning of the COVID-19 pandemic.
BGS: They did. In early 2020, when New York's COVID cases were surging, the Army Corp of Engineers built temporary field hospitals for non-COVID and lower-risk patients on Long Island. Helical piles were the perfect solution because they can be installed quickly – and be easily removed when the hospitals are no longer needed. Which thank goodness they aren't now.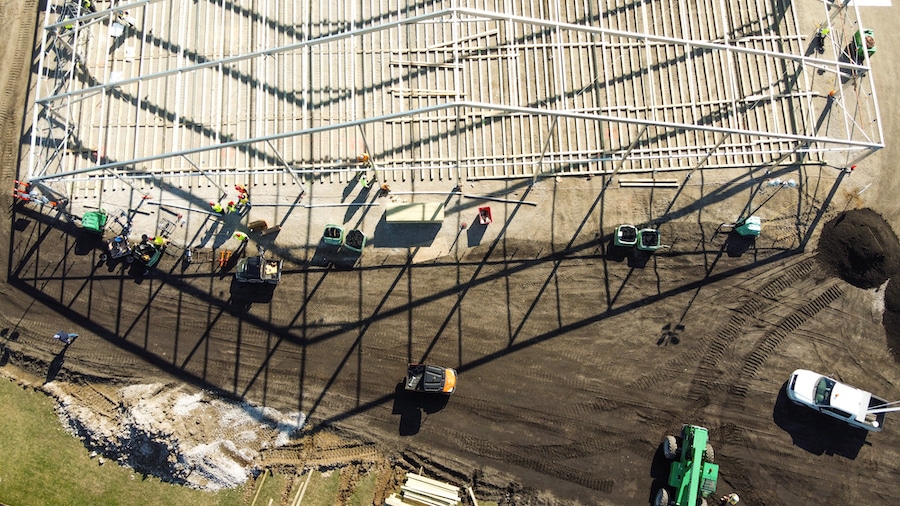 PB: Tell us about your installation equipment packages.
BGS: Having years of installation experience, we know firsthand what its like to lose time and money on a project due to a single missing component which results in delays. So, we've gone to great lengths to ensure an installer has everything they need for their projects to run smoothly. I could tell you all kinds of horror stories where everything seems just fine and you're on site and realize some essential component is missing and hours or days of install time are lost. We know that time is money, and we want to help people save it.
We have partnered with great companies to offer the most complete hydraulic drive head package in the industry – that we know of. So, if there's something better out there now, they got the idea from us. the drive motor, linkage, mount bracket, ryno hitch, hose kit, differential pressure kit, and drive adapter. Everything you need to hit the ground running.
PB: You have a custom solution for tight spaces, yes?
BGS: We do. Our team came up with a game-changing solution for tight access installations. It includes a BROKK machine and a proprietary drive head setup using a Digga drive head. The remote-controlled BROKK excavator is a machine that was not yet being used in the helical pile industry. The maneuverability of the BROKK combined with the ultra-compact drive head has made it possible to perform installations on sites where it would have been extremely difficult, if not impossible. This is the IDEAL solution if you're installing in tight access environments and even more beneficial if there are high torque requirements. We are always looking for ways to make our client's jobs easier and this has been used with great success in limited-access applications.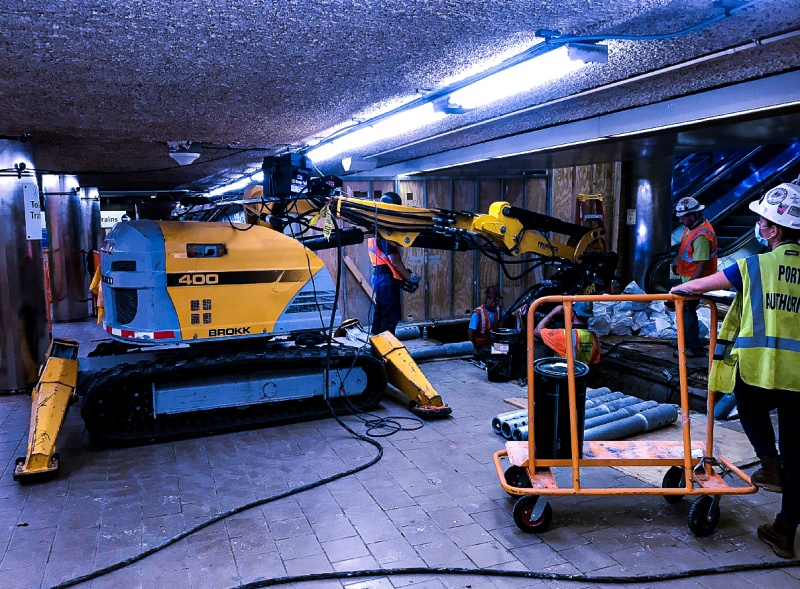 PB: Can you tell me more about IDEAL "breaking out the Brokk" in a subway station?
BGS: That was a cool project. I'm glad you mention it. Skanska AB (a global construction company headquartered in Sweden) had a project in a New Jersey subway station and they had to get installation equipment and materials down through the escalator openings. They could get everything down below, but once down there, limited overhead access was still an issue. Have you ever tried getting an excavator down several flights of stairs and into a subway station? That was a rhetorical question. If you ever do, call us first!
PB: This is where IDEAL "broke out the Brokk."
BGS: That's right. Our design team worked with different manufacturers to provide proprietary install equipment that could handle the unique requirements of this subway project.  I'm proud of our team and their ability to come up with new approaches and methods to address significant installation challenges. This project was a perfect example of that.
PB: We hear you're looking for good people – and are willing to poach?
BGS: That was our marketing team saying we're expanding our team and using humor to draw attention. We have never actually had to engage in any poaching. We've found that by being true to our values as a team and remaining genuine, persons with a shared mindset tend to seek us out. We've had many great new members join our team this year but we're always growing so there's always room for more. You just need to be honest, hardworking, passionate, forward-thinking, and a team player. That's not so much to ask for what we offer in return. contact IDEAL.
PB: What else do you want our readers to know about IDEAL?
BGS: Outside of our stock items, we routinely fabricate custom deep foundation solutions, including the associated brackets and load transfer devices. So, if you're having trouble finding what you need, just give us a call. We will design the perfect bracket for your unique project requirements. What else.. We manufacture in the USA.  We're kind, honest,  and happy people who love what we do. If you haven't worked with the IDEAL team yet, give us a try. We won't disappoint.
Who is IDEAL Foundation Systems?
IDEAL Foundation Systems is a leading manufacturer and supplier of foundation equipment and materials. They offer a wide range of products, including helical piles, push piers, and driven piles, serving residential, commercial, and industrial sectors. Their focus is on providing innovative, high-quality, and cost-effective solutions for various foundation applications.
What sets IDEAL Foundation Systems apart from competitors?
IDEAL Foundation Systems stands out from competitors due to their commitment to innovation, quality, and customer satisfaction. They offer a comprehensive range of products and services, provide ongoing support and training, and focus on continuous improvement and research to ensure they remain at the forefront of the foundation industry.