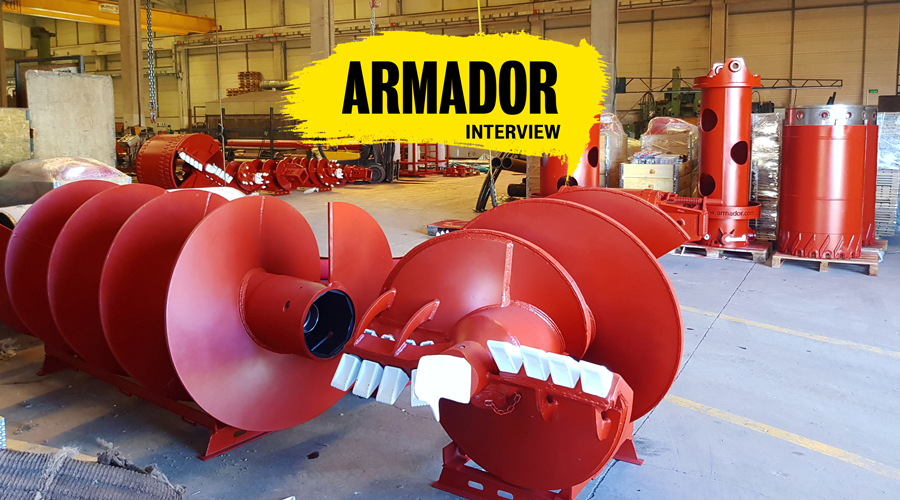 Pile Buck's interview with Armador Machinery Ltd., a specialized manufacturer of foundation drilling tools that has the largest capacity in its geographical location.
PB: How did Armador Machinery Ltd. get its start?
AM: Our company group started working in this field in 1994. Over time, with passionate commitment, we had become field experts in rotary bored piling tools and by founding Armador Machinery Ltd. in early 2006 to supply our high-performance tools all around the world, this expertise could be delivered. Currently, we reached to an extraordinary level of success exporting more than 50 countries worldwide.
PB: What are Armador's main products?
AM: Our main bored piling tools are Augers, Buckets, Corebarrels, Single & Double Walled Casings, Casing Shoes, Twisters, Tremie Equipments, Auger Flights, Kelly Bars, Wear Protection Elements & Spare Parts for hydraulic mobile piling rigs, especially heavy-duty ones. Besides, we always try to sustain our level as a kind of one-stop-shop for piling field experts looking for a manufacturer that can produce high-performance as well as high-quality products that meet or exceed industry standards.
PB: How do your bored piling tools compare to your competitors?
AM: The craftsmanship of our products is generally higher than those of similar products. While manufacturing, we focus on making durable and high performance tools rather than absolute economy. Those are the main reasons our clients keep buying our strong and durable bored piling tools for decades.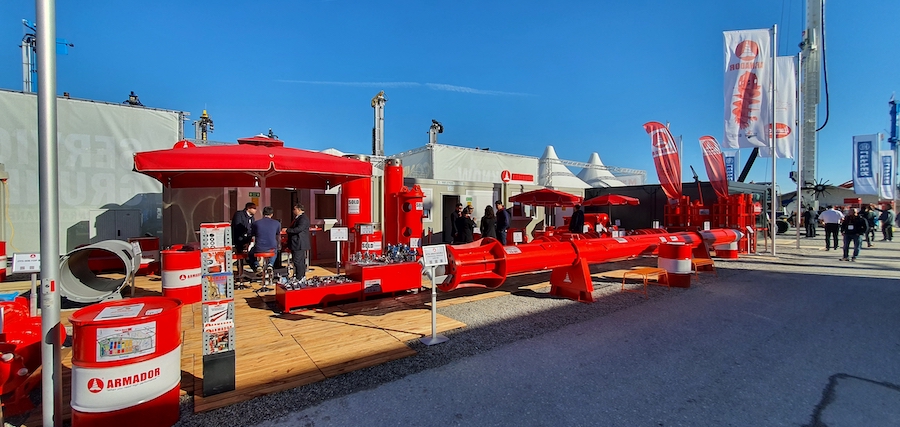 PB: We hear you have quite an impressive manufacturing operation.
AM: We do! Our machinery park includes large-scale submerged arc welding (SAW) manipulator stations, 7 axes CNC horizontal machining center, CNC horizontal lathe, large scale CNC vertical lathes, CNC bohrwerk, CNC plasma cutting machines, optical cutting machine, universal lathes and boring machines, large scale cylinder bending machines, lots of universal lathes, hydraulic presses, milling stations, auger welding manipulator stations and various synergic gas shield arc welding machines. Recently, we purchased a 6 axis Cloos Welding Robot to be facilitated in our new factory which we bought our neighboring land and already built the new factory area. With this occasion, let me share you a breaking news that we will increase our manufacturing capacity to almost 200% with 4 new halls by the end of this year.
PB: You also have some distributorships, yes?
AM: That's right. We distribute German ElementSix –part of the worldwide famous DeBeers Group– hard materials, tungsten carbide wear protection parts and soft rock tools. We also distribute GEAX piling rigs and Ghedini hydraulic attachments in our country.
PB: Let's take a deep dive into some of your products. Tell us about your augers.
AM: Armador augers are manufactured in various models to accomplish the requirements for every type of ground drilling conditions. You can choose according to your demands among our standard models or request a custom model. For example, to increase the resistance of our augers, we have special patented designs and special alloy steels are used on request. These choices are decided after various simulations performed by our engineers and then field tested.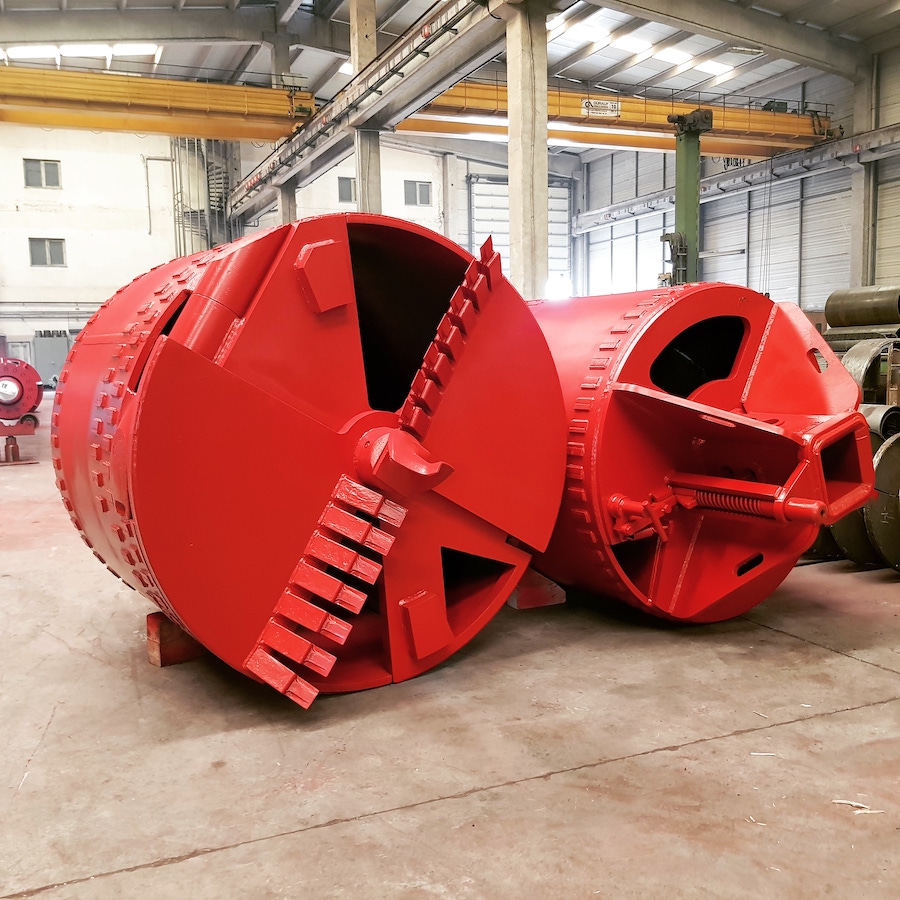 PB: What are the basic specs of your standard rock augers?
AM: Our OKS series standard rock augers are meant for medium soil conditions such as rock and gravel mixed soil. They have double start flight design, super HD tungsten carbide picks, and a special monoblock pick holder design. Complete flight edges' wear protection and optional collar plate choice with extra supporting picks at the back of main blades are also available.
PB: What carbide picks and teeth do you use?
AM: We prefer to use worldwide, well-known branded carbide picks and teeth. We use only the best heavy duty round carbide picks both for 30/38mm and for 25mm shank type requirements for rock drilling, while only the best quality teeth for soil drilling. For soil conditions, both long attack, high penetration ability special excavation type teeth and tungsten carbide inserts protected teeth options are available for specific country or terrain based requirements.
PB: What custom options are offered?
AM: Our kelly boxes can be manufactured custom-sized and -shaped for every kind of drilling rig. On request, every type of hard facing & wear protection is available. We use special wear protection plates and sheets with a top quality European or domestic wear protection products reaching hardness values up to 58~62 HRC or have options to use compound solutions with carbide protection elements that may have 2400 Vickers hardness particles laid on 60~70 HRC Nickel alloy matrix. Also, our strong side is we have tailor-made customization solutions for almost any size and diameters to fulfill specific ground engineering jobs regardless of only certain size manufacturing limitations. Every tool request can be millimetrically adjusted according to our client's request.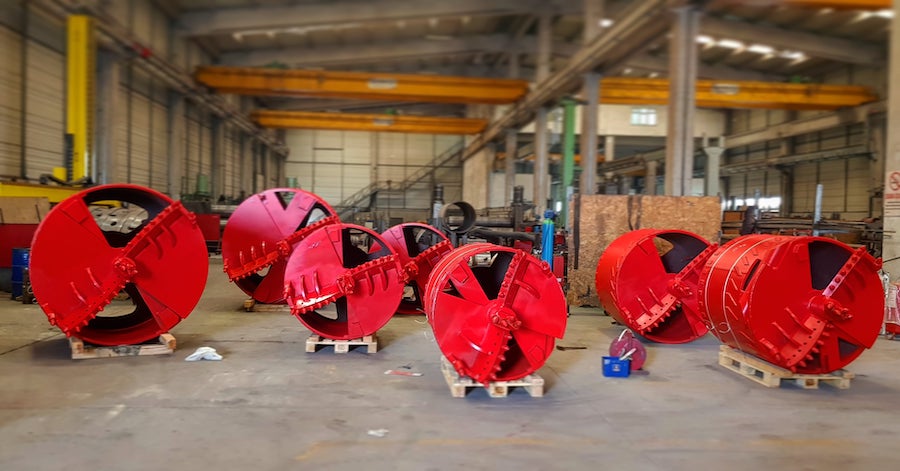 PB: Do you manufacture CFAs as well?
AM: Yes, we have OSS type hollow stem (for concreting) augers as well as OMS type non-concreting augers. Any customized length intervals, hexagonal, octagonal or threaded coupling options, various pitch value options and flight thicknesses are available.
PB: Let's move on to drilling buckets.
AM: We have our BKU and BKA series, which includes soil and rock buckets with straight body as well as conical and special hybrid body options. Our BKU type is for sand and gravel soil, wet clay, and mud type ground conditions; and our BKA type is for rock and hard rock drilling with super HD tungsten carbide picks. All our buckets have a double layer revolving bottom cover design with high thickness for durability and special design wear protection shield plates hardness more than Hardox [HRC=~58].
PB: How about your cleaning buckets?
AM: We have the BTM series of cleaning buckets. These have a pilotless design for smooth cleaning and flattening of the hole base. Both single start and double start options are available although main recommendation is single start by the nature of its job. We use abrasion-resistant special alloy steels for wear-resistant main blades.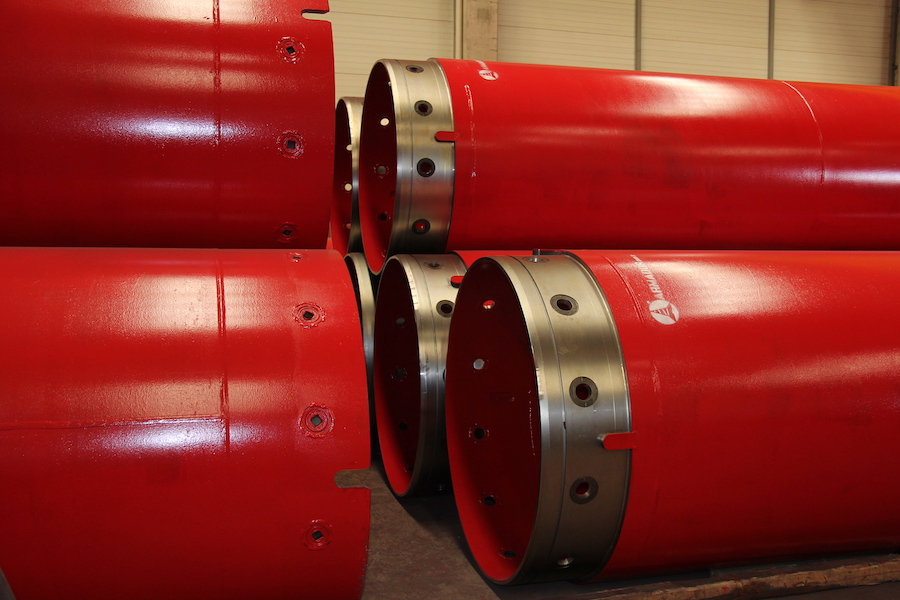 PB: You have some nice casings and casing shoes.
AM: Yes, Armador casings and casing shoes have high resistance and easy montage advantages. We use unique techniques to manufacture our double walled casings. There are different techniques around the world to manufacture such casings and we prefer the hardest one at the moment to increase the durability and strength of the casings. This is our strong part indeed. We also use high quality carbide protection teeth for our casing shoes and special metal alloys can be used for the joints on request. Montage can be done in a very short time by using our own brand screws and rings on the joints which are 100% compatible with well-known brands.
PB: What casing types do you offer?
AM: Our casing types include double-walled casings which is our SBC series and single-walled Casings which is our SBT series. For casing shoes, please check out our CRK series. For casing joints, consider our SBK series both female and male or full kit solutions. This is sometimes very good for our overseas clients who have the ability to install the body in their own yards, in order to dramatically reduce the freight costing of these big tools.
PB: Do you offer manual casing clamps?
AM: We manufacture several different casing clamps. Many of our models have ergonomic stands to ease operation at the job site. Also, some of our models can be separated from their stands like the YBT-250 series. We can manufacture our clamps for any outside diameters of casings. The main advantage of our manual casing clamps are to be very reliable, less stocking area requirements compared to hydraulic correspondents, easy, fast and safe to operate as well as less maintenance requirements.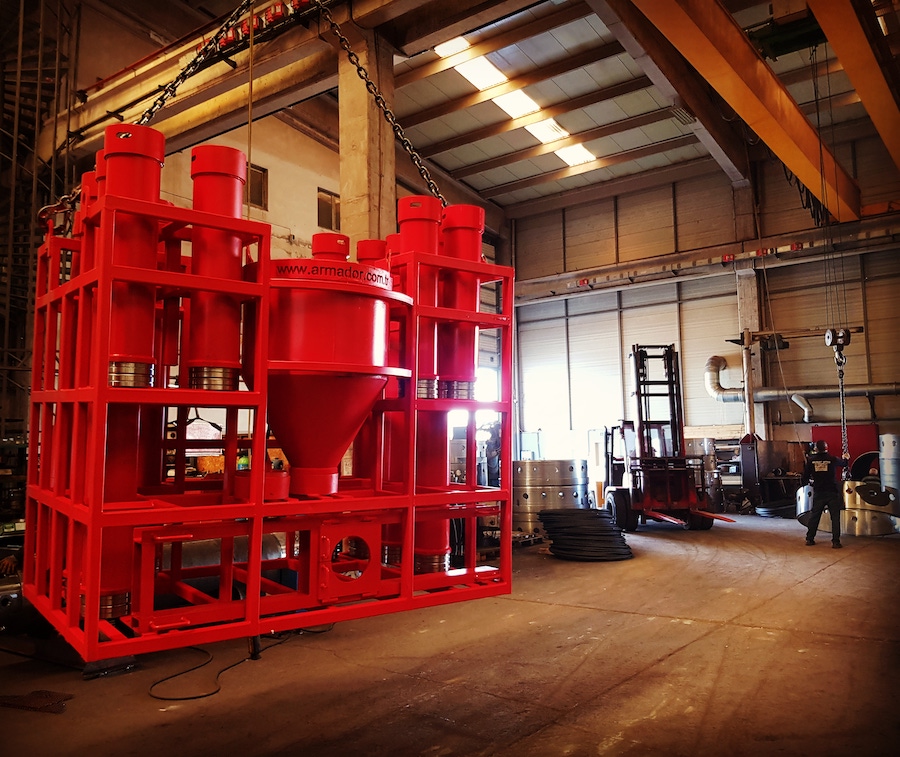 PB: When did you start manufacturing kelly bars and what kelly bars you offer for your clients?
AM: From the start of 2016, we started accepting the orders for new kelly bar production internationally. We currently offer kelly bars for German piling rigs, but planning to increase the product range within the next coming years.
PB: What else do you provide for your clients in your common tooling product range?
AM: As a part of the tooling, we also provide BCN (with round picks) and BCA (with flat teeth) type belling buckets. Normally, as you are familiar, such belling buckets come with soft soil requirement flat teeth. Sometimes, depending on bore hole profile, it is better to switch to rock fighters where tungsten carbide round picks have to be put into action which you cannot find in some well-known brands' product ranges. As of different corebarrel options, we offer KOY type cross corebarrels to fight serious rock layers, KOD type corebarrels with changeable teeth as well as KOB type trap design corebarrels which can be a perfect solution especially to catch boulders mixed formations on request.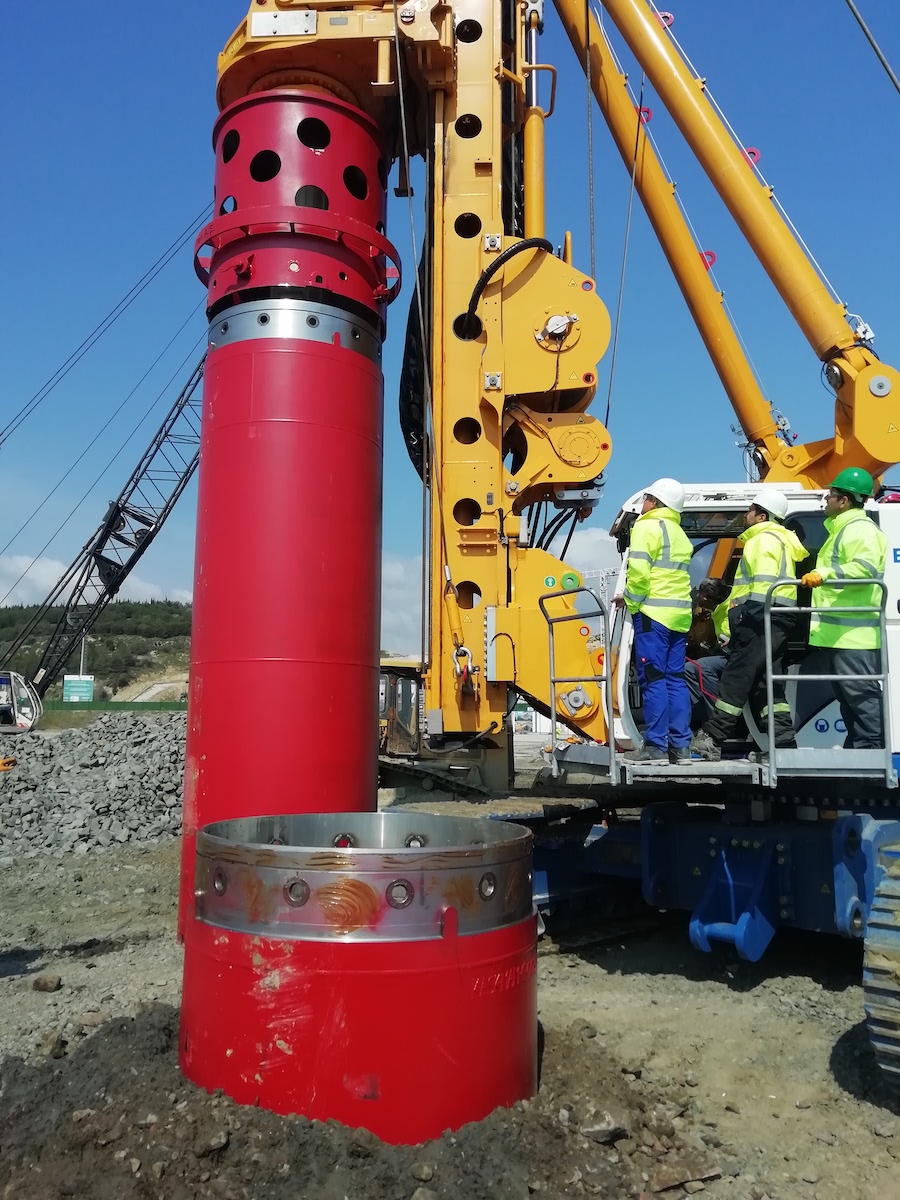 PB: Does Armador also supply Diaphram Wall Stop-end systems?
AM: Sure, according to project requirements of our clients, our stop-end production team and engineers are an e-mail away for any special customization requirements including the SET series Stop-end Segments, SEC series Stop-end Shoes as well as the Lifting Caps and Holders etc.
PB: Do you offer a good selection of spare parts?
AM: Armador offers a variety of spare parts for daily usage of plant applications in bored piling field. We both manufacture some of our own models and are a reseller of well-known brands. All our screw bolts and rings are manufactured by hot forging and as heat treated instead of ordinary machining. To fulfill high durability requirements, our priority is to carefully select or manufacture spare parts. Especially this is very important for such select kelly bar spare parts or repair kits.
PB: What else would you like our readers to know about Armador?
AM: We are ready to serve on any standard or custom machinery requests. We have strong logistic advantages especially in the Eastern Europe, Middle East, and Mediterranean regions as well as direct routes to North America. We will be more than glad to offer solutions even from 6000 miles away like a supplier located in the client's neighborhood. And as all Armador Team, we are always ready to do our best to assist and happy to be at the service of our worldwide clients anytime without any hesitation in their hearts that may occur from the distance. We unite the clever piling specialists world and making them operate globally. We have to gladly admit that it might be another reason for us to be the choice of even incomparable size worldwide well known specialist contractors.