INTERVIEW: TEI Rock Drills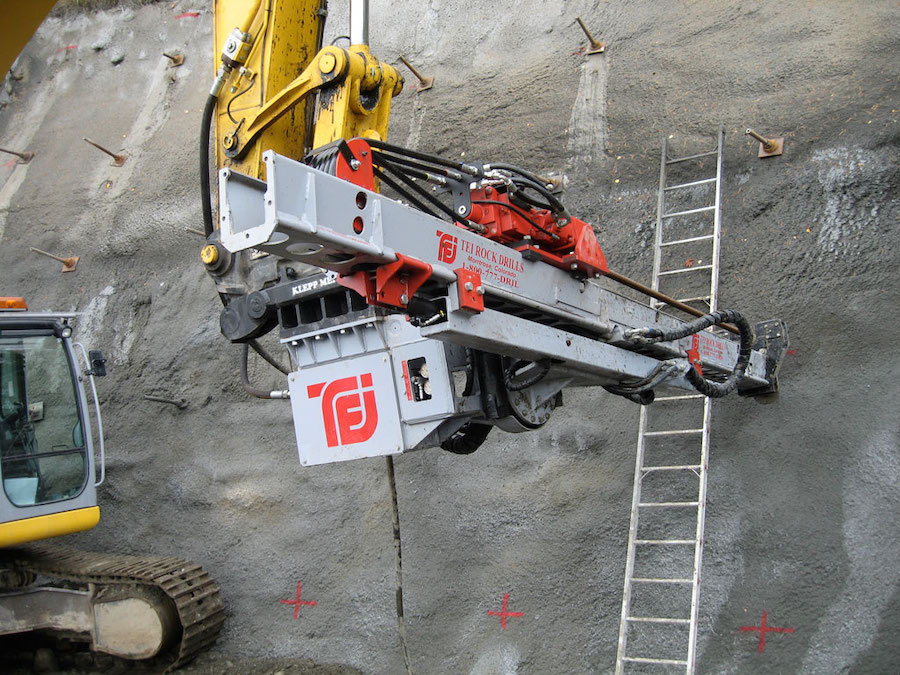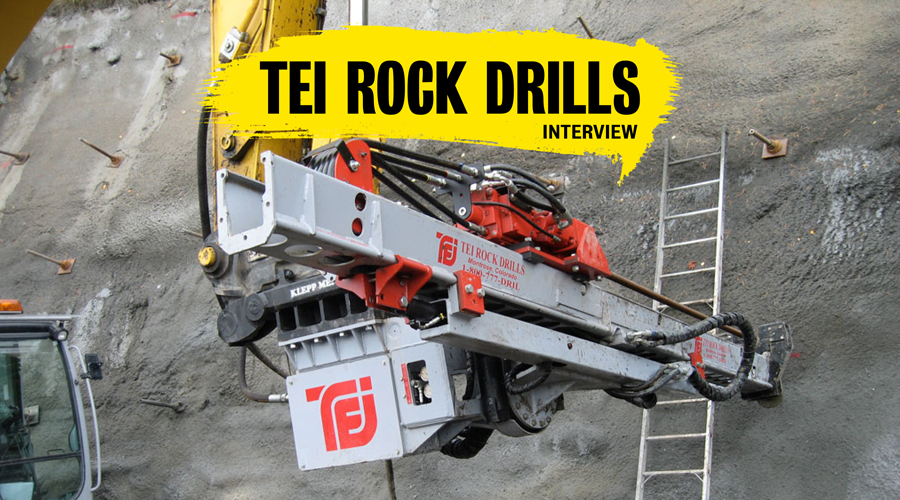 Pile Buck's interview with TEI Rock Drills—an industry leader in the manufacture of rock drill excavator attachments, limited access drill rigs, safety equipment, and associated components.
PB: Tell us about TEI Rock Drills.
TEI: We are the leading manufacturer of excavator drill attachments, rock drill components and limited access drill rigs. Our unique drilling platform incorporates innovative TEI drilling technology with the construction industry's most rugged soil and rock drilling components.
PB: Are TEI rock drills made in the USA?
TEI: All TEI products are created by in-house engineers, uniquely patented, and manufactured in our ISO Certified facility. TEI equipment is proudly made in the US with American made parts to ensure quality, efficiency, and up-to-the-minute innovation.
PB: Where is TEI Rock Drills located?
TEI: We maintain the construction equipment industry's most advanced rock drill manufacturing facility in Montrose, Colorado. Our world class equipment manufacturing capabilities promote the ongoing product development and exacting fabrication techniques required to produce the construction market's most efficient and rugged rock drilling equipment.
PB: Tell us about TEI Limited Access Drills.
TEI: TEI manufactures limited access drill rigs that are powerful and compact, providing the drilling contractor with equipment that can meet the most demanding challenges in the most difficult environments. TEI limited access drills are ideal for micropile operations for new foundations and for foundations repairs.
PB: What are some of the TEI Limited Access Drill models?
TEI: Our TD75 Limited Access Drill is available as an electric or hydraulic model. Standard Features of the TD75 include a patented clamp and breaker System, an RDS550 rotary head and shock sub, an 180° side-to-side mast rotation, and a 75 HP (56kW) electric motor.
PB: What are the optional features of the TD75?
TEI: You can add radio remote for tramming and positioning. Our TE350 or TE560 patented hydraulic drifters are available for the TD75, as well as a water misting system and EU safety conformance package.
PB: What does the TD100 Limited Access Drill offer?
TEI: Standard features of the TD100 also include a patented clamp and breaker, RDS1004 10,000 lbf-ft torque, 120°side-to-side mast rotation, a 100 HP (75kW) electric motor, and four stabilizer jacks.
PB: And what are optional features of the TD100?
TEI: Similar to the TD75, but with a TE1000 hydraulic drifter.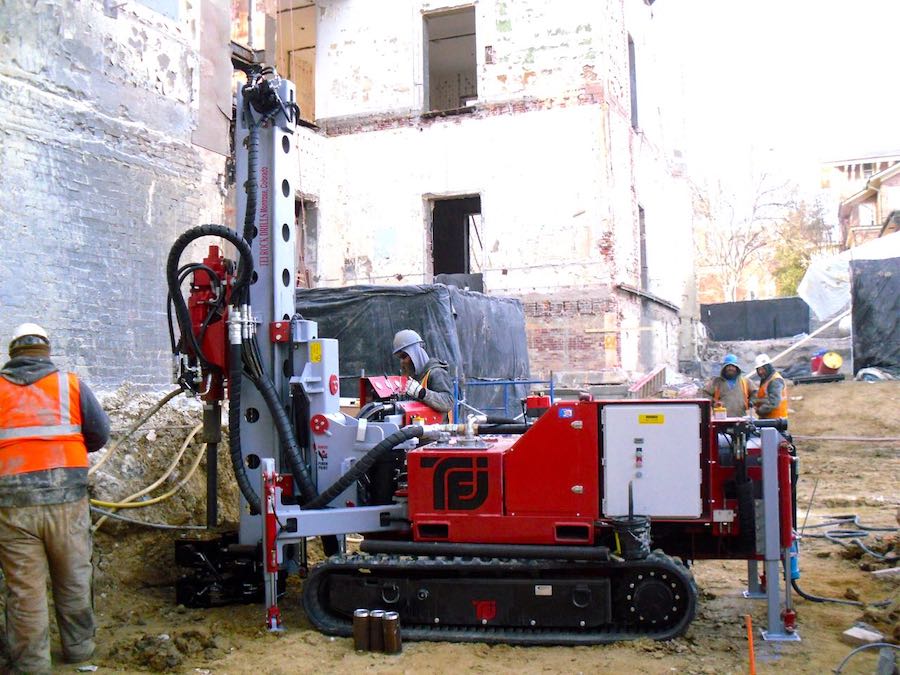 PB: You have a full-on hydraulic limited access drill, yes?
TEI: That's right. The MT100 has a PCF6 feed of 3,500 lbs/ft pullback and uses an RDS350 rotary or TE350 drifter. This one has a 50 HP (37 kW) electric motor.
PB: The MT100 has a winch pull of 9,800 pounds.
TEI: It does. It has 200 feet of 7/16 inch diameter winch cable. The MT100 has an approximate weight of 4,000 pounds.
PB: Tell us about TEI electric track drills.
TEI: We manufacture two sizes of electrically powered and limited access drills designed to safely and quietly install micropiles and grout holes. All models of TEI patented drifters or rotary heads can be matched with our TD75 or TD100 Electric Track Drills.
PB: What is the value of offering a wide range of electric drilling power?
TEI: It makes limited access drills perfect for operating through narrow or low entrances/exits, under buildings, or in tunnels and mining applications. The TEI Electric Track Drill requires no separate power pack, reduces noise and fumes, and removes the need for bulky hydraulic hoses throughout the drilling area.
PB: Let's talk about your excavator drilling platforms.
TEI: In a word: versatile. Our rock drilling attachments are the most versatile excavator drilling platforms available for ground improvement, earth retention and rock drilling applications. Our patented system combines TEI drifters featuring Automatic Stroke Adjustment (ASA) or rotary heads with an advanced feed system.
PB: What about range of motion?
TEI: Its 360º swivel capabilities offer an extreme range of motion. The built-in swivel accepts air, water or grout for all types of drilling techniques. Additional drill positioning can be provided with the installation of a second 360-degree positioner that will move the drill feed from one side of the excavator boom to the other, enabling the drilling attachment to reach even the most difficult drilling positions.
PB: How are hollow bar soil nails used?
TEI: Hollow bar soil nails are ideal for vertical and sub-vertical installation in any soil environment, but the installation process is best suited for unstable ground conditions. The injection of grout through the hollow bar during installation improves the integrity of the surrounding soil and reduces the overall project's time and cost.
PB: Can you explain hollow bar installation?
TEI: Hollow bar installation provides cost-efficient stabilization for a myriad of geotechnical problems. The equipment necessary to install hollow bars is relatively minimal. You only need a TEI drill platform, portable grout plant, hollow bars, and the appropriate hardware.
PB: TEI has a Rock Drills Hollow Bar School, yes?
TEI: We do. The TEI Rock Drills Hollow Bar School is located in Montrose, Colorado. In fact, the 2023 season is sold out.
PB: What do students learn in these classes?
TEI: Students will learn from industry experts through classrooms and field training about the process and best practices of installing hollow bar micro piles for soil stabilization. All aspects of hollow bar installation are taught. Instructors also cover the operation, maintenance, and troubleshooting of each piece of equipment.
PB: What else do you want our readers to know about TEI Rock Drills?
TEI: The TEI production facility is ISO 9001:2015 Certified. Our team fosters a culture of continuing improvement in both our manufacturing processes and the development of TEI's patented drilling technology. We take great pride in building real American-Made quality into every TEI rock drill and rock drill component.
What is TEI Rock Drills?
TEI Rock Drills is a leading manufacturer of drilling equipment, known for producing innovative and reliable rock drills and drill attachments. They provide quality products for the construction, mining, and geothermal industries. TEI Rock Drills are noted for their efficiency, ruggedness, and ability to work in challenging drilling conditions.
What sets TEI Rock Drills apart from other drilling equipment manufacturers?
What sets TEI Rock Drills apart from other drilling equipment manufacturers is their dedication to innovation, quality, and customer service. They focus on creating drilling equipment that is durable, efficient, and easy to operate. Furthermore, they provide excellent after-sales service, ensuring that their customers receive the support they need to get the most out of their TEI drilling equipment.